Have you tried water play activities in your preschool speech therapy sessions yet?
I love using water play in my therapy room.  Why should you include water activities in speech and language therapy? Glad you asked!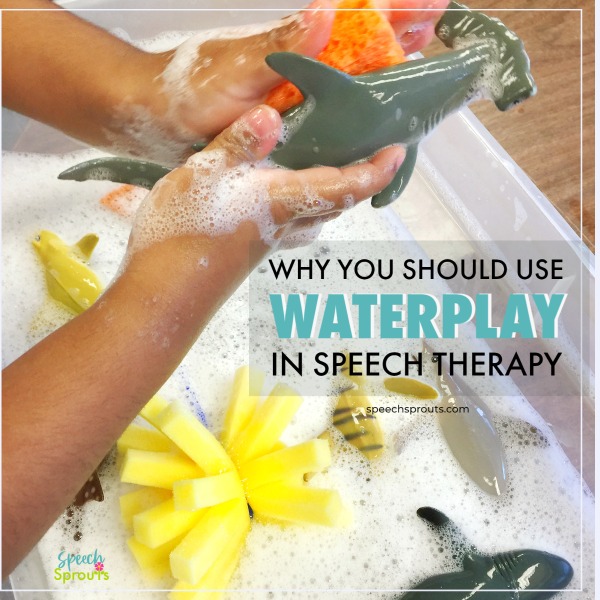 Water play and preschoolers are a natural combination.
What preschooler can pass a puddle, or keep their hands out of a running faucet or bucket of water? I haven't met a little guy yet who can resist, and we know children learn language best through play. 
There are a ton of benefits to adding water play to your preschool speech therapy sessions
Not only is playing with water an appealing, relaxing activity for children, but water play also provides lots of learning opportunities and benefits too.
1. You'll practice social skills during water play
If you have a large enough tub for two or more children to play, your children will practice turn-taking with the objects in the tub. They may need to request items for the tub and can engage in cooperative play together. Add some pond or ocean animals, and imaginative play is sure to happen too!
2. You get the benefit of fine and gross motor play
Children will be pouring, grasping, squeezing, and using that pincer grasp to grab small objects, which is all great practice with motor skills.
3. Water play provides plenty of vocabulary to talk about
You'll find all kinds of natural language opportunities and you can easily add articulation practice into water play too.
Here are just a few vocabulary words you can target with water play in preschool speech therapy:
action verbs: pour, splash, squirt, stir, squeeze wash, spill, swish, drip, swim, float, sink slide, dive and maybe even chomp and bite!
describing words: wet, dry, cold, warm, slippery, slimy, deep, shallow, fast, slow
spatial concepts: under, over, near far
Quantity concepts: empty, full, more, less, equal, half
Water toy nouns like cup, funnel, pump, scoop, pail, and eyedropper
plus nouns like frog, fish, shark, duck, turtle, and boat (depending on what you fill your tub with!)
Themed ideas for water play:
pond animals
ocean animals
boats
things that float, things that sink
Objects you may want to include:
cups
small watering can
sieve
whisk
sponge
bottle
small bucket
water wheel
ramps
pebbles
sticks
ping pong balls
corks
toy animals you squeeze and squirt
teapot
toy pots and pans
a baby doll to give a bath to!
Additional Items for sensory play
water beads
ice cubes or chips
dish soap to make bubbles
So grab a bucket, add a few floating objects, a couple of cups for pouring water and I guarantee, you've got their attention! 
Start off your session with an ocean or fish-themed book.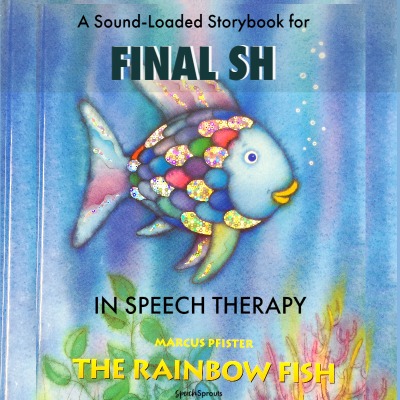 Our focus was final "sh", so, of course, the topic was fish
What goes with fish?  A bucket of water of course.
After reading some of my favorite fish stories, like Rainbow Fish and A Fish Out of Water, we talked all about fish. Where do they live, how do they move, how many kinds can you think of?
Work on WH questions during story-book reading.
 Children's picture books usually have colorful, interesting illustrations which are perfect for practicing understanding and answering those who, what, where, and when questions. Stop and talk about the pictures on each page, and predict what you think will happen next.
Picture books are also terrific for working on describing, categories, prepositions, basic concepts, and sentence formulation too.
Expanding MLU during your conversations
Here's a tip to get the most language and longer sentences during discussions with young children. Instead of starting off with a lot of WH questions (which usually results in one-word responses), try using "I wonder" statements to talk about the story and pictures.
"I wonder where fish live?" Hmmm, this is a goldfish. I wonder what other kinds there are? I wonder if all fish are small like this one." Children love to have a conversation with you, are proud to tell you what they know, and will be happy to correct you if you throw in a few mistakes too.
With " I wonder" statements, you are discovering things together! No worries, we won't ignore WH question practice. Once you've finished exploring the page together, that's the best time to recap by asking those WH questions.
 Several of my smart little guys even knew that sharks were fish!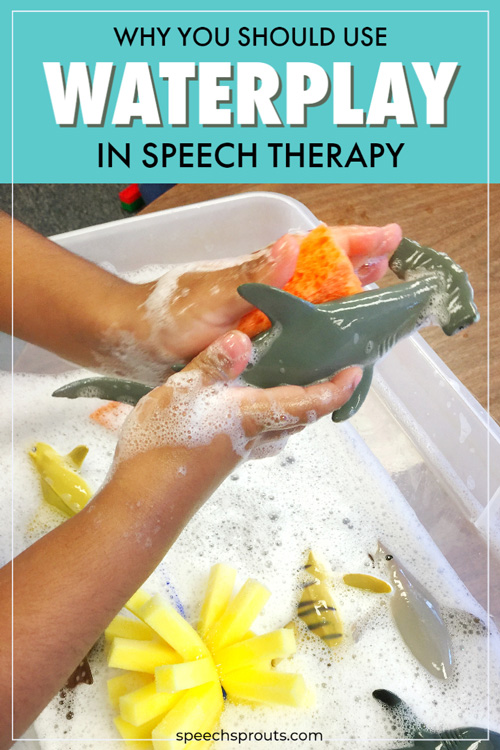 Time to break out the tub and wash a fish!
You don't need a water table for water play in your sessions. Just grab a bin, or fill the sink if you have one. Be sure to put a towel on the floor and under your bucket or bin. I promise you, little ones will splash! if you have a children's raincoat or waterproof smock, that's great too. SLPs, check with your preschool teachers and see if you can borrow those. 
Not having any cute goldfish at my disposal, we used the sharks. We added a washcloth, sponge, and toothbrush, and those sharks were in for a scrubbing!
Articulation words for sh we worked on during this fun activity were wash, fish, and toothbrush)
Lots of great language happened while we were elbow deep in suds and water.
We talked about verbs and synonyms: wash, clean, scrub, brush, and rinse. There were plenty of descriptive words to discuss too: wet, dry, soapy, bubbly, shiny. So much fun!
Ready to "dive in" and bring in some water play?
Pair your waterplay activities with additional themed activities.
It's so easy to plan multiple fun, memorable activities with themed therapy! I like to use the same theme for least four sessions or more. You can absolutely get 2-4 weeks of sessions planned out using just one theme.
More preschool speech therapy ocean-themed activities
Sharks are definitely a must to include in any ocean theme. One of my favorite ocean-themed storybooks is Smiley Shark, and I have plenty of ocean-themed ideas for you in this post: 14 Great Ideas for Shark Week in Speech Therapy.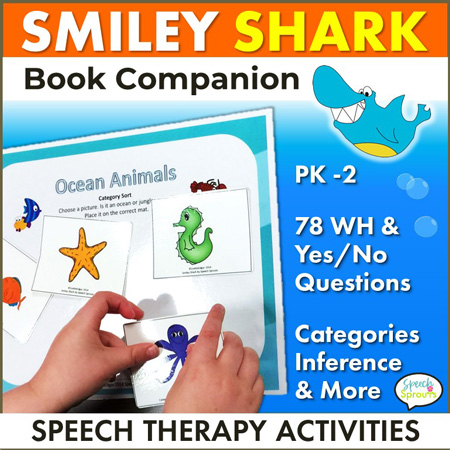 Are you a fan of book companions like I am? I have a Smiley Shark Book Companion full of printable activities for you.  You can check out all the activities included in my website shop or find Smiley Shark Book Companion on TPT.
Try these pond-themed activities
You'll find songs and fingerplays about frogs and ducks in this post: 14 Preschool Songs and Fingerplays for Spring Speech Therapy
Let's talk about ducks!
There are plenty of speech therapy ideas for your pond theme in this post: Fun Spring Speech Therapy Ideas for The Five Little Ducks Song
The Five Little Ducks is a favorite nursery rhyme packed with so many opportunities for articulation and language practice. Combine the song with a variety of pond activities, then top off your unit by adding little yellow ducks to a sensory tub, and your preschoolers will love it!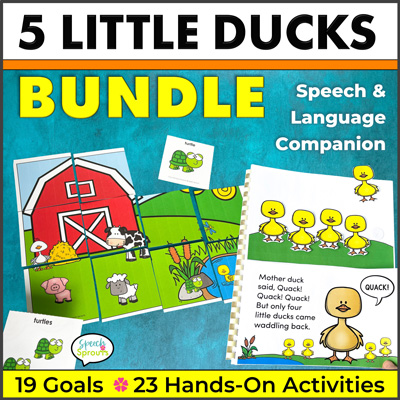 Grab my Five Little Ducks Bundle in my website shop or in my TPT store for easy peasy planning and lots of fun printable activities including an interactive adapted book.
I'd love to see your favorite activities that make a splash!
If you post pictures of your water play ideas on social media, I'd love to see them, so be sure to tag me,  @speechsprouts.  Have fun!