Need some fresh spring speech therapy ideas for articulation and language?
Try some nursery rhymes with your preschoolers and kindergarteners! Each spring, we love to groove along with The Five Little Ducks song. There are tons of speech and language opportunities with this favorite nursery rhyme, and it fits right in with our pond theme.
The Five Little Ducks is one of my favorite nursery rhymes for spring.
I love using nursery rhymes and fingerplays in speech therapy. Little ones truly benefit from the repetition of the lyrics and the rhythm of the songs. You get built-in practice on simple sentences in a wonderful child-friendly, familiar format.
We also know that exposure to rhyme is very important for developing early literacy skills. Your favorite nursery rhymes create a natural opportunity to talk about rhyming words.
What speech and language goals can you target with the Five Little Ducks Song?
There are so many skills you can practice, making it perfect for your mixed groups, circle time, and in-class lessons.
Articulation
The repetition in the refrain of the song makes the Five Little Ducks wonderfully sound-loaded. You'll be able to get in plenty of practice for:
final /k/ (duck, quack, back)
final s-blends /ks/ (ducks)
l-blends /pl/ (play)
Final /l/ (hill)
initial /f/ (five, far).
Initial /s/ (said)
Spatial Concepts
The Five Little Ducks story is also great for targeting the spatial concepts of far, away and over.
Five Little Ducks went out to play
Over the hill and far away
Quantity concepts
The Five Little Ducks song counts down from five to zero (no ducks) as the little ducks go far away. Practice counting and number words, and talk about how many little ducks there were when no ducks came back.
Start by Singing the Five Little Ducks Song
Sing along with the Five Little Ducks and your children will engage additional areas of their brain to help them learn. (We do a lot of singing in therapy!)
Add fingerplay movements and you have kinesthetic and visual cues to accompany and enhance the language learning. It's a natural way to learn, and it's just plain fun too.
There are several versions of the song on YouTube you can listen to if you need to learn the melody. Here are a couple of my favorites. They have a bit of a slower pace to help our children participate:
Five Little Ducks by the Learning Station
Five Little Ducks by Super Simple Songs
I use these actions as we sing:
Hold up your hand and show your fingers for the number of ducks as you sing the number words five, four, and so on.
When the ducks go "over the hill", I have one hand going "over" the opposite arm.
Shade your eyes and look around as you sing sing "far away".
When mother duck says "quack, quack, quack" put your hands in front of you, palms facing each other, and move them up and down like her beak quacking.
When it's father duck's turn to quack, say it in a deep, loud, slow voice and move your hand way up and down for a BIG beak quacking!
Now read the story.
After learning the song, grab a book and read the story.
Remember… repetition is your friend! Children are better able to learn the vocabulary and concepts and will participate even more when a story or song is repeated multiple times.
Don't worry about your kids getting bored with it, they won't. Ever notice how young children want to watch the same episode of a show again and again or read the same favorite book over and over? That's because children enjoy the repetition of favorite stories and songs!
My little ones loved this interactive adapted book from my Five Little Ducks Bundle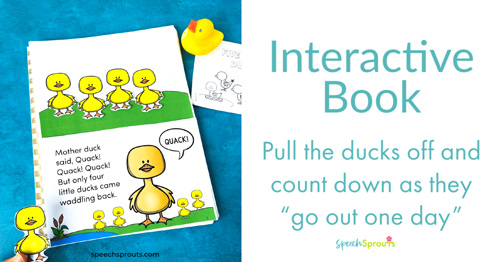 My students approve any time we get to pull story pieces off a book. We got in even more articulation practice for our articulation words and talked about the vocabulary and the rhyming words.
Here's a peek at how we used some of the activities in my Five Little Ducks Bundle
After reading and singing the Five Little Ducks, we put on these duck visors and acted out the story. We went "over" a bean bag "hill" and went "far" away to the other side of the room. Next, we waddled back after Mother Duck went "Quack!"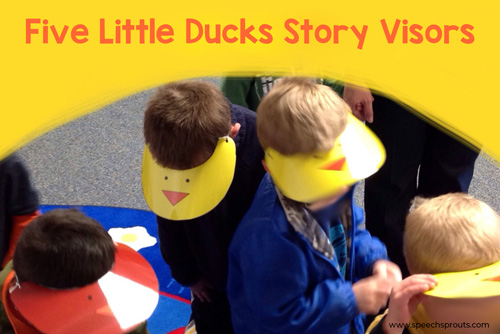 The visors were such a fun way to practice story re-telling and get some kinesthetic experience with spatial concepts. It was a hit!
Next, it was time to head to the table for more Five Little Ducks activities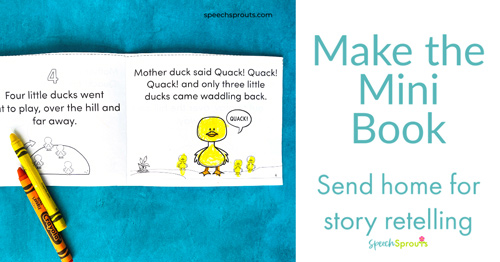 We colored a few pages of these black-and-white mini-books. They're great to send home for story-retelling practice.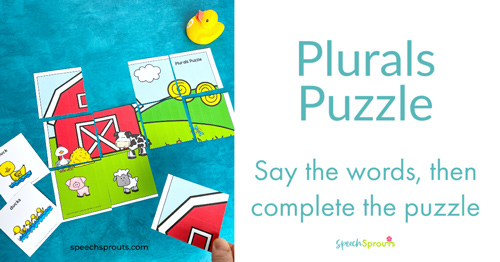 We practiced our plurals with this fun puzzle. After practicing the plural pairs on one side (such as duck and ducks, or turtle and turtles), turn the cards over to see if you can complete the picture puzzle. There is a black-and-white version which makes for a great puzzle support mat if your little ones need a little extra help.
The beauty of themed therapy is that you can cover multiple sessions and build on what your children learned last time.
For additional sessions, we always read the book and sing the song again. It's amazing how much more children are able to participate with repeated readings and song sessions! Even some of my most reluctant communicators respond when they have learned the song over multiple sessions.
Personally, I love being able to pull out just one themed unit and have activities for a variety of goals and learners.
It saves precious planning time and it's so, so much less stressful than juggling different games, books, or cards throughout the day. Having a bunch of different, unrelated activities for each student can be an organizational nightmare, and usually leads to a table full of books, cards, games, and papers. All piled up and waiting for you to spend your time putting them away at the end of your day.
Having a single, themed pack with a variety of engaging, ready-to-go speech and language activities eliminates that cluttered mess, and lets you focus on the children. That's why I love to create themed units stuffed full of activities.
If you have longer sessions (45 minutes or more) with your littles, or do in-class sessions, The Five Little Ducks Song Bundle will get your planning done for at least 2 sessions, and can totally stretch to more. If you have traditional shorter (about 30 minutes), small-group sessions, you could definitely use this unit for a couple of weeks or more!
Here are a few more hands-on activities from my Five Little Ducks Unit
We worked on where questions and spatial concepts with this fun dough smash mat. Where is the duck? Is the duck in the tub? Behind? In front? My little ones love smushing the ball to create the duck's body.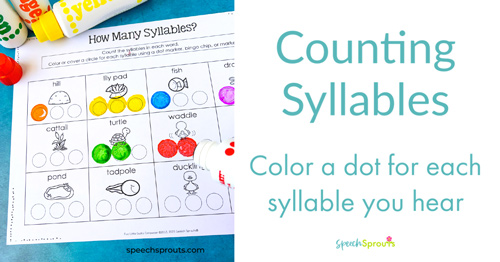 My Quack Go Back game is a freebie and comes with 20 Final /k/ articulation cards.
Have fun helping the duck get to the pond. Use bingo chips to cover the spots as your children say their words. It's great to use with preschoolers for some non-competitive fun. Older kids enjoy having game tokens and rolling dice to advance. You can download this free Quack! Go Back! Game. Please leave feedback when you do!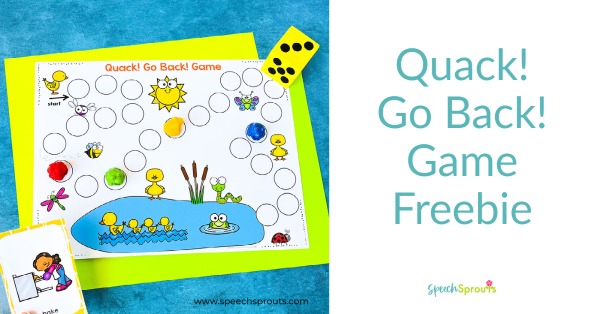 At the end of your unit, it's fun to make this simple Five Little Ducks Craft!
We used these large washable ink stamp pads to make handprints. (I borrow from our Pre-K teacher.) You can use paint instead of a stamp pad, but this is less messy. We made handprints for Mama Duck, and fingerprints for the baby ducks.
You can easily fit in s-cluster practice by saying "stamp" for each duck you make, or practice /k/ by saying "duck" each time you make a little duck.
Start by stamping a little handprint, making sure the thumb is pointed toward the center of the page. Next, glue on an orange construction paper beak (you may want to pre-cut them for your youngest children).
You can also just draw a beak and the legs with an orange marker. Add two eyes with a black marker. Now you've made Mama Duck.
Have your children add thumbprints for the little ducks. Mine did great adding beaks and legs to the babies. Talk about large and small. So cute!
Nursery rhyme activities are so much fun!
If you missed my posts about the Itsy Bitsy Spider, check it out. I especially love doing a spider theme in the fall around Halloween and in the spring and summer for a bug theme. The Itsy Bitsy Spider is a favorite for little ones and I have plenty of activity ideas to go along with it for you.
You'll find even more ideas in this post: Day 2: More Spider Fun. It's another great nursery rhyme for spring speech therapy themes.
Want done-for-you activities for The Five Little Ducks?
You can get the interactive Five Little Ducks adapted book on TpT or in my website shop below.
If you want the book plus oodles of additional activities to make planning multiple sessions a snap, check out the Five Little Ducks Bundle on TpT or in my shop here:
I hope you've found some new favorite speech therapy ideas for the Five Little Ducks Song

I'd love to see your fabulous ideas too. Tag me if you post them on social media, so I can check them out, I'm always looking for more great ideas.
Don't forget to pin this post for later, so you can easily find it when you're ready to plan your Five Little Ducks sessions!