Need some fresh springtime speech therapy ideas for articulation and language?
Try some nursery rhymes with your littles! Each spring, try feeling ducky in speech therapy and groove along with The Five Little Ducks song.
I love using nursery rhymes and fingerplays in therapy.  Little ones truly benefit from the repetition of the lyrics and rhythm in songs. You get built-in practice on simple sentences in a perfect child-friendly, familiar format. And rhyme is so important for developing early literacy skills.
Sing along with the Five Little Ducks song and your children will engage additional areas of their brain to help them learn. (We do a lot of singing in therapy.) Add the fingerplay movements and you have kinesthetic and visual cues to accompany the language learning. It's a natural!
The Five Little Ducks song is one of my springtime nursery rhyme favorites.
It's sound-loaded with practice for final /k/ (duck, quack), final s-blend /ks/ (ducks), and initial /f/ (five,  far). It's also perfect for targeting spatial concepts near, far, and over.
Five Little Ducks went out to play
Over the hill and far away
Sing the song, read the story, and act it out!
There are several versions of the song on YouTube you can listen to if you need to learn the melody, such as this one by the Learning Station: Five Little Ducks.
I use these actions to go along with it:
Hold up your hand and show your fingers for the number of ducks as you sing the number words five, four, and so on.
Shade your eyes and look around as you sing sing "far away".
When mother duck says "quack, quack, quack" put your hands in front of you, palms facing each other, and move them up and down like her beak quacking.
When it's father duck's turn to quack, say it in a deep, loud, slow voice and move your hand way up and down for a BIG beak quacking!
After learning the song, read the story. Remember… repetition is your friend!
 My kids loved the interactive flipbook pictured above from my Five Little Ducks Unit.
They approve any time we get to pull velcroed story pieces off a book. We got in even more articulation practice for final /k/.
After the story, we wore these visors and acted out the story as we re-told the nursery rhyme. It was a hit!
Then it was time to head to the table for more activities.
This Five Little Ducks game is a freebie at Speech Sprouts and comes with 20 Final /k/ articulation cards.
Have fun helping the duck get to the pond. Use bingo chips to cover the spots as your children say their words. Use it with preschoolers for some non-competitive fun. Older kids enjoy having game tokens and rolling dice to advance. You can download this free game here: Quack! Go Back! Game.
You can also work on naming those final /k/ words to a description. I read the clues to my little ones, and they did great picking out the pictures to answer!
More activities for The Five Little Ducks Song
If you have longer sessions with your littles, (We had 2 hours per session in our LEAP program) or do in-class sessions, The Five Little Ducks Song Unit will get your planning done for at least 2 sessions. If you have shorter, small-group sessions, you could use this unit for a couple of weeks or more!
Sort the animals into categories.  Do they live in the pond or on the farm?
The Five Little Ducks unit includes a barrier game for following directions. It makes a great cookie sheet activity too.
Practice regular past-tense verb -ed endings. Turn the cards face down. Little ones love flipping them over to see what's next.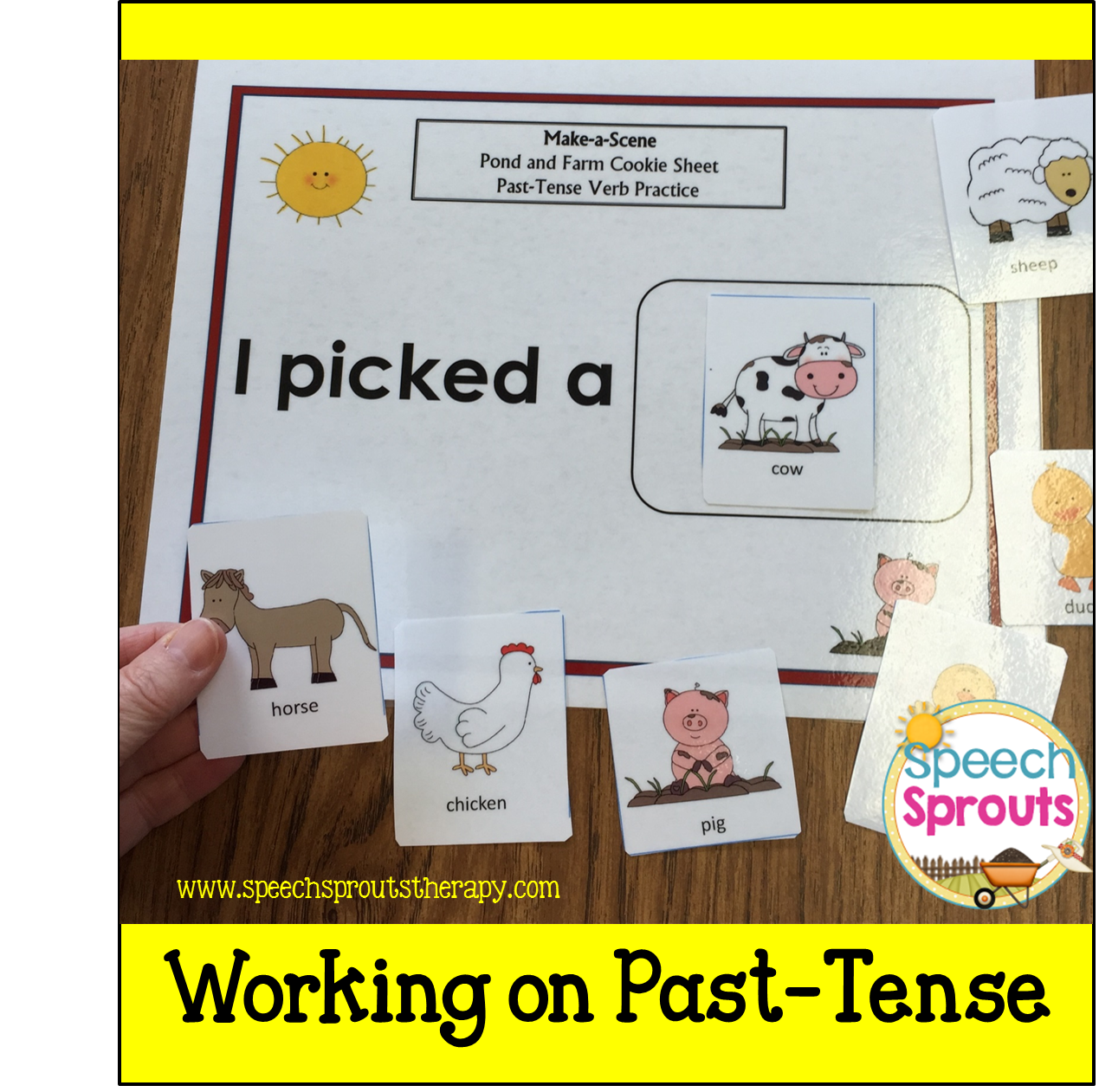 Top it off with a fun art project.
We used these large stamp pads to make handprints. (I often borrow from our Pre-K teacher.)  Fit in s-cluster practice by saying "stamp" for each one or practice /k/ with "duck" each time. You can use paint as well, but this is less messy. Stamp a little hand, making sure the thumb is pointed toward the center of the page. Then, glue on a construction paper beak, or draw a beak and the legs with an orange marker. Add eyes with a black marker. This is mama duck.
Have the kids add thumbprints for the little ducks. They did great adding beaks and legs to the babies. Talk about large and small. So cute!
So much fun!
My little ones see me for two-hour sessions, but the unit can easily be broken up for multiple shorter sessions or pick and choose activities to fit your student's needs

If you missed my posts about the Itsy Bitsy Spider, you may want to check it out HERE and Day 2: More Spider fun HERE. It's another great nursery rhyme for spring bug themes.
I hope you've found a few new speech therapy ideas for the Five Little Ducks Song
I'd love to hear your ideas too.
Happy Spring Everyone!