Need some ideas for shark week to plan for awesome summer speech therapy activities?
I've rounded up preschool shark books, games and easy craft ideas for shark week plus a free shark activity for you to download.
Shark week is in July of course.  However, if your therapy sessions are on pause because school's out in July, grab these shark week ideas for the next time you're feeling sharky in speech. Anytime works for your shark week. I do my week in May and make it last for several sessions. Plan some shark week fun and watch your student's engagement soar.
 So, true confession…
I can't watch Jaws. Or any of those movies where people get eaten. I hide my eyes and cover my ears with scary movies. But I love shark week! Sharks and an ocean theme equal tons of language opportunities for your speech therapy room.
Children are fascinated with the ocean, especially sharks.
Well really, who isn't? Most of my kiddos have never actually been to the shore, but love talking about mysterious creatures of the deep. Scary things. With big teeth. Huge whales, ferocious sharks, and colorful fish too.  It's okay though, we keep it not-so-scary for my preschoolers and kindergarteners. Still plenty of fun.
1. Music and movement ideas
If you want like to kick it off with a fun sound-loaded song for littles, show the video and sing along with Baby Shark by Super Simple Songs. There's Baby Shark, Papa Shark, Mama Shark, even Grandma and Grandpa Shark. We stand up and pretend to swim (and chomp); it really helps to get the wiggles out before sitting down to read!
Warning: Baby Shark is one of those tunes that gets stuck in your head. Know what I mean? When you wake up at 2 am and the tune is still on automatic loop in your brain. Over and over and…how do you make that stop? But that's another topic, so…
Read one of these fun storybooks for Shark Week.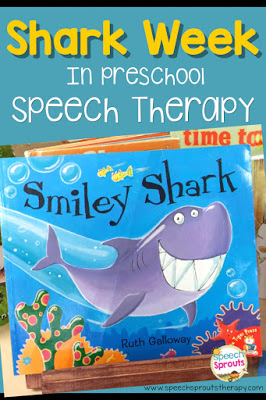 2. Smiley Shark by Ruth Galloway is a favorite of mine.
If you haven't read this delightful book, you should! Smiley Shark is a friendly guy who just wants someone to play with. All the other sea creatures are frightened of him and run away, which makes poor Smiley very lonely and sad. But things change when the other fish are in danger, and Smiley Shark saves the day.
This book is sound-loaded with /sm/, Initial sh and final /k/ because it repeats "Smiley" and 'shark." The children really relate to Smiley when he feels lonely with no-one to play with, and we got lots of discussion going. It's full of fun ocean creatures, a shark hero and a lovely message about not judging a book by its cover.
3. Shark in the Park by Nick Sharrat.
A little boy, Timothy Pope, goes to the park with his telescope and thinks he sees a shark through it. He yells "There's a shark in the park!" But it turns out to be something else.  False alarm. This happens several times until he realizes there are no sharks in the park. Or are there?
This simple story has rhyme and repetitive text which is great for retelling, and we make a telescope with our hands to look through as we tell it! You can listen to Shark in the Park read online.
4. Clark the Shark by Bruce Hale.
Clark goes to school, but Clark is too loud, too wild, and just too much shark. Until he learns to stay cool… It's a great story for talking about social skills. Listen to Clark the Shark read online by actor Chris Pine.
Clark the Shark is one of the great storytime videos by Storyline Online. If you haven't checked out this YouTube channel, you should, it has wonderful videos of books that are read by actors, so the readings are beautifully done. It features storybook readings by Lily Tomlin, Sarah Silverman, and Ernest Borgnine reading Rainbow Fish to name a few.
5. The Three Little Fish and The Big Bad Shark by Ken Geist
This book is a fun takeoff on The Three Little Pigs and repeats "Little fish, little fish, let me come in!"
It has plenty of repetition of the words shark, fish and "crunch" for articulation practice and the familiar format is great for participation.
Arts and crafts ideas for Shark Week or your ocean theme
When you do crafts in speech therapy, you can make sure to get lots of repetitions of articulation words by having the children repeat their words in blocks of 5 or 10. (Do you want the yellow fish or blue fish? Tell me "fish" 10 times. Here's your yellow fish.)
Work on requesting, sentence structure and MLU (sentence length) as the children request each item needed and describe what they're doing.

6. Shiny Sharks Paint tin foil with tempera and swirl the paint while wet. When dry, top it with blue construction paper with a shark cutout- so cool! (We pre-cut those ourselves with a template but it might just make a great project for your upper elementary kiddos to do for you. Kids love to help out little ones.) We added a "Shiny Shark" label to ours.
You can get plenty of articulation"sh" practice  talking about sharks. Where do they live? What do they eat?  How do they move? What animals are smaller? Larger?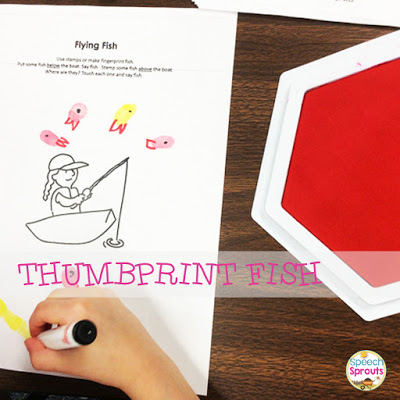 7. Thumbprint Fish  Practice /f/ and "sh" while making thumbprint fish. Do you think we need to add a shark under the boat?
8. Puppets Make a Shark Puppet or
9. Shark Cootie Catcher with free printables by Easy Peasy and Fun.
10. Play the Shark Race Game. Find this free printable and and more shark week ideas from Goldie Talks Speech.
11. Shark Craft Make this Cupcake Liner Shark by I Heart Crafty Things.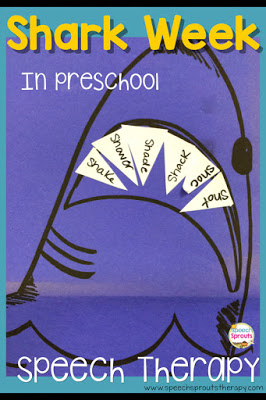 Draw this shark and add  his teeth
12. Shark Teeth Craft Draw the shark above on a white paper template and then use a copier to print it on blue paper. Glue on the teeth- with initial "sh" words of course! If you're not sure you want to try your hand at drawing one, I created a free printable shark for you (pictured below.) that you can grab in my Teachers pay Teachers store.
Sensory bin ideas for Shark Week
13. Give your sharks a bath! I think a little soap in the water is not only fun and bubbly but keeps those little hands sanitary too. If you want to find more waterplay ideas, check out this post and linky: April Showers! Why You Should Include Waterplay in Speech and Language Therapy.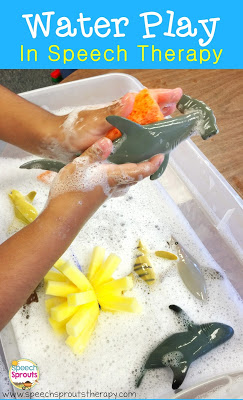 14. Water Beads These are always fun.  I love the slippery texture and so do the kids. Use blue beads and have your sharks swim through them. Which shark is below the beads? Is he diving, chomping or swimming?
Play a Group Game
15. Baby Shark Play this like London Bridge if you have a larger group of children  (5 or more would work) Two people hold hands and raise their hands up to be the "jaws." The other children are the fish. They make a circle and walk under the jaws while you sing to the London Bridge tune:
Baby shark is hungry now
Hungry now
Hungry now
Baby shark is hungry now
Snap, he got me!
Of course, you lower your hands and catch a child when you sing "snap!" And guess what? you've just practiced /sn/, /k/ , /h/ and "sh". I love repetitive activities!
There are plenty more great activities in this Smiley Shark Book Companion:
If you'd like more read to go summer speech therapy activities for shark week,  you may want to check out my
Smiley Shark Book Companion.
It has activities for littles and some for older students too, so you can easily use it with PK- 2nd grade.
All my kids love the Fishbowl Frenzy game. Older kids roll the dice to fill their fishbowl, little ones just get to pick a card for each response. This game is open-ended, so it works with any goal you are targeting.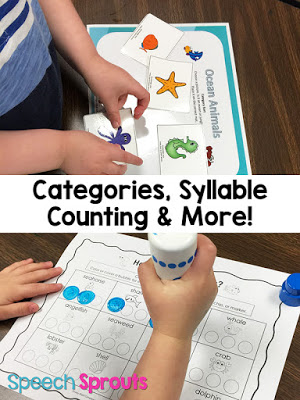 Ocean-themed category sort activity and syllable counting
We sorted ocean animals and jungle animals with the sorting mats. They really enjoyed using dot markers to dab the number of syllables in all those fishy words!
I created WH questions and Yes/No question cards to work on listening comprehension. Other activities included for this adorable storybook are sequencing, articulation for /l/, sh, plurals, rhyming, inference, and prediction.
Have fun with these shark week summer speech therapy deas!
If you have any favorite shark activities or if you try some of the ones I've shared, I would love to hear about it! Leave a comment here or tag me on social media.
Don't forget to pin this post to your boards if you see ideas you'd like to try, to make it easy to find later. You can find even more ocean-themed ideas on my 
Ocean, Shark and Fish Pinterest board
.
Until next time my friends!