Capture their attention with fun songs and fingerplays for preschoolers about spring!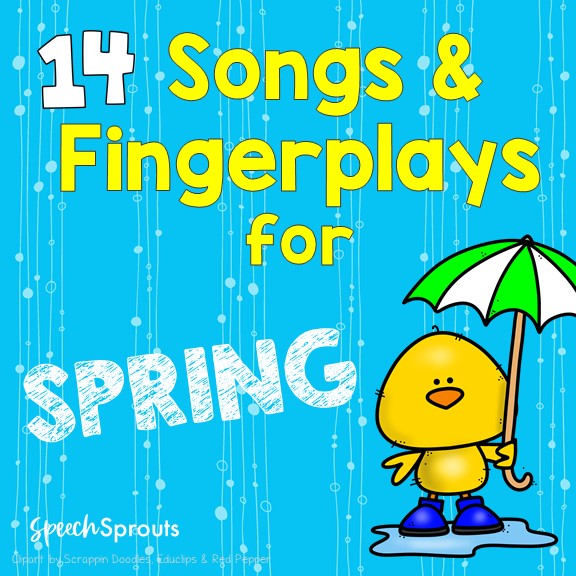 When you think about spring, what comes to mind? Gardens, worms, rain showers, bunnies, and flowers? Check.
Chicks, ducks, butterflies caterpillars, frogs, and rainbows? Yup. All super-appealing themes that preschoolers and kindergarteners get really excited about.
So use 'em to engage and captivate your preschoolers while growing their speech and language! Even my not-so-little ones love these themed topics.
Themed activities are a fabulous way to activate a child's background knowledge.
Themes help children connect the dots between what they already know and new information, providing a foundation for rich language experiences and learning.
You can find oodles of fun spring songs and fingerplays to combine with your favorite spring theme. I'm a huge fan of songs, fingerplays, rhymes, and movement activities for preschool speech therapy, so let's dig in.
This is my 3rd roundup of seasonal preschool songs and fingerplays – be sure to check the others out too.
I've published my favorites for fall and winter too. If you love using these with your preschoolers, go ahead and pin these posts now, so you can find them each season.
14 Preschool Songs and Fingerplays for Fall Speech Therapy
14 Preschool Songs and Fingerplays for Winter Speech Therapy
What speech and language goals can you target skills while singing, dancing and having fun?
A bunch! Just take a look at some of these skills you'll practice:
Rhyme
Vocabulary
Prosody
Sentence structure
Increasing sentence length
Turn-taking ("The Itsy, bitsy spider went ____.")
Auditory memory
WH Questions
Adjectives/ describing
Positional words/ prepositions
Story-retelling
Aaand…. even articulation
Tips for using songs and fingerplays for preschool language development
Repetition is your friend: Repeating words and phrases in songs offers multiple opportunities to practice. Don't sing the song or do that fingerplay just once. Enjoy the same one several times during your session and again over multiple sessions. Repetition is powerful!
Pacing: If you're following along with a video to learn the song, be sure to choose a video with a slightly slower pace. Many videos that you'll find on YouTube are too fast for our language-delayed kiddos to keep up.
Pre-teaching: Teach new vocabulary before learning the song. Then start by teaching the words and motions at a slower pace… you can speed up a bit later.
Use visuals: Pictures, story-telling pieces, toys or stuffed animals make great visuals. A picture IS worth a thousand words and can help your children comprehend and focus.
Here's the list of some of my favorite spring songs and fingerplays for preschoolers about spring.
Plus I'll share a few ideas to expand on each theme and build vocabulary in your speech and language sessions.
The King County Library System has a great comprehensive list of preschool songs and rhymes. You'll find great choices on everything from bugs to weather. It includes videos for fingerplays with hand motions so you can see how they're done. You definitely need to bookmark this one.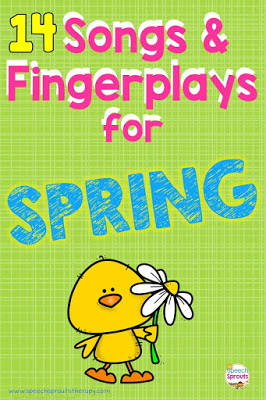 Preschool songs and fingerplays for preschoolers grouped by spring themes:
Weather
Come Under My Umbrella repeats the word "umbrella" (great for syllables practice) and "come" for initial /k/ articulation practice. I also like it for weather words: thunder, lightning, and rain.
Why not open a large umbrella and have your children come "under"? Bring a spray bottle filled with water, put it on mist, and make it rain. Your kids will love it! Then, try "under" a few more things…the table, maybe your desk, or a cardboard box.
Gilly's Galoshes is so much fun as Gilly splishes and sploshes.
This rhyme is great for practicing "she" and s-blends too. Bring a pair of big rainboots for the children to stomp around in and act out the story.
She'll stamp and she'll stamp
But her feet don't get damp…
Rain is Falling Down in Drops is sung to the tune of The Ants Go Marching. It repeats "drops" and adds "stops" for final /ps/ blend and plurals practice.
Walking in the Sunshine repeats initial /w/ "walking" and final /p/ (skip, whip, creep, leap, slip). Great for articulation practice.
Gardens
Dig, Dig, Dig the Earth is sung to the tune of Row, Row, Row your Boat. You'll practice final /g/, and talk about seeds, rain, sunshine, and flowers.
Bring in a flowerpot with real seeds and dirt or fill one with black beans. Use a few beans of a different color and "plant" them (seeds). Count them… one seed, two seeds, three seeds…great practice for plurals.
What will the seeds and plants need? Where will the seeds go, "inside" the pot or "under" the dirt? What did you do? (Past-tense practice with planted, watered.) What will happen next?
Before your students come for their next session, add a few silk flowers to your pot. You grew these flowers! What happened?
The Farmer Plants the Seeds This song and fingerplay repeats seeds and crops (plurals). There's also plenty of verb practice: plants, comes, begins, picks. There's a YouTube version of The Farmer Plants the Seeds by The Kiboomers.
Explore the farm theme with this one. Bring in a few veggies. Cut them up into small pieces and have a tasting. Describe them. How are they alike? different? Are they crunchy? Juicy? Name some that are green. Which ones are yellow?
Teach basic concepts and sort pictures of vegetables and fruit. Better yet, use play food and sort them into baskets.
Worms and Bugs
Ladybug, Ladybug by Frank Leto is a fun song at a slightly slower pace. The little ladybug crawls on a thumb, wrist, arm elbow, ankle, and leg…perfect for naming body parts and initial /l/ practice.
If you have a little toy ladybug, have it crawl on the children as you sing. They squeal and laugh, it's so cute!
Caterpillar Change is a fun little fingerplay that's great for simple wh questions. What is he doing? (crawling) Where is the caterpillar? (inside) What happened?
"There was a little caterpillar crawling all about…Of course, he wraps himself into a cocoon (change that to chrysalis if you like) and becomes a butterfly.
Follow up by reading the Hungry, Hungry Caterpillar by Eric Carle and then make some caterpillars to take home.
These fruit cereal caterpillars were a big hit with my preschoolers!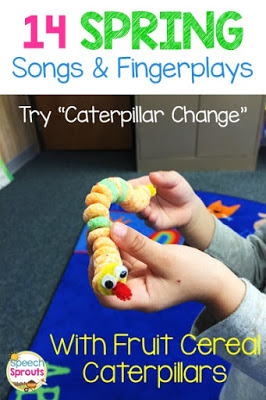 Wiggle Worms by Dr. Jean will have your little ones giggling as the worms wiggle everywhere. This fun little fingerplay is great for opposites, position concepts, and of course, there's plenty of initial /w/ practice too.
Dr. Jean suggests giving each child a worm made of fuzzy brown yarn, so they can "wiggle" along as they recite:
Wiggle your worms up, then wiggle them down.
Wiggle your worms around and around.
Wiggle them High, wiggle them low....
Frogs and Ducks
Five Green and Speckled Frogs by the Kiboomers is a YouTube video with cute illustrations and a slower, child-friendly pace. I especially like the Kiboomers videos for this reason.
You can target initial /f/ (five) and /sp/ (speckled as well as plurals (frogs). Position concepts to target in this rhyme are in and on. Make some playdough frogs after singing or play the "In the pond, on the log" game and work on listening.
Use masking tape or a carpet runner to create a box to serve as the "log" on the floor.
Tell the children all around the "log" is the "pond."
Have some children start in the pond, and some on the log.
Tell the children the only time they should move is to jump when they hear either "on the log" or "in the pond." Don't move if it's anything else!
Shout "on the log" or "in the pond" and sometimes trick them a little by saying something slightly different like "on the rock" or "in the log."
With older children that handle competition well, you may want to have the children that make a mistake be "out." With little ones, we just keep on playing.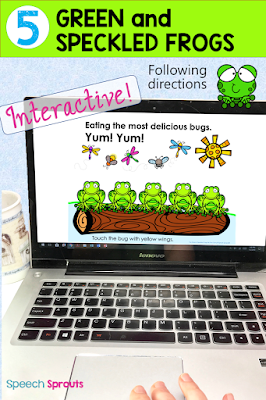 If you need a no-print activity for speech teletherapy, this digital version is great!
Of course, my Where's Froggy? subscriber freebie goes perfectly with your frog theme too. Not subscribed yet? I would love to send it to you, just sign up in the form on the sidebar!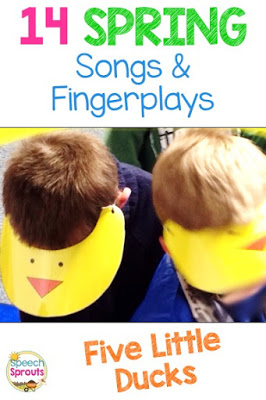 Five Little Ducks This YouTube Video by Super Simple Songs presents the Five Little Ducks at a pace your little ones can easily follow. (Super Simple has lots of great videos, be sure to explore their channel.)
There are several versions of traditional songs of course. I love the one where Daddy Duck quacks at the end! That's the one I used in my Five Little Ducks Unit.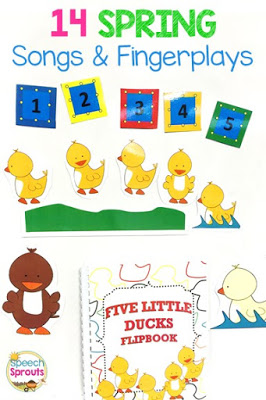 More Animals
Little Chick Waits by Dr. Jean is perfect for final s-blend and verb practice with the words waits, taps, and pops. Little Chick waits in his egg of white…
Five Bunnies Song for Kids is an easy-to-sing countdown song by the Kiboomers that repeats "hippity-hop" and "hippity-hey". Do you have anyone working on initial /h? this is the perfect song.
After you enjoy these awesome songs and fingerplays with your preschoolers, try some fun spring crafts.
Try this easy, adorable ladybug craft for your spring bug theme. The kids love using a hole-puncher for this one and we read the Very Grouchy ladybug.
This fluffy cotton ball lamb craft is super simple to make and pairs beautifully with the book Sheep in a Shop.
Grab a yellow stamp pad and make this cute Five Little Ducks Handprint and fingerprint craft
Check out my Pinterest boards for more spring-themed ideas, books, crafts, and activities to go with your favorite preschool songs and fingerplays
Spring Speech Therapy Activities Pinterest Board
Easter Speech Therapy Activities Pinterest Board
Preschool Language Development Activities Pinterest Board
I hope you enjoy these fun songs and fingerplays for spring!
If you would love more preschool songs and fingerplays ideas, check out these posts:
14 Songs and Fingerplays for Fall in Preschool Speech Therapy
14 Songs and Fingerplays for Winter Speech Therapy
Save time planning when you combine your favorite preschool songs and fingerplays with a fun "done for you" spring speech therapy resource!
Here are some of my favorite speech therapy resources for spring: