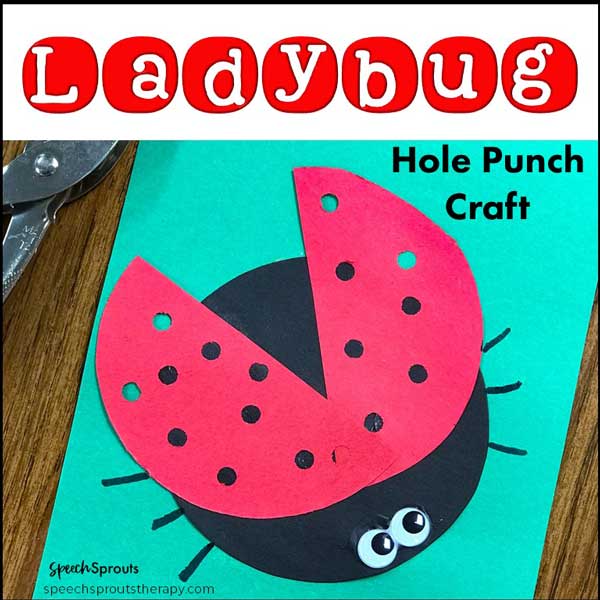 Make this oh-so-cute easy ladybug craft with your preschoolers for your bug theme!
Do you use themes in speech therapy? I love them, especially for my preschoolers.
This week we were talking about bugs in my preschool speech therapy sessions. It's a perfect spring or summer theme and fits right in with most preschool and kindergarten science lessons this time of year.
This paper hole punch ladybug craft was a hit with my preschoolers and my older children wanted to try it too. Just adorable, and each one turned out a bit different.
Some crafts take too much time away from articulation practice, but not this one.
We got plenty of repetitions as we practiced our /l/ words while we punched each hole: "light, light, light, lamb, lamb, lamb."
Of course, you can do that with any phoneme.
Here's what you need for this easy ladybug craft for preschool speech therapy.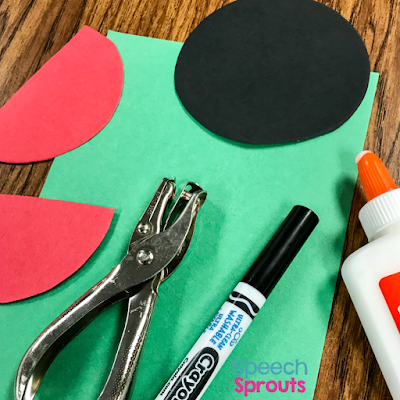 Add two wiggle eyes to these supplies to make your ladybug.
Most of these supplies I already had in my speech room, so that was perfect. Yes, I do keep wiggle eyes!  I think I love them as much as the kids. They're so much fun!
Supplies:
green construction paper
red construction paper
black construction paper
two wiggle eyes per child. I used 12 mm ones.
glue
a marker
a hole punch
This ladybug craft is simple enough for preschoolers with a bit of help. Here's how: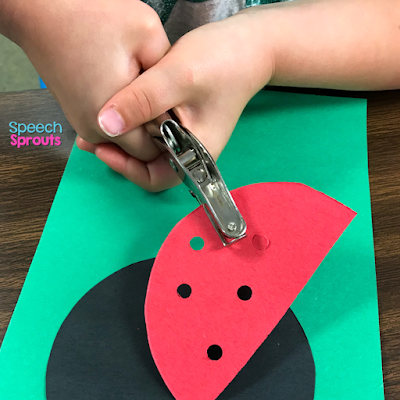 Punch holes in the ladybug wings for the spots.
Cut out two circles of the same size for each ladybug. One red, one black. For my preschoolers, I used die-cut circles. Older children can trace and cut their own.
Cut the red circle in half to make the wings.
Glue the black circle on first.
Punch holes in both wings. (Some of my preschoolers need me to hold the wings for them, or give the nose of the hole punch a  helping squeeze.
Glue the red ladybug wings flared out like a "V".
Glue the wings on the black circle leaving a little black showing at the top. (The eyes will go there) Make one end of each wing meet in the middle ( an upside-down "v").
Glue on the wiggle eyes.
Use a black marker to make six legs.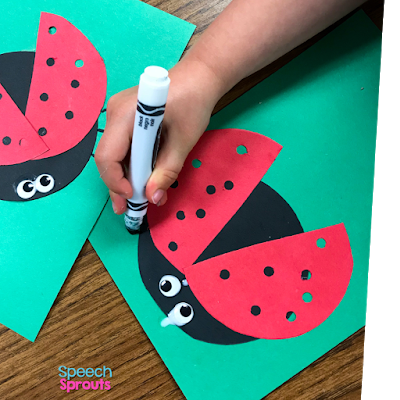 Add wiggle eyes and use a black marker to give your ladybug 6 legs.
Next, grab some toy bugs and target articulation of final /g/, initial /l/, and then categorize even more creepy, crawly insects.
Which ones hop? Crawl? Have wings? Don't forget to include question comprehension either. How many legs do insects have? Are ladybugs insects? Where do you find ladybugs?
Some crafts take too much time away from articulation practice, but not this one. We got plenty of repetitions as we practiced our /l/ words while we punched each hole: "light, light, light, lamb, lamb, lamb."
Of course, you can do that with any phoneme.
Read some great ladybug picture books to go along with your ladybug craft!
You know me, I'm all about storybooks and themed learning. So I needed a ladybug storybook to read and captivate my kiddos before we made our ladybugs.
 There are lots of books for children out there that are great for science lessons, giving ladybug facts. Those are fine, but for speech and language opportunities, I prefer a storybook with:
characters and a plot that children can relate to.
repetitive text to help them participate and retell the story.
sound-loaded text for articulation practice.
Of course, I have a couple of great suggestions for you!
The Very Lazy Ladybug by Isobel Finn and illustrated by Jack Tickle
Don't you love those names? Finn and Tickle…with names like that you know it's going to be fantastically fun! The authors are from England and you'll find there are two versions of the story… one which calls the little red bug a ladybird, and one where it's a ladybug.
The very lazy ladybug in this tale liked to sleep all day and all night on a flower.
One day she decided it would be nice to sleep somewhere else. Since she had never bothered to learn to fly, she decided to hop into the pouch of a kangaroo who was passing by. When that didn't go well, she tries to hitch a ride with a series of other animals.. all ending badly!
Here's why this story is great for speech therapy:
repetitive text. "I can't sleep here, cries the lazy ladybug!"
a recurring series of events
sound-loaded: initial /l/, initial /k/, final /g/ and /sl/ for articulation practice
chock-full of verbs to talk about and practice past-tense when retelling: hopped, jumped, padded, ambled, trundled,  sneezed, swung, swish, roar, scratch, snooze
animal characters to name: kangaroo, tiger, crocodile, monkey, bear, tortoise, elephant
begs for answering where questions.  Where did the ladybug hop? head, tail, pouch…
The Very Grouchy Ladybug by Eric Carle.
This classic story is about a ladybug who is very grouchy and does not like to share. He meets several animals and shouts "Wanna fight?" He doesn't really want to fight, so he repeats "You're not big enough!" before he flies off.
Here's why this book is great in speech therapy:
repetitive text
a recurring series of events
sound-loaded: initial /l/, final /g//, initial /b/,  initial and final /f/
animal characters to name
social skills discussions: sharing
We finished up by learning body parts with this ladybug song for preschoolers
I like to use YouTube videos that coordinate with a target in my sessions, and am lucky enough to have a smartboard to super-size the viewing! Frank Leto's Ladybug, Ladybug song is perfect for your preschool ladybug unit. The ladybug lands on the little boy in various places so you can practice body parts as you sing.
I have a plastic ladybug that I "land" on my preschoolers as we sing. Boy, do they giggle and squirm when the ladybug lands on them. You definitely need to try that. It's so cute.
You can find the
Ladybug Ladybug Song by Frank Leto
plus more videos for learning body parts on Frank Leto's website. Be warned, however, the song gets stuck in your head. Yep, it's one of those.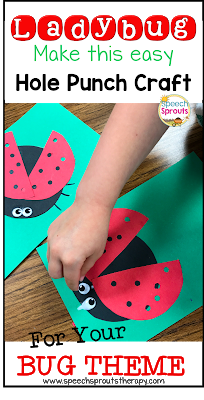 Easy Ladybug craft for preschool
Save these ladybug ideas for later!
Pin this ladybug craft for preschoolers so you can easily find it again. I love Pinterest, it helps keep me organized!  You'll find more ladybug activities for speech therapy on my
Spring Speech Therapy Activities board
.
Do you love themed speech therapy activities? You'll find oodles of themed ideas and storybooks on my boards. Head to
Speech Sprouts on Pinterest.
and be sure to follow me there.
Let me know if you try this fun and super easy ladybug craft with your preschoolers!