Have you read The Black Rabbit by Phillipa Leathers?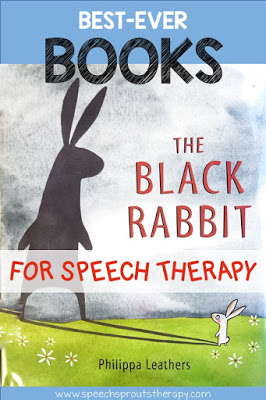 The Black Rabbit is a great storybook for speech therapy.
Rabbit-themed storybooks are perfect for working on articulation of initial /r/ or syllableness (bunny, rabbit). A favorite of mine is The Black Rabbit by Phillipa Leathers.
This story is sound-loaded with initial /r/. The main characters are Rabbit and Black Rabbit so of course, the word "rabbit" is repeated throughout the book, along with run, ran and right.
A cute little rabbit wakes up and decides to step out of his burrow on a lovely sunny day.
But he is not alone… he sees something scary. It's a great big black rabbit who follows him everywhere he goes.
My littles are captivated from the start as I read the story with a worried voice. They can relate to feeling scared. Rabbit tries to run away and hide, but no matter where Rabbit runs, Black Rabbit is right behind him.
There are plenty of opportunities for wh questions and talking about feelings words while reading Black Rabbit. Who is behind Rabbit? Why is Rabbit frightened? Where you ever scared? What scared you? What does Rabbit do first? Next? Where does he go? What do you think will happen?
After making several attempts to shake Black Rabbit, Rabbit finally runs into the deep dark wood.
Black Rabbit seems to be gone. But then, Rabbit sees two eyes in the dark! Pretty spooky for little ones right? At this point in the story, they are looking at me intently with worried little faces. On no! Who do you think it is? What will happen next?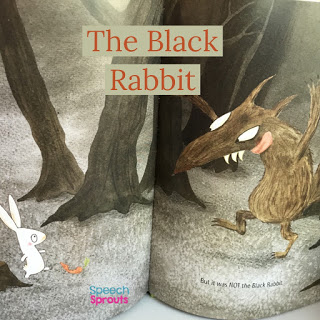 It turns out to be a wolf and Rabbit runs as fast as he can out of the dark woods. Then, just when things seem desperate, and Rabbit thinks the wolf is about to get him, Black Rabbit shows up and scares away the wolf.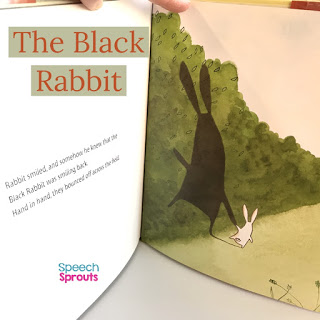 After that, Rabbit is delighted that Black Rabbit is with him. And off they go together…because, of course, Black Rabbit is really just Rabbit's shadow!
Follow up with more Rabbit and Bunny-themed speech therapy activities
Teach basic concepts with these resources:
Teach next to and between with Where is Bunny?
I designed this set of three interactive books to systematically teach positional concepts of next to and between.
So many of my students who are working on basic concepts get confused when they're presented with an activity that targets multiple concepts. They need to learn a single concept at a time, with plenty of repetition, before they're ready to tackle mixed concepts.
This simple story features a little bunny who sneaks into the garden.
The pages are shaped like a garden gate, which makes it extra fun. Children place their Bunny stick puppet "next to" or "between" items on the page. Each page in the book offers practice with the position concept, answering where? and learning garden vocabulary.
The pictures below show the "next to" book.
Put Bunny "next to" items in the garden, then complete the sentence.
Next, complete the sentence by putting the matching picture on the sentence strip. Bunny is next to the cabbage. The repetitive text and errorless format provide plenty of support for early learners and the visuals are great with students on the spectrum as well!
Where is Bunny Next to Book
After practicing the concept of "next to" with the first book, we practice the position concept of "between" with a second book.
Once a student has mastered the individual concepts, it's time for the mixed practice book.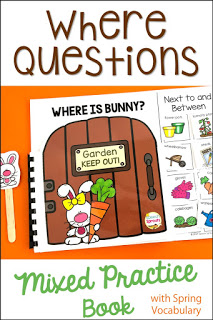 The books intentionally use a repetitive format and the same little bunny character reduce the learning load and allow the child to focus on the positional words.
There's also a BW mini-book for homework and printables for extra practice.
Click here to see more of Where is Bunny?
Teach same and different with Bunny Shapes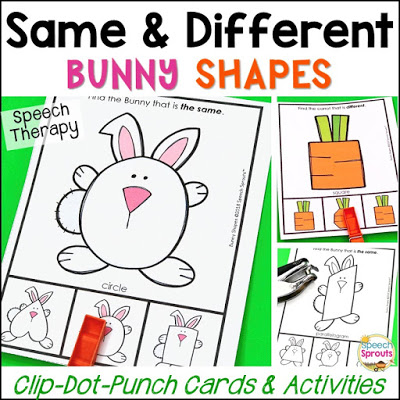 I have children that struggle with the concepts of same and different. These are pretty abstract concepts when you think about it. Matching is easier, you simply place the identical items together.
Choosing "the same" or "different" from a choice of three is just more difficult for some children.
My little ones really stay engaged with hands-on learning. I love incorporating fine motor practice too, so I designed these bunny and carrot clip-dot-punch cards and activities. It includes two sets: one targets the concept of "the same" and features cute bunny shapes. The second is a set with carrots that targets "different."
Get out the clothespins, dot markers or the hole punch and work those little fingers!
Use the cards 4 ways!
1. Print the cards in color or BW and use them as clothespin task cards. Children fasten the clothespin on the correct shape. Or…
2. Print them in black and white and dab the correct pictures with dot markers.
3. Even more fun, especially for kindergarten and up… use a hole punch to mark the correct puncture!
4. They can also be printed out as a mini-book that includes a parent page to send for homework.
Get more practice with printables for folder games or cut and paste activities.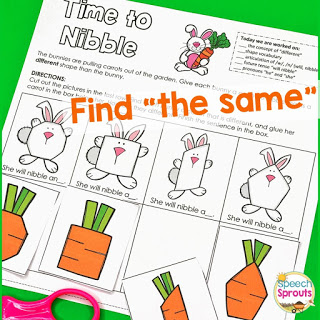 I also included a fun open-ended game to use with any target.
What are some more fun themes for spring?
I hope you are seeing the signs of spring where you are!
Until next time,