Speech Therapy Room Organization Can be Challenging!
How do you organize your speech therapy room to make the most of your space and streamline your workflow?
Many SLP's are given small spaces to work in, sometimes practically minuscule, especially in schools. Combine that with the fact that you need storage for a huge variety of materials… because we see a myriad of students at different levels and different needs.
If you're like me, you want to be able to offer hands-on activities to engage children as you work on those speech therapy goals. Games, crafts, sensory bins, toys all need a place. Then there's your cards, books, worksheets and… if you're lucky a tablet or two. Plus, don't forget all those office supplies that are essential to cranking out the required paperwork.
Because we all need a little speech therapy room inspiration, I've gathered up 17 genius ideas from SLPs and teachers to make your organization quest a bit easier! Here you go:
Note: I've provided suggested links to where you can purchase some of these items for your convenience, so you can see what the items look like. They're not affiliate links, and I'm not receiving any compensation for providing them- just hope it's helpful!
Organizing your office space: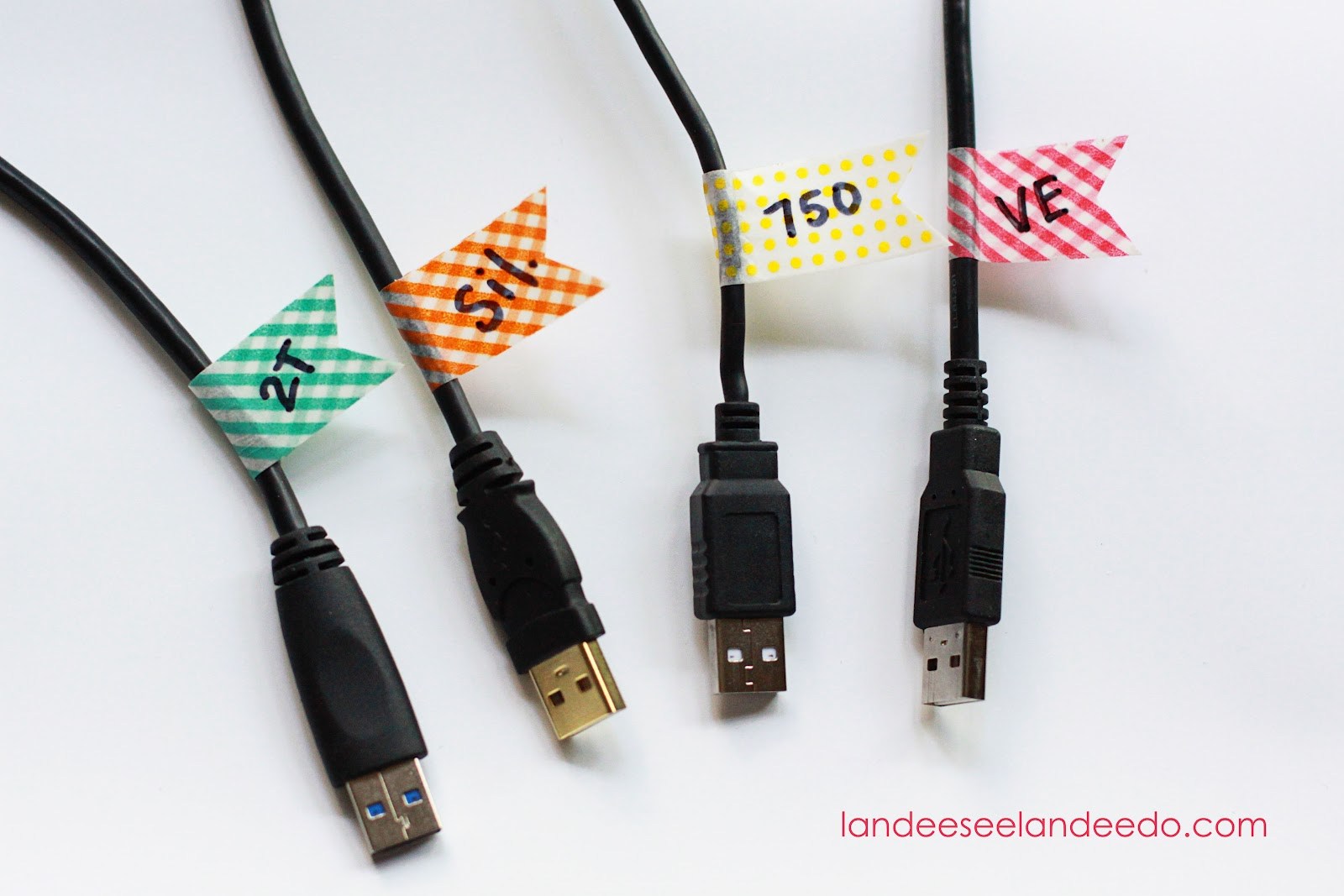 1. Cords: Label your cords with Washi tape and manage that tangle of computer cables with this pretty and practical solution from Landeelu. When I leave for the summer, I'm required to unplug all the cords and cables to my computer and other devices. That usually results in a tangled nightmare when I get back! "Where does this cord go?" is a frustrating game I'll no longer need to play with this tip.
2. Forms: Store frequently needed forms in a letter-sized pocket wall organizer like this one at Walmart. I have this filled with papers I frequently need to grab: therapy logs (if you keep yours on paper), baseline forms, screeners to send to teachers, parent handouts, welcome letters and supply lists for new students.
3. Files: With the crazy caseloads many of us have, file folder organization in our speech therapy room is essential!
Get hanging file folders if your file cabinet will accommodate them! It helps prevent all those folders from slumping and getting hard to find. Use color-coded dividers in your file cabinet to organize your workflow.
You can purchase pretty ones, or simply label and laminate construction paper like I did here.   Move your folders through the workflow as you address them. You'll be able to see at a glance who needs an evaluation, which reports you need to write and who needs that ARD or IEP meeting set up.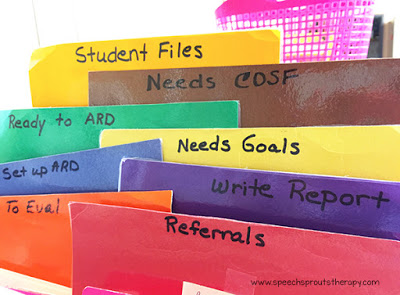 Organize your workflow with colored file dividers
If you want to step it up a few notches, make your file cabinet oh-so-pretty with these bright dividers. Head to Speech Room Organization: How to Do This Pretty, organized File Cabinet Makeover.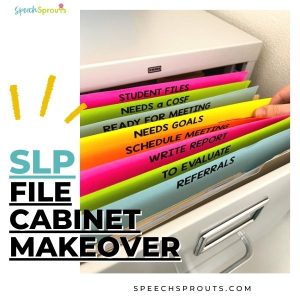 Be sure to read to the end, where you'll find the link to get the free, editable template when you subscribe to Speech Sprouts newsletter.
4. Clean keyboards: Here's a neat trick- before you toss out those old sticky notes, run them between your keys on your keyboard to clean out the dust and… crumbs.  Yeah, unfortunately, it's true, I do eat over my computer at lunch.
You should get out of your speech therapy room often for lunch, but lunch is usually time to check and respond to emails, right? Sigh.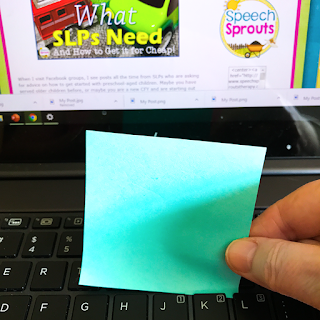 Use a sticky note to clean between your keyboard keys
5. Office supplies: Organize office and therapy supplies in a toolbox, especially if you have no room for a desk in your small space. Label each drawer yourself or find plenty of cute pre-made labels that are editable on TpT.
Organizing your therapy materials:
Articulation bins organized by phoneme
6. Printable Materials can be stored by theme or skills. Store them in clear plastic bins like the ones above so you can easily see what you have. I love the bins above for organizing my articulation materials. They can handle bulky manipulatives in addition to printables.  Read more about How to Organize for Grab and Go Articulation Therapy. 
Use poly envelopes and binder clips to organize TPT  materials
7. Zipper pouches, poly envelopes, and bins. My TpT Materials live in these poly envelopes (above). TpT materials may include cards and manipulatives combined with page-size printables. Poly envelopes can handle cards, dice, booklets, and more, plus they're clear so you can easily see the contents and find what you need.
SLPs are also loving zipper pouches for sets that are less bulky. Keep your filled envelopes or pouches in your file cabinet or in bins.
I love binder clips to keep card packs together, or pop them in photo boxes like the ones below.
8. Sensory Bins: Sand, beads, pompoms, noodles, oh my! Separate your materials into clear plastic tubs or recloseable bags. Collect materials that can be used for multiple themes to cut down on how much you need to store.
9. Games: Keep these in a cabinet or behind a curtain. This cuts down on begging for a specific game when you have another activity in mind! Put open-ended games together, and games that address specific skills together. Note: If you're really space-challenged (and that's a lot of us!), keep just the basics in your room, and bring games from home as you need them.
Ways to store card decks: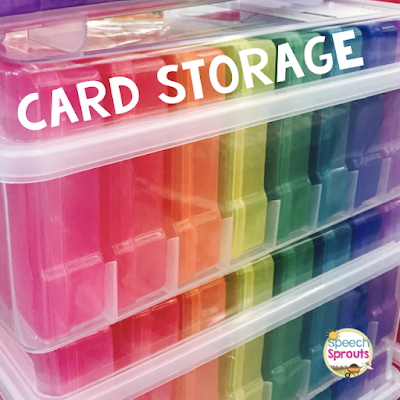 Photo boxes are great for storing cards in speech therapy
10. Store cards in a photo storage case like the one above from Michael's or Walmart. These also come in clear if you want to easily see the contents. These can fit two packs of cards per box if the cards aren't too large. Clip each pack with binder clips to keep them together.  Add labels so you can find what you need.
11.  Store cards in a hanging shoe organizer. Need your card sets at your fingertips during your speech therapy sessions? Shoe organizers are also great for keeping other materials at hand too… like dice, game pieces, bingo chips and wands, a hand mirror, flashlight or other items you want to pull out in a hurry.
12. Hole punch frequently used cards and prompts and store them on a binder ring. If you have a metal bookcase or file cabinets near your therapy table, hang 'em there on magnetic utility hooks.
Organizing books in your speech therapy room:
13. Use ice cube bins like this one at Target as a cheaper alternative to book bins. I like to organize many of my books by theme, so it's easy to grab and go. Add a cute label to the front of the bin and you are good to go!
14. Organize storybooks alphabetically on a shelf. I do this for the books I use for multiple goals or themes. This way, they're easy to find by the title. Use paint sticks or simply laminated paper like this.
Alphabetize your storybooks so you can find them by title
Organizing Arts and Crafts Materials:
15. Glue: Make a couple of glue sponges. Ditch the bottles of white glue and all those glue sticks that your preschoolers mash into their papers and keep these instead. Way less mess for your speech therapy room, and they will last you for months.
Store paint in ketchup bottles
16. Paint: If you use tempera paint with your kiddos, you'll only want to store small amounts to work with. Empty ketchup bottles make great containers for this.
Oh, and unless you eat a ton of ketchup, you'll want to send out a note to parents and colleagues to save the bottles for you!
17. Construction Paper: Store construction paper and card stock in hanging file folders in your file cabinet or a bin. A paper organizer on your shelf (if you have room) or a hanging pocket chart also works well.
A few more great organizational tips:
Keep things you use the most within reach.
Keep only the most needed folders and papers on your desk.
Use your wall space to your advantage: hang supplies and materials.
File things weekly or better yet daily so your desk doesn't get piled up.
Purge old files!  If you don't need it forever, mark on files when it can be tossed or shredded.
I hope you found a few ideas you love to help you organize your speech therapy room.
Here's another post you may enjoy while you're in an "organizing" frame of mind!
Follow my Speech Room Organization Ideas Pinterest Board for organization and inspiration ideas, and be sure to pin the ones you like for later, so you can find them when you need them!.
Happy organizing my friends!