The Itsy Bitsy Spider song was perfect this week for working on our /sp/ blends and we got in tons of language too.
I absolutely love using rhymes, stories, and songs in therapy. Yes, we sing a LOT!
We had fun with these activities in October, but the Itsy Bitsy Spider theme will be perfect for your preschoolers all year. It's especially great with your springtime bug theme too. And… we always need more s-blend activities, right?
Here are the spider activities I planned for my preschool groups.
If you recall, I had two larger pre-k groups of up to 10 children, with two-hour sessions of therapy. If you want to know more about my preschool therapy model, I talk about it in this post.
Boy, did we get lots packed into those two hours! No worries, if you do traditional small groups, you'll find any of these activities are great for shorter sessions too.  Bonus… it will help you have several sessions planned!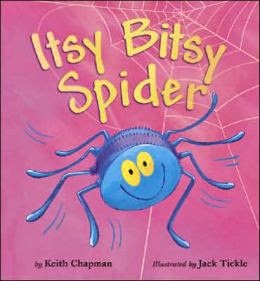 Itsy Bitsy Spider by Keith Chapman
We started off reading the Itsy Bitsy Spider by Keith Chapman.
I absolutely love this book! The little spider gets blown away and lands on all the animals on the farm, before finding his way back home to Mama. The book has a raised, glittery strand of web silk for the children to touch. It's very cool.
Great motivational activity!
Time for s-blend practice
After our circle time, the children go to centers in my therapy room. "Teacher Time" is with me! We practiced our /sp/ words and the children got to put a sparkly spider on the web for each one. For those at the sentence level, we practiced "My spider goes on this spot." or He's spinning a web."
We also described the spiders and talked about the concepts of large and small, more and most.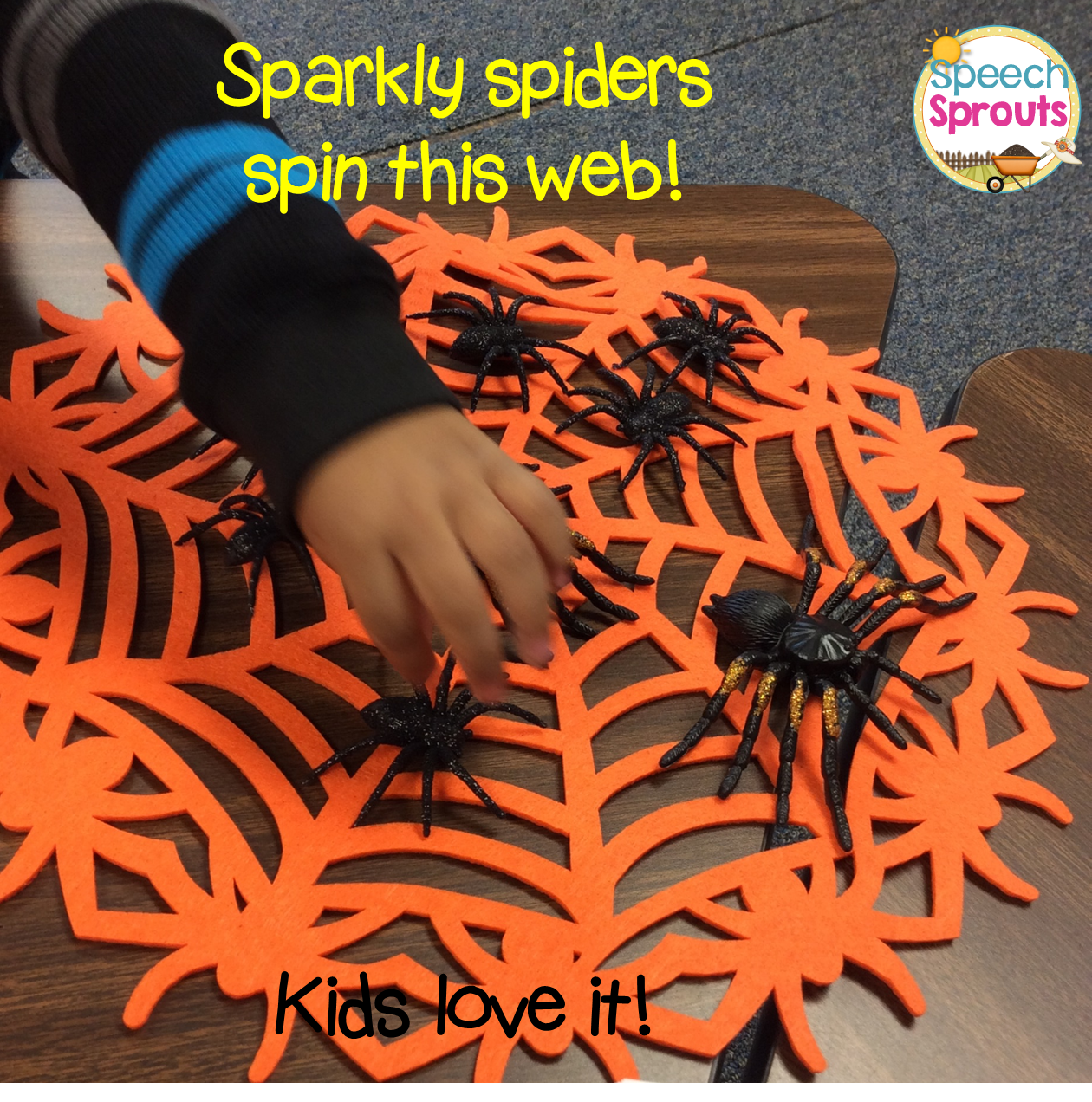 The kids absolutely loved this! I found the web and the glittered spiders at the dollar store. Check the Halloween clearance aisle!
More activities for the Itsy Bitsy Spider
Next, we did following directions and prepositions. "Find the spider at the top of the spout. Color him purple. Find the spider on the web. Color him green." Everything is more fun with dot markers, but crayons are fine too.
Objects or bugs in gelatin
  Spider Goo… EWWW!
My assistant did this great activity with the kids- ooey, gooey sensory fun! This little guy is a bit reluctant to reach in and pull out a toy. We needed to prep the gelatin the night before. Okay, I admit it- we meant to put bugs in the gelatin, but forgot to bring them home,  so we improvised. It's amazing what that spider will eat! The kids say "Feed the spider a _____."
A spider-themed video to talk about
Back at circle time again, we watched this YouTube video, Spider in the Bath. It is so cute. I stop the video as it plays and ask a few questions. It's great for "where?" questions, as that spider gets in all kinds of places! I am lucky enough to have a smartboard, but it would still be fine on a laptop or tablet. 
Next time… our second session with spiders.
My kids were definitely up for more. They love anything a bit creepy, crawly! So check it out for more activities that can go with the Itsy Bitsy Spider! See you then.
Want some done-for-you activities? Check out my Itsy Bitsy Spider Unit on TpT, for plenty of articulation and language activities. 
Hope you have some creepy, crawly fun with these activities!