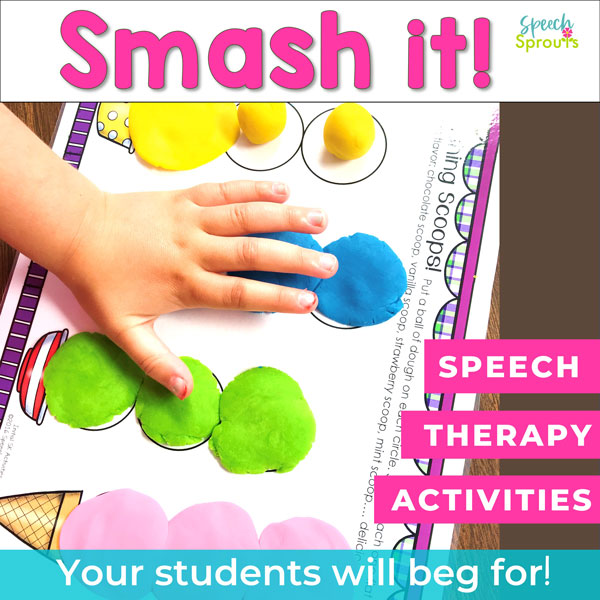 Choosing speech therapy activities for group speech and language sessions can be a challenge.
Sometimes sessions can get a little craaazy for sure when kids are bored waiting their turn to talk or play a game. The problem multiplies when you have several children in a group. Billy interrupts constantly, Sarah is talking to Myah and Cole is pinching and poking everyone at the table.
You spend so much time redirecting behavior, that you can only manage to get a few repetitions for each student and by the end of the session you're frustrated and exhausted. Sound familiar?  Here's the secret:
Use hands-on, high-interest speech therapy activities that keep little hands engaged!
Add an action verb like "smash" to the task, and the kids are all for it. I'm going to share my favorite hands-on speech therapy activities to keep those wiggly, antsy little ones engaged and focused during sessions. Activities that are low to no-prep and don't interrupt the flow of your sessions.
Let's talk about a favorite way to use play dough…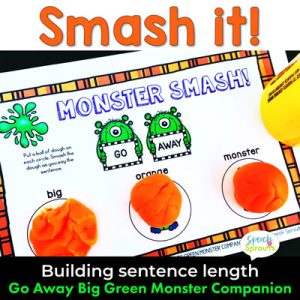 Keep children engaged with play dough and smash mats.
Using play dough in speech and language therapy is a great fine motor and sensory activity- it's really very satisfying. Kids love the feel of the dough as they roll, pinch, and poke the dough. (Instead of each other!)
There are lots of ways to use play dough. Sometimes I simply hand each child some play dough and let them get creative with it. We also love smash mats.
How to use smash mats in speech therapy
    1. Grab your favorite smash mat, or make a simple one yourself. Just draw circles (or silly smiley faces) on a page and laminate it. You can also pop it into a page protector if you don't have lamination.
2. Give each child some dough and have them roll small balls to put on top of each circle. I like to give my kiddos extra so they don't have wait time after rolling the balls. They can continue rolling and squishing their extra dough while waiting their turn.
    3. Practice your target goal. Ready-made smash mats may have questions or words to practice on each circle. Open-ended ones are great too.
    4. My favorite part… Smash it! After your students give you a response. they take a fist or palm and squash that ball of dough flat.
    5. Add an extra element of practice each time they smash a ball of dough. If you're working on:
final "sh" or verbs: Have your student say "squish, squash" as they smash their dough.
the pronoun "I" or verb tenses:  Prompt students to say "I will smash it. Smash!  or "I smashed it."
Expanding sentences or using descriptive words: "I smashed the green one. I smashed the red one."
There are so many ways to use play dough in speech therapy. What's your favorite?
I also keep cookie cutters and tiny rolling pins in a bucket for more dough-filled sessions. We talk about sizes, shapes, verbs, and textures as we play. Add an element to increase the fun: wiggle eyes for monsters, birthday candles, hand them a butter knife and a toy plate… the possibilities are endless.  Incorporate language and play with a purpose!
~~~~~~~~~~~~~~~~~~~~~~~~~~~~~~~~~~
Here's where to find smash mats at Speech Sprouts
The snowmen are having a snowball fight in this frosty set! Roll your snowballs and get ready to practice with 40 mats for 22 phonemes in both initial and final word positions and the /sn/ blend too. If you're putting together speech therapy activities for your winter snowman theme, you've got to check out these
3 Easy Snowman Activities.
What are your favorite hands-on speech therapy activities?
I'd love to hear from you. Have fun!