The Wheels on the Bus nursery rhyme and song is terrific for speech & language development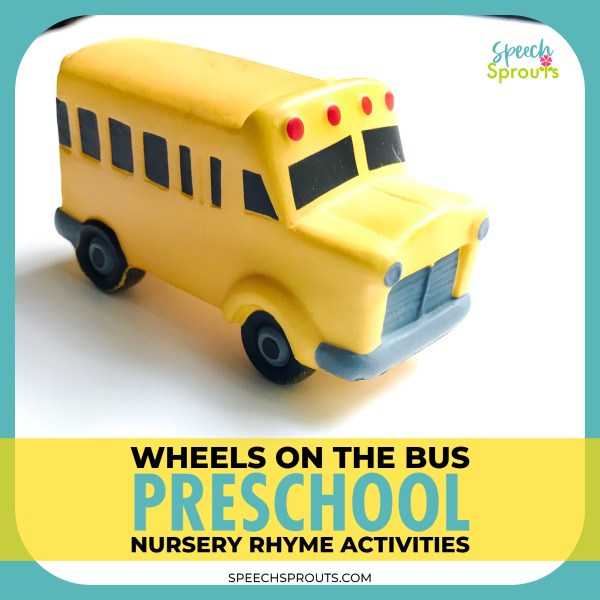 Try these preschool activities for transportation week in speech therapy or your classroom for super engagement and fun!
Young children are absolutely captivated by bright yellow school buses. So why not make good use of that fascination? You'll have kids who are excited to participate, which boosts learning and carryover too.
Did You Know?
The Wheels on the Bus was first written in the 1930s by Verna Mills in Boston, Massachusetts, and is set to the tune of "Here We Go Round the Mulberry Bush."  Its repetitive rhythm makes it easy for preschoolers to sing and remember.
The lyrics of this traditional song have changed over the years to add many actions like "swish", move on back, and "up and down." (Are you getting the sense that it's wonderful for learning action words?)
Here are fun ideas for using The Wheels on the Bus with your preschoolers and kindergartners too.
Don't sing too fast!
Singing the song at a slower pace will help your children with articulation and language delays participate and feel more successful. If you like using YouTube videos to introduce a song, be sure to search for one with a slower pace.  I like these videos:
The Wheels on the Bus Nursery Rhymes and Kid Songs by CoComelon has great visuals with animals on the bus and is sung at a slightly slower pace.
The Wheels on the Bus Go Round and Round by the Learning Station is a cartoon version of the song which is sung even slower.
Tip: If you find a video you love, but it's too fast, try adding an extension to your browser that allows you to controls the speed. I use a Chrome extension called video speed Controller, and it works great!
Use The Wheels on the Bus for articulation practice.
The Wheels on the Bus rhyme is sound-loaded, making it a great choice for preschool articulation practice.
If you have little ones that need practice with early articulation sounds, The Wheels on the Bus provides plenty of practice for working on bilabials /w/, /m/, /b/, and /p/ as well as initial /g/. I love repetitive lyrics for articulation.
The words "wheels", "bus" and "go" are repeated throughout the song. There are also sections that repeat "mommy", "baby", "waaa" and "beep". These early words are great choices for your children with apraxia too.
Teach language skills with The Wheels on the Bus Nursery Rhyme
1. Vocabulary
Build vocabulary skills by targeting specific words with additional activities after singing the song.
Verbs: go, move, open, shut
High frequency/ Core words: go, say, baby, Mommy/Mom, get, on, up, down, open
Nouns: Bus, wheels, wipers, driver, people, horn, baby, mommy
Position concepts: on, back, up, down
Descriptive words: open, shut
2. Categories
This song fits right with teaching categories.
In my therapy room, we talked about transportation items that have wheels and those that don't. Discuss buses, cars, bikes, and even planes (my pre-schoolers debated that one), versus boats, horses, helicopters, rockets, and hot air balloons
Talk about things that are yellow- lemons, the sun, school bus, bananas, chicks, cheese, ducklings, butter, pencils. Grab some toys and sort out all the yellow ones. (Great time to work on changing that preschool pronunciation of  "lellow" to yellow too.)
2. Basic concepts
Grab a toy school bus for teaching these concepts:
Part-whole: Use a toy bus to point out wheels, wipers, door
Position Concepts: back, up, down, in, out, front, back, horn
Have a preschool transportation week "Bus Hunt" to work on where questions.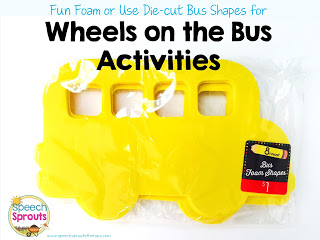 Foam or Die-Cut Bus Shapes For Fun Activities!
I found these great foam buses this summer at Target in their dollar bargain aisle. I taped some initial /w/ pictures on each bus, and placed the buses all over the room. If you can't find the foam buses, die-cut buses would work great too.
Answering questions and prepositions. "Where was the bus?"
This is a great circle-time activity, and a perfect movement break if you've been sitting a while in circle or at a table. Each child takes a turn to go find a bus, and bring it back. Ask, "Where was the bus?" and have the children tell you where they found it.
So often, when I ask "Where was it?" I get the answer "Right there!"
That's an opportunity to work on positional concepts and increasing sentence length! Prompt for a more specific response. You can scaffold the answer and set the child up for success by modeling, then offering two answer choices.
"Your bus was on the table!"
"Was it on the table or under the chair?
"Right! You found it on the table."
Where was the bus?"
Sneak in some more articulation practice
Next, each child announces what picture they have on their bus… "I have a wall on the bus". Anytime they get to get up, and run around the room, it's a kid-approved activity for sure.
Puzzles are the perfect preschool transportation week activity.
We worked on half-whole and matching with this puzzle.
Try a transportation-themed hands-on craft or art activity.
There are always lots of ways to work on language with art and craft activities. Here are some favorites:
If you have the room, why not create a play-based therapy center for transportation week?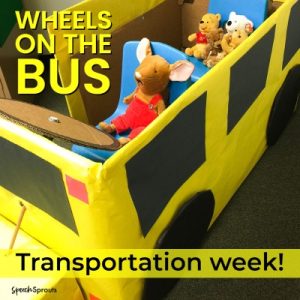 We used a large cardboard box and covered it with yellow bulletin board paper. If you don't have that, you could also paint the box yellow. We added black paper wheels and windows, two small chairs, and plenty of stuffed animal passengers.
There are lots of language opportunities if you try this play-based center. You can work o:
prepositions in front and behind
verbs: driving, stop, climb in, leave
part-whole as you talk about all the bus parts
quantity concepts more, less, most, how many? How many animals are in front? are there more or less in back?
Where questions too! Where does the bus go? Time to go home, where does the mouse live? Where does the bear live?
On some of your busiest days you need easy-to-grab materials. so…
I created an interactive story and activities for the Wheels on the bus nursery rhyme
This Wheels on the Bus unit lasted me the whole week with my preschoolers to firsties.
We made mini books, followed directions, and talked about same and different.
We decided who? was on the bus. My kinders loved coloring their bus and outfitting it with wheels that really went round while they practiced telling who? and where?


We sequenced buses by size and decided which was first, second, third and last.
This activity was also great for comparatives and superlatives: small, bigger, and biggest. There were plenty more language activities to meet everyone's goals: following directions, same/different, sound sort, and questions.
By the end of the week, I admit it, I got more than a little tired of buses! But the kids never did.  And I loved how easy it was to plan out the week.
September and October Can Be Stressful
It's so easy to get overwhelmed sometimes in September and October. There was plenty of gnashing of the teeth as I look at my bulging calendar. It's pretty tough trying to do all the things: scheduling, new students, evals, IEP meetings, RTI meetings, and of course Medicaid billing in addition to therapy.
I'm really happy when I can grab one themed unit, and make it work for the bulk of my week. Or two. So I packed plenty in this unit, and it helped me breathe a little easier.
If you would like to see more of this pack, check out my Wheels On The Bus Language Bundle.
I'm looking forward to pumpkins and spiders in the next few weeks, how about you? Thanks for stopping by!