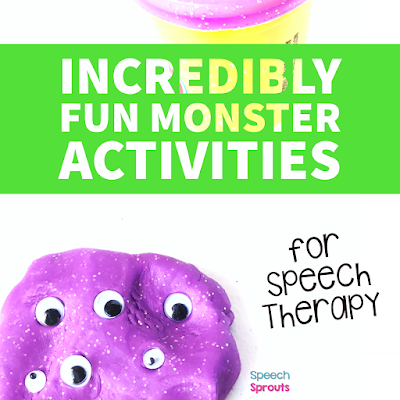 Amp up the fun with easy monster activities for preschool speech therapy.
What's the secret to planning fun preschool speech therapy sessions that will have kids begging to participate? Incorporating themes: colorful, relatable, and exciting themes! Monsters are incredibly fun for October (or anytime), so invite a few monsters to your sessions and you'll have your preschoolers excited to dive right in.
No worries if your school doesn't allow Halloween-themed activities, I'll note which activities have a Halloween reference. Most don't.
Kick-off your session with some music and movement to capture your preschooler's attention.
Youtube videos are great for this. You'll also find them fantastic for a mid-session break that will re-energize your littles and improve focus.
My favorite preschool-friendly monster videos on Youtube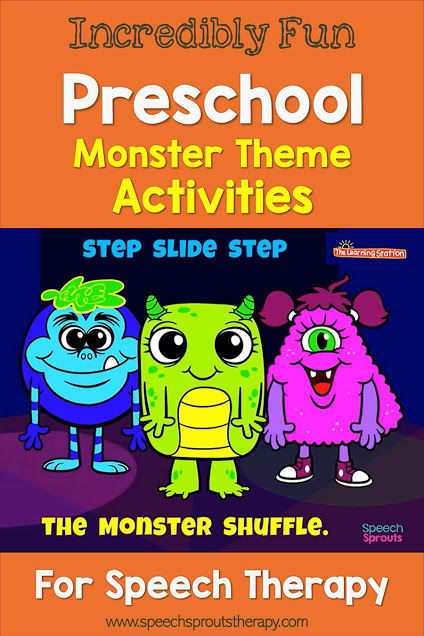 The Learning Station has lots of great videos to get preschoolers moving.
And a Sing-Along version of one of my favorite books!
Halloween Themed Videos:
Go Away  Big Green Monster is a fun story that empowers children to face their fears and say Go Away!
Read a great monster picture story.
I definitely think getting the book so you can touch it, show it and even turn the pages together is the best story experience. But if you can't get your hands on a book you need, search Youtube for a read-aloud that lets you see the text. Listen or turn off the sound and read it yourself. It's a great option for teletherapy too! With virtual therapy in mind, I'll link read-alouds from Youtube.
Please note, the links in this post are working now as of October 2020, but if you find one that no longer works later on, please let me know by leaving me a comment so I can fix it. Thanks!
Play a Monster Game
Playing games keeps interest high during speech therapy sessions. You can use these as a motivational game with plenty of practice, by requiring children to answer questions or say their articulation words before they take a turn at the game.  To get in plenty of articulation repetitions, I always have children repeat their word five or more times before they get to take their turn.
Glue one wiggle eye to the center of each green plastic cup and you have a have fun stack them up and knock it down game. Switch it up by turning them right side up and put them in a grid. Then toss a ping pong ball or large pompom in them.  A fun motivational game!
This colorful  online game has two easy levels for great for your young children.
1. Touch the matching pairs of monsters in the six windows of the monster mansion to make them the windows close.
2. The second game is a memory game. The windows in the mansion are closed. Touch each window to open them and see the monster. Can you find the matches?
Try an easy arts and crafts monster project, and give them more to talk about!
Tissue Box Monster
Make this easy monster and feed your therapy cards to him! All you need is a tissue box, white construction paper or poster board and, scissors and glue.
Make this easy tissue box monster. He eats cards of course!
Playdough Monster
 Have some sensory fun with playdough and googly eyes. You can give wiggle eye for each response. Whose monster has the most eyes? Who has the least?
When you're feeling brave, get out the tempera paint, some construction paper, and make a few "monster parts." Children put the paint on one side of the paper, then "squish" it together. Open it up to see your monster face. They all come out so pretty and unique. Add facial features and you'll have a unique art project to send home. You'll target body parts, action words, color words, and can re-tell how you made it!
Planning is a snap with these fun monster-themed resources in my store:
These fun resources work great with any monster story you have:
Go Away Big Green Monster Book Companion
 Tons of activities to target goals for pre-k to 1st grade including my favorite object function cards (use these ALL the time), WH questions, regular and irregular past-tense verbs, plurals, categories, and following directions.
Monster's Munch Bundle
 includes a monster prepositions game, an articulation story, and lots of fun language activities.
Build-a-Monster Articulation Boom Cards t
arget 13 mid-later phonemes in all word positions, blends, and vocalic R too. It gets you a high number of repetitions as kids say their word or sentence each time they drag a body part to make their monster. You can use this activity all year. It's so fun, I found myself slightly obsessed with making monsters!
Pin it for later!
Lots of ideas for fun preschool monster activities in speech therapy!
I hope you got a few great ideas for some monstrously fun speech and language therapy sessions!
Thanks for reading, I would love to hear what your favorite monster activities are too.
Have fun!