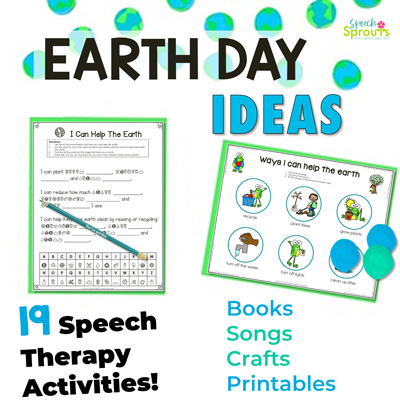 Need ideas for Earth Day activities in your speech therapy room?
I've rounded up simple Earth Day ideas that you'll love to "recycle" year after year. I've got Earth Day activities that require little to no-prep for you and are fun and engaging for your students from preschool through elementary. Read on to find some fun ideas just right for your students, including:
Earth Day read-alouds
Earth day songs
Simple Earth Day crafts
Print-and-go worksheets and activities
But first….
Earth Day is when? What is it?
Earth Day is celebrated on April 22nd each year. After Americans became increasingly aware of environmental concerns in the 1960s, a bipartisan group of senators, congressmen, and environmental activists came together. They organized and promoted events centering around the conservation of natural resources and protecting our environment, and in 1970, the first Earth Day was held.
Now, I know you always want to maximize the learning opportunities in your sessions, so you might be wondering…
Speech therapy time is limited, so is there really a benefit to talking about curriculum-based events like Earth Day in your sessions?
Schools and classrooms will be talking about Earth Day in April. Children will already be learning new Earth Day vocabulary words and concepts, so why bring Earth Day discussions into your therapy room as well?
Earth Day speech therapy activities are a perfect opportunity for extra practice and repeated exposure to the Earth Day vocabulary your students are talking about in class.
Children learn most vocabulary through incidental conversations, and conversations about Earth Day in the classroom will introduce new vocabulary about the environment and how to protect it. Words like recycle, reuse, repurpose, smog, atmosphere and so many more words may be new to your students.
We know that children with language impairment (LI) have difficulty comprehending and using new words after brief exposures. (Rice, et al., 1990). Children with LI need 2-3 times as many exposures as typically developing children to learn new words, up to 36 exposures to fully learn and retain a new vocabulary word. Gray, 2003; Rice, Oetting, Marquis, Bode, & Pae, 1994).
That's why repeated exposure to vocabulary words in a variety of contexts is so important for our children with language impairment, helping set them up for success in the classroom. A very good use of our time, don't you agree?
Earth Day activities your students will love
Here are activities for a range of ages, from preschool to elementary.
Earth Day read-alouds are a great way to start!
Read books about Earth Day to introduce the concept and related vocabulary to your students. Books are a go-to activity for any theme: fun, free and full of language opportunities!
Don't forget to stop and explore the pictures and talk about each page. If you're listening to an Earth Day read-aloud on YouTube, you can stop the video while you talk about the story. Goals you can work on with books:
Earth day vocabulary
syntax: regular/ irregular nouns, verbs and plurals
answering WH questions
prediction
describing
sequencing
story retelling
articulation
rhyme (in some books)
joint attention
Books about Earth Day
My favorite read-alouds on YouTube are linked for you:
Biscuit's Earth Day Celebration by Alyssa Capucilli is a favorite for preschool through first grade. If you don't already know about Biscuit, he's a cute little yellow puppy found in a whole series of books by this author. In this sweet Earth Day book, he helps the little girl save water, plant seeds and clean up litter. Good puppy!
The Earth Book by Todd Parr is terrific for predictions, why questions, and initial /l/ (repeats "love"). The book reads: "I turn off the faucet when I brush my teeth and use less water because…" Stop and predict the reason, or turn to the next page, read the reason ("I love the trees!"). Next, ask a "Why" question such as: "Why is it important to use less water?"
The rhyming text in Earth Day Birthday by Maureen Wright makes it perfect for working on rhyme. The story repeats The cute jungle animal characters will keep your littles interested as they learn about Earth day activities. The story repeats "Deep within the jungle green, the silliest monkey ever seen… making this story sound-loaded for articulation practice of" inital J, medial /l/, prevocalic r, and r-blends.
Earth Day Every Day by Lisa Bullard talks about many ways we could help our Earth, sparking actionable ideas for kids tp talk about!
Earth Day Songs
Earth Day Save the Earth Song by Owlybird talks about many ways to help the earth.
Reduce Reuse Recycle Song for Kids by The Kiboomers teaches about recycling. The nice slow pace is perfect for your youngest students.
Pick it Up Song by Lingo Kids is sound-loaded with initial /p/ and is sung at a slow pace to the tune of Mary had a Little Lamb, making it easy for your littles to follow along.
Let's Go for a Walk Outside by Super Simple Songs repeats "Let's go for a walk outside" perfect for /w/, /l/, /k and /g/ practice, and sparking a conversation on "What can you see when you go for a walk? You can work on categories of animals, plants, things in the sky, and more.
Please Take Care of the Water by Nancy Kopman would be great for first-3rd graders. Talk about and categorize all the words for different bodies of water, anils that live in the water,
GOING GREEN! (Earth Day song for kids about the 3 R's- Reduce, Reuse, and Recycle! by Harry Kindergarten Music is fun for K-2nd graders.
Save the Planet Song for Kids by Miss Linky has actions to get kids moving and would be fun for K-3rd grade. It repeats "Let's see what we can do, save the planet for me and you." Practice articulation of /s/(see), and l-blends.
Easy crafts for Earth Day
Crafts make your Earth Day activities extra fun! Talk about reusing items as you make these:
Ladybug Milk Caps by Crafts by Amanda
Ask parents to save milk jug caps for you and send them in. You'll need wiggle eyes, glue and a black marker. Have your students list what they think they'll need, ask for supplies (requesting practice), Brainstorm ways to use their ladybug. Make a refrigerator magnet? Play a shell game and hide a treat under one of 3 ladybugs? draw different numbers of dots on them and use them for adding?
If you love ladybugs, try this adorable hole punch paper ladybug craft with your students when you do a bug theme!
Balloon Stamping Earth Day Craft by I Heart Arts and Crafts would be a fun motivational Earth Day activity as you practice goals. Stamp an "earth" each time you practice! You'll need paint and paper plates, but it's not too messy, and your kids will love the finished result. Be sure to sequence and re-tell how you made them!
Feed the birds with this toilet paper roll bird feeder. You'll need toilet paper rolls, peanut butter (or shortening if you need to be careful about peanut allergies), bird seed, and string. Make your bird feeders, then hang them outside in a tree. Have your children report if the birds came to eat. How many? what color birds? Were they big or small? Sequence and re-tell how you made them.
4 Printable Earth Day activities that are free for Speech Sprouts subscribers!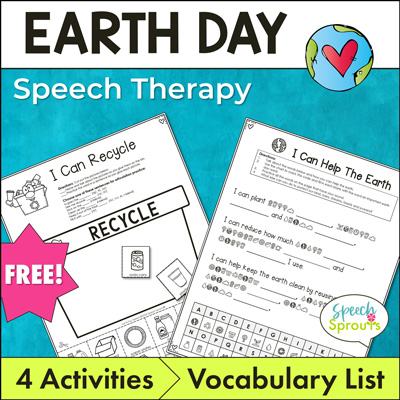 Get these free earth day activities when you subscribe to my Speech Sprouts Insiders newsletter.
There are four Earth Day activities, including:
An easy dough mat for your littles
2 cut and paste activities
A crack-the-code activity for your older elementary students
An Earth Day Articulation word list
I hope you love it. Happy Earth Day friends!