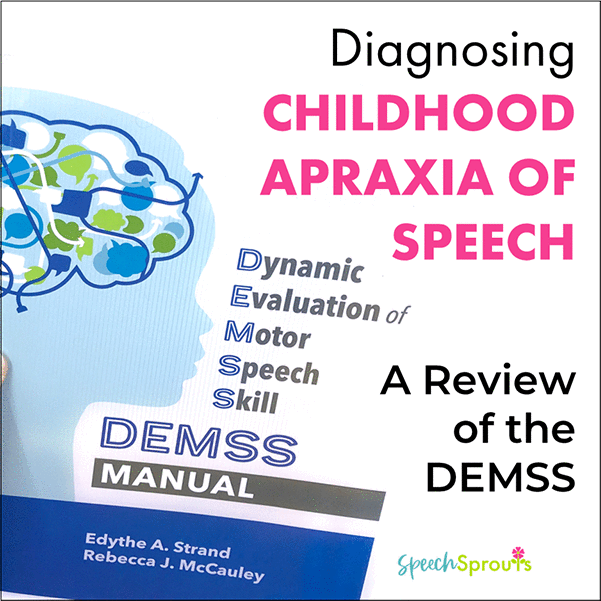 The  Dynamic Evaluation of Motor Speech Skills (DEMSS) is a tool I've been waiting for.
The DEMSS is a criterion-referenced dynamic assessment of childhood apraxia of speech.
 Does this sound familiar? You're evaluating a young child with a severe speech sound disorder. You note a limited consonant and vowel inventory, use of mostly simple word shapes (V, CV, VC or maybe CVC), numerous sound ommissions and really poor intelligibility.
Is it childhood apraxia of speech (CAS) or another speech sound disorder? 
 It may CAS, but we can see these characteristics in children with severe phonological disorders or dysarthria too. Assessing and making a differential diagnosis for childhood apraxia of speech can be really difficult in many cases, even for the most experienced clinicians. You need a tool to help you make a differential diagnosis because that diagnosis will help you shape your treatment plan.
If this is CAS, where do we start?
This is a child who struggles to communicate. You want to design the most effective treatment plan for this child to help him or her increase functional communication and intelligibility as quickly as possible. You have more questions: What initial targets should I choose in therapy? What are the most effective cues and strategies specifically for this child?
If you've read my blog post series on childhood apraxia of speech, you know that I have a particular interest in assessing and treating children with CAS.
 I had the wonderful opportunity to do a deep-dive and learn more about CAS when I attended a small-group, intensive 2-day training with Dr. Edythe Strand of the Mayo Clinic in 2016 and was inspired to "spread the word" about CAS. I wrote a blog series about childhood apraxia of speech for SLPs.  You can read the first post in this series here: Childhood Apraxia of Speech: What SLPs Need to Know.
Dr. Strand and Dr. Rebecca McCauley had been working on developing a dynamic assessment for childhood apraxia of speech for several years. We learned about the DEMSS and got a sneak peek in our training, although it wasn't yet ready for publication.
In the interest of full disclosure, I've been watching for this assessment and am excited it's now published. Why? Because I would love a standardized tool that uses a dynamic assessment approach to help me make my clinical decisions when I suspect childhood apraxia of speech.
When I learned the DEMSS had been published,  I reached out to Paul H. Brookes Publishing Company and requested a copy so I could share a review with you. I received a copy of the DEMSS at no cost from Brookes Publishing for the purpose of this review. I was not financially compensated for this post. The opinions within are completely my own and based on my experience.
~~~~~~~~~~~~~~~~~~~~~~~~~~~~~~~~~
My review of the Dynamic Evaluation of Motor Speech Skills (DEMSS)
First Impressions
When my copy of the DEMSS arrived, the first thing I noticed was the small, thin box that contained a paperback manual. But where are the protocols? The manual explains that DEMSS response forms, as well as a tutorial, are available online.
You can fill out the response forms online and save them to your computer, or print a copy for hand-coding. A key code is provided to access them.  The response form is also in the back of the manual, but I think it's best to print online rather than try to flatten out the book on a copier.
SLPs are used to speech or language tests contained in large, unwieldy boxes that take up a lot of precious storage space, so the small footprint is a plus.
We're also used to receiving a certain number of protocols with our purchase of the test and then needing to purchase more when those run out.
The ability to print the response forms or complete them online at no extra cost is definitely budget-friendly.
Administering and scoring the DEMSS
The manual provides details about administration and scoring. There are also video tutorials online that provide practice and pointers as you watch an SLP administer the DEMSS.  Dr. Strand states in her introduction that the tutorials are supplemental practice, and clinicians should read the manual for full information about the administration of the DEMSS.
She's right. This is not an easy, grab it out of the box and go assessment. You'll need to put in some time to learn the test, especially if you have limited experience with CAS. There's a lot to watch for.
~~~~~~~~~~~~~~~~~~~~~~~~~~~~~~~~~
Online Tutorials
Recognizing vowel distortions and prosody errors can be tricky.
Dr. Strand provides practice for you with her audio and video tutorials for the DEMSS. These tutorials will initially take a couple hours to go through at the minimum but are really helpful. Don't skip these!  The examples include notes on what to watch for, how to score, and examples of correct administration as well as common errors in administration we can hopefully avoid.
Even though I've trained with Dr. Strand, I absolutely benefitted from going through the examples, and will likely listen again if I haven't assessed CAS for a while.  The tutorials definitely provide added value to the DEMSS.

Part 1 of the tutorial is a downloadable file that contains a PowerPoint with audio and video examples of vowel distortions and prosodic errors. The purpose is to help train your ear to recognize these distortions during the administration of the DEMSS. I listened to each example several times
Parts 2 & 3 are video examples of full assessments which give you practice evaluating and scoring responses of two different patients, one with mild CAS and one with more severe CAS.
I found the videos very helpful in training me to listen for subtle vowel distortions and for prosody errors and how to score them. You watch a clinician administer the DEMSS.  Dr. Strand does voice-overs during the video, gives administration tips and points out errors in the child's speech to listen for.
I liked that the scores for each child's response were printed at the bottom of the video so you can compare your judgment of the response in real time with the clinician's scoring.
You also have the opportunity to watch how the clinician cues the child during the assessment to see if production improves. This is the "dynamic" aspect of the DEMSS that is not included in other tests for CAS I've used.
~~~~~~~~~~~~~~~~~~~~~~~~~~~~~~~~~
I've administered the DEMSS to four children as of this post. I've read the manual and watched the videos. I feel semi-confident in my administration of the assessment so far. I think I'll need more practice to feel fully confident that I'm administering and scoring as accurately as possible. I also think it's totally worth it. Keep reading. You'll see why.
Administration Time:
The manual estimates it will take 10-30 minutes to administer the DEMSS depending on the child. It took me a little longer for my first couple of administrations, but with familiarity, it's getting faster.
Stimulus words
The DEMSS begins with simple CV syllable shapes with a variety of consonants and vowels such as me and bye. The stimulus words progress in complexity to bisyllabic and multi-syllabic words such as movie or peekaboo. A total of 60 words can be administered. Children with severe CAS may only be able to complete a portion of the test.
Scoring
Because of the nature of CAS, there are many subtle things to watch and listen for as you test. Articulatory accuracy of consonants, vowel accuracy, and prosody are scored during the test.
On the DEMMS, you cue incorrect attempts providing up to six cued trials and then record accuracy on the next imitation trial.  You're watching for and noting voicing errors, groping, consistency, rate, segmentation, difficult transitions, and more.
I like that the response form includes checkboxes for these "notes" on each page. The ability to quickly check instead of writing your observations is helpful. The form also breaks down the type of prosodic errors you may hear (for words with more than one syllable) including segmentation, equal or incorrect stress, syllables that are added or deleted.
That's a lot to monitor all at once! Even if you videotape the assessment, you'll need to score while giving it so you'll know when to cue. Be prepared, this will take some practice.
After four administrations, I'm still working on it. In return, you'll gather a ton of specific information about the child's performance that will be golden as you make your diagnosis and treatment plan. That's my "why." Totally worth the effort in my opinion. No more "Where do I start?" You'll know.
Read on for more details about the DEMSS.
Articulatory Accuracy
Initial attempt
Scored from 1 to 4 points.
Scores are based on whether the word is correct on the initial attempt, if it's a consistent developmental substitution error, or if the child self-corrects without a model. 
Cued trials
If the word isn't correct on the first try, the clinician provides cued trials. You record whether the child gets the word correct on the first cued trial, whether it's correct with additional cuing, or no attempts were correct. 
I suggest making notes as you go, noting specific cues which were effective for the child and the level of cuing needed.  Great information for a starting point in treatment. 
Consistency
Each stimulus word is presented for a minimum of two trials, allowing for a consistency score. Consistency is scored as 1 for consistent across trials or 0 for inconsistent across 2 or more trials. 
I really like this feature of the DEMSS. Information about the consistency of productions is so important to differential diagnosis and is not available on "static" tests which score a single production of a stimulus word. 
Vowels and Prosody
Prosody is scored on words with more than one syllable and is either scored 1 for correct or 0 for incorrect.
Vowels are scored on all words, with 2 for correct, 1 for uncertain, and 0 for incorrect. Uncertain? Yes! Sometimes I definitely know I've heard a vowel distortion or the response is accurate, but sometimes it's pretty mild and I'm unsure.
The ability to score as "uncertain" is a unique (and appreciated) feature of scoring vowels on the DEMSS, allowing for that middle ground.
~~~~~~~~~~~~~~~~~~~~~~~~~~~~~~~~~
Interpretation
The DEMSS is intended to be a criterion-referenced measure which is one of several tools used for a complete and thorough evaluation. 
The DEMSS Total Score yields a measure of the likelihood that the diagnosis of childhood apraxia of speech is correct. Total scores of 0-323 are considered significant evidence of CAS, scores of 323-373 yield some evidence for at least mild CAS and scores of 373 to 426 yield little or no evidence of CAS.
This information, along with other characteristics of the child's speech noted during the DEMSS is combined with all other information gathered in the assessment battery to make a diagnosis, an estimate of severity and recommendations for a treatment plan.
~~~~~~~~~~~~~~~~~~~~~~~~~~~~~~~~~
Overall, the DEMSS is a powerful tool to use when a diagnosis of childhood apraxia of speech is suspected. I feel the dynamic assessment approach yields rich information that's not provided when only a "static" assessment is used.
If you'd like to learn more about the difference between static and dynamic assessment click to read my post on How to Uncover Emerging Skills With a Dynamic Assessment or for an in-depth look at CAS  you can start with the first post in the CAS series HERE.
~~~~~~~~~~~~~~~~~~~~~~~~~~~~~~~~~
I hope this review has been helpful.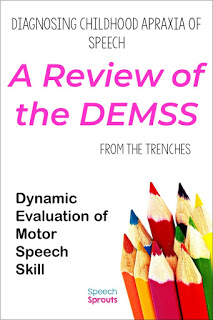 Please comment if you've tried or would like to try the DEMSS. What are your questions and struggles when it comes to assessing childhood apraxia of speech? I would love to know your thoughts.
I also encourage you to share and pin my posts on CAS to help "spread the word" to clinicians who are wanting to learn more about CAS. It's so important!