Ready for summer into your speech therapy room?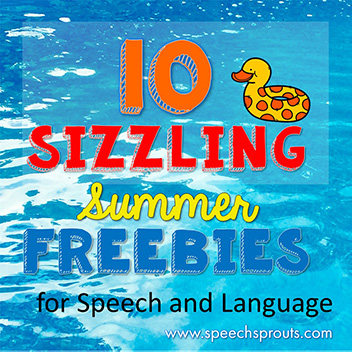 Whether you are wrapping up the school year or planning your summer speech therapy sessions, I've gathered some terrific recommendations for summertime speech therapy activities for you.
How about exploring the blue ocean, camping out, catching a few bugs, heading to the beach, grabbing a cold ice cream cone, or going on vacation in speech therapy?
Note: This post first appeared on Speech Spotlight. It swam over here to make it easy to share with my peeps on Speech Sprouts.
No need to search for terrific summer materials, I've got you covered!
Be ready for summer speech therapy with this fun round-up of summer speech and language freebies and product recommendations from a few of my favorite SLP blogger/ authors. So grab a lemonade and enjoy the warm breezes, you're all set.
1. From Speech Sprouts
The Freebie: That's Fishy! Which Does Not Belong?  Get out the fishing pole and work on negatives, categories, and associations with this colorful game. Then have your children match the fish to the same color fishbowl. Pre-K to1st grade.
Recommended: Summer Picture Story Sequencing Sequence and retell these bright, fun 2, 3, and 4-step picture stories with puzzles, sequencing cards, mats and cut and paste pages. Pre-K to 2nd grade.

2. From Susan Berkowitz
The Freebie: Free AAC at The Beach- Summer Communicating Fun. Implement AAC at the beach this summer! Includes vocabulary suggestions, directions of Aided Input, general AAC information, and a topic-based picture communication board.
Recommended: My Summer Journal: Writing about Vacation Activities. Send this writing project home with students over the summer. Students write where they went and what they did using pages that provide visual, themed picture cues and wh statement prompts. 

3. From Ashley Rossi
The Freebie: Free Speech Therapy Summer Dice and Dot Grab the bingo daubers and dice- your children will color and roll as they target articulation of /k/ and /g/ in all word positions.
Recommended: Speech Therapy Summer Dice and Dot This full product will have your children dotting vocalic r, r, s, l, blends, ch, sh, z, th, and language targets too. Pronouns, verbs, antonyms, categories, describing, compare and contrast, and more. Kindergarten to 5th grade.
4. From Sarah Wu- Speech is Beautiful
The Freebie: Gift Bag Dog Tags for Camp Counselors Say thank you to summer staff by attaching these cute dog tags to inexpensive goodie bags. Great suggestions to fill your bags with essentials. 
Recommended: No-Prep Summer Speech Therapy- Receptive and Expressive Language Print and go language means more time for you! Pronouns, spatial concepts, wh questions, describing, compare and contrast, describing, and listening too. Pre-K to 1st grade.

5. From Looks Like Language
The Freebie: Summer  Picture Scenes Boom Cards a digital categorizing activity
Recommended: Sentence Builders and WH Questions – Summer Picture Activities Make, say, and write noun-verb-object sentences to talk about summer fun! 3 game ideas, WH question activities, sorting mats, writing pages. Pre-K to 1st grade.

6. From Alberta Speechie
The Freebie: Summer Speech and Language Activities Newsletter Send home a newsletter that has a new speech and language activity every day and get parents involved for great carryover. 
Recommended: Ice Cream Animal Categories Build some sweet ice cream cones as you categorize animals by where they live or distinctive features. Pre-K to Kindergarten.
7. From TLC Talkshop
The Freebie: S'More Open-Ended Fun  Build S'Mores with a twist! Spicy, Smelly, Sweet or Strawberry, children race to complete their recipe. 1st grade to 5th grade.
Recommended: Language is a Ball: Beach Ball Craft  Create beach balls for Function, Part-Whole, Categories, Descriptions, Homonyms, Prepositions, Pronouns, Plural Nouns, and Verbs! Pre-K to 5th grade.
8. From Ms. Gardenia's Speech Room
The Freebie: No-Prep Summer WH Questions Print and Go for following directions and those tricky WH questions. Color your answers in the picture, or predict and draw what will happen next. PK to 2nd grade.
Recommended: Regular Plurals: I Have, Who Has for Summer Cards, and super easy no-prep worksheets to teach plural endings and answering who and what questions. I have a shell, who has shells? PK to 2nd grade

9. From  Jennifer Bradley SLP
The Freebie: Summer Articulation & Language Homework Calendars Send home these calendars for daily suggestions for quick, fun activities. Keep track with the 'I Did My Work' chart!
Recommended: Articulation Homework Flipbook Bundle  11 Flipbooks (K, G, F, V, R, L, S, Z, TH, SH, CH) that you can send home to help your students with articulation! Each page of the flipbook gives parents detailed directions on how to help their children improve. Kindergarten to 3rd grade.

10. From  AGB Speech Therapy
The Freebie: Preposition Playground- "Behind" Have fun as you head to the playground and practice answering "where" questions with the concept of "behind". 
Recommended: Camping is Fun! Level 1 Read this simple story with repetitive text. Build vocabulary and associations as you talk about the items you need on a camping trip.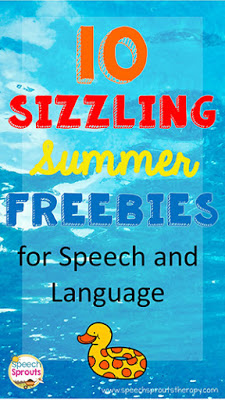 Happy, happy summer!