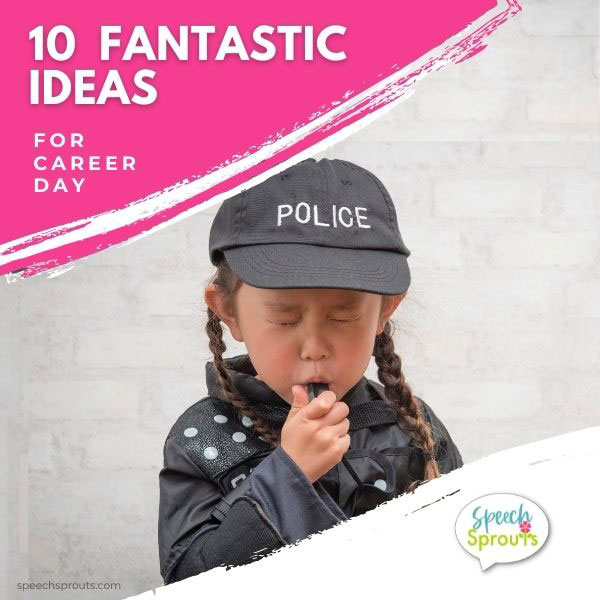 If you need ideas for career day at school or your community helpers theme that work great in both classrooms and speech therapy, keep reading!
Your school may have lined up some great speakers and demonstrations and your kids may be over the moon that they get to dress up on Career Day as their favorite occupation. Kids really relate to the topic of careers and community helpers, because they can connect their real-world experiences to it.
So why not build on the fun ahead of time, expand your student's vocabulary, language skills, and knowledge and really help that learning stick! Here are 10 fabulous ideas for career day activities to get you started.
Set the stage for excitement with these ideas for career day at school.
1. Start exploring careers the week before with a few wonderful books!
Since I love combining literacy and learning, my first idea for career day at school is to start with some great books about occupations and community helpers. Whether you find them in your library or on YouTube, these are great choices:
Whose Vehicle is This?

Written by Sharon Katz Cooper is great for your younger students. This book shows each vehicle and asks "Whose vehicle is this?" Have your children guess, then read the description. There are also fun facts about the vehicles and what each person who uses that vehicle does. For instance, in the description of a mail carrier, students will learn that mail vehicles have steering wheels on the right instead of the left!

Whose Tools are These?

and

Whose Hat is This?

are two more great books by Shannon Katz Cooper you'll want to check out.

Career Day

by Anne Rockwell tells about children in a class who bring their "special guests" (their parents) to their career day. Each guest has something interesting to share about their career, from bulldozer driver, to judge, to crossing guard.

Clothesline Clues to Jobs People Do

by Kathryn Heling and Deborah Hembrook takes a look at what's hanging on different clotheslines to figure out what job each person does.

Belinda Baloney Changes Her Mind

by Becca Carnahan. Belinda finds that the world is full interesting jobs and keeps changing her mind about what she wants to be when she grows up. She worries about that, then learns that that she doesn't need to decide yet…just have fun exploring the possibilities!

Ada Twist, Scientist

by Andrea Beaty and David Roberts is a fun book about a girl who has lots and lots of questions… a budding scientist for sure.
Andrea Beaty and David Roberts have many more fun career books like

Iggy Peck, Architect

and

Rosie Revere, Engineer

.

What Do You Do With An Idea?

by Kobi Amanda is the story of a boy with a big idea. Was it too strange and weird? Should he abandon it? No, because it's good to see things differently… and you might even… change the world! A wonderful book to encourage young thinkers, future inventors and entrepreneurs!
2. Guess Who? Grab Bag
Fill a bag with descriptions of community helpers and careers. Students reach in and read the description and try to guess who it is. For younger children who are not readers, you may want to use pictures of their vehicles, clothes, or tools. (If you need pictures, check out my Pronouns and Plurals, Dress me Community Helpers activity below.)
3. Make a Paper Bag Village with Community Helpers
I love this idea for career day from In The Bag Kids Crafts. Provide brown paper bags, crayons or markers, scissors, and construction paper. Have each child choose a different community helper and create a "shop" or place of work. Have your children tell all about what's in their shop or business, and what people do there.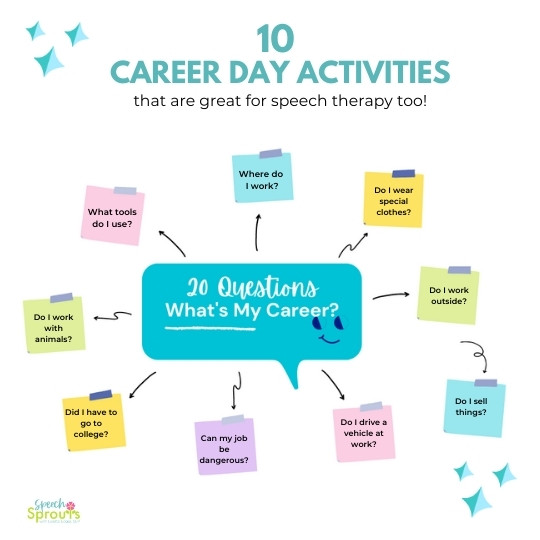 4. Twenty Questions
Put a picture or list a career on each card. For large groups, pin a card with a clothespin to the back of each child's shirt (or play with cards in headbands for smaller groups). Have the group walk around and take turns asking each other questions to try and figure out what their career is. You may want to set a 5 or 10-minute time limit. Provide a list of sample questions for younger children such as:
Do I use a vehicle to do my job?
Do I work with animals?
Can my job be dangerous?
Do I wear special clothes for my job?
This is such a fun idea for career day at school (or week)! Some students may need support in asking questions, so I've made cards for you with sample questions they can ask while playing this game. Download them here: 20 Questions Career Day Game Cards.
If you'd like to save yourself time with ready-made picture cards, scroll down. The cards in either of my career and community helpers resources below would work great!!
5. Play Three to One Thumbs
For older children, have them choose an occupation and tell 3 reasons why the job may be great (Thumbs up!), and one reason that it might be challenging (Thumbs down).
6. Compare/Contrast
Have older children choose two occupation cards from a bag or bowl and list ways the occupations are similar and ways they're different. The similarities may be trickier and your kids may need a little help with it to think outside the box. For instance, how are a pilot and a veterinarian alike? They both require a lot of training!
For younger children, try cards with the vehicles, and compare/contrast the vehicles such as bulldozers, police cars, airplanes, or firetrucks.
My Pronouns and Plurals, Dress me Community Helpers pack (check it out below) has cards perfect for this activity
7. Job interview.
Have kids pretend to interview for a job. Talk about what to do and what not to do. This is a great social skills lesson too!
8. Career Taboo Game
I love this idea for Career Day from Miss Sepp's Counselor Corner. Students are divided into 2 teams, which take turns drawing a card that contains a career and two "hush" words. The student who drew the card must describe the career to his/her teammates so they can guess the occupation… but without using the "hush" words! For instance, for "Florist" the hush words are "flowers" and "arrange." The post includes a file to download the Career Taboo cards. Fun for upper elementary!
Many of these activities are great for your Community Helpers theme too!
If you need more hands-on activities for your preschoolers and kindergarteners, my Pronouns and Plurals, Dress me Community Helpers activity will get your littles excited to participate!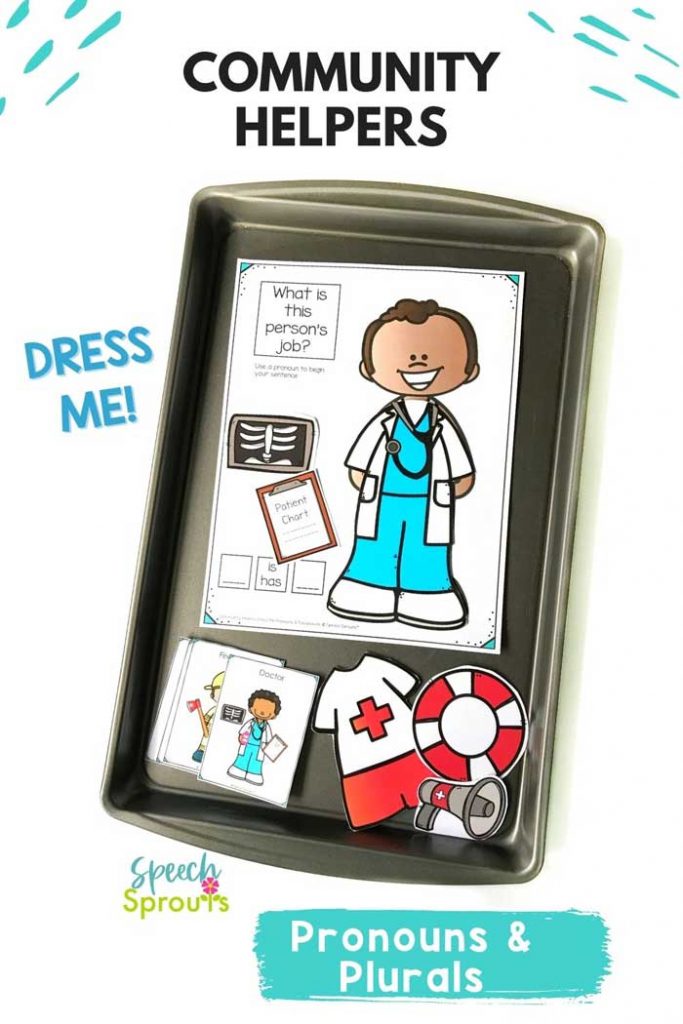 Put the cutout "helpers, clothes, and equipment out on a cookie sheet. Your littles get to dress the people as different helpers as you practice pronouns, naming the helpers and their equipment, and more. I've included cards for games and plenty of printables to practice a variety of syntax targets with your community helpers theme.
There's a diverse selection of 8 different people children can choose from, helping them find someone who looks like them!
Pronoun, plurals, and WH questions mats and worksheets are included to give you tons of versatility in targeting syntax, wh questions, sentence structure, and community helpers vocabulary.
I hope these Career Day ideas for elementary school get you excited about planning for this theme!
Career day and community helpers are one of the highlights of the year for many kids. I hope you love it too. I also know planning for this theme can be time-intensive, so if you need a fantastic, versatile activity that's print-and-go or even digital, Career Bingo Riddles is your winner.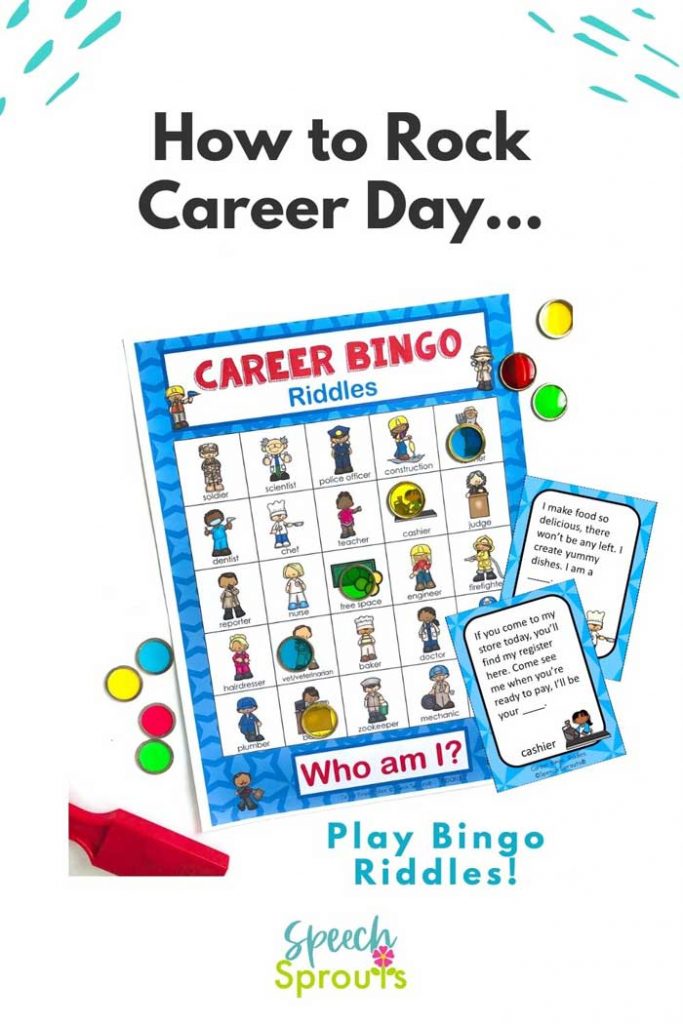 Like all my best-selling Bingo Riddles games, Career Bingo Riddles has rhyming clues, which make the game seriously fun! Kids listen to the clues, then guess who the community helper is. It's a perfect idea for career day from kindergarten through 5th, and it's easy to level the game for different learners.
With 30 different boards, you can use it with an entire class, put it in a center, or play it in speech therapy. I've included a digital version to play with Google Slides™ that's terrific for virtual instruction and teletherapy. Check it out!
If you're a Bingo Riddles fan, you can find many more seasonal and holiday Bingo Riddles games in my shop. (Bingo Riddles are kinda like potato chips. You can't stop at just one!)
Happy career day everyone!