Colors are great basic descriptive concepts, so I always spend some time on them in speech therapy.
Beyond just naming colors, young children need to learn to use them as adjectives in sentences to describe objects. Here are some the of the activities we had fun with in Pre-K and Kindergarten speech therapy this week:
We Read a Fun Book
I love to teach with children's literature, so this week's pick is I Know A Wee Piggy by Kimberly Norman and illustrated by Henry Cole. This adorable book tells about a busy little pig at the fair who makes a big mess wallowing in just about every color you can think of!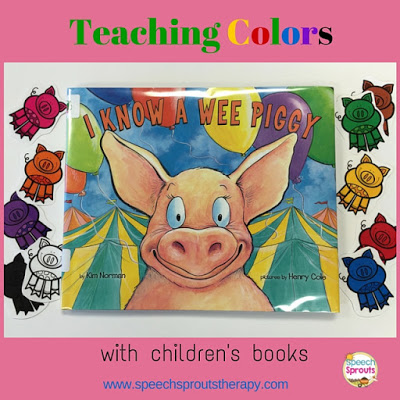 I am a big fan of repetitive text for language learning and this book repeats the line "I know a wee piggy who wallowed in……! Similar to I Know an Old Lady Who….the book repeats the lines on each page, and it is cumulative. He wallows in white, rinses in red, and is found is upside down in brown. After he makes a multicolored mess, he is awarded the last color- a blue ribbon.
I made colorful piggies using clipart by Krista Walden and handed them out to my littles. We named the colors, and described our piggies, "I have a brown piggy, I have a red piggy". Then we read the book and as the piggy wallowed in each color, the children came up to the board and placed their piggy in line, providing a visual for the sequence of colors.
In addition to teaching colors, this book is sound-loaded with initial /w/( wee, wallow, white) and initial /p/ (repeats piggy)- perfect for teaching bilabials.
We did a Piggy Art Project
We painted our own wee piggy. The children were asked to name the color as they added it to their piggy, and repeat, " There was a wee piggy who wallowed in…. We added a little printout to each picture for parents to encourage home practice. They turned out so cute!
More Books For Teaching Colors
Here are a few more great books for teaching colors you can check out. Everyone knows about Brown Bear of course, but have you read Kid Tea or The Deep Blue Sea?
I would love to hear about your favorite books and activities, so leave a comment if you have some great ideas. Have fun!