Getting organized.
We all need some organization to survive our crazy SLP lives! ) I know I do. Honestly, it's really not a strength of mine, so I need all the tips I can get!
am joining the Frenzied SLPs this week in sharing our favorite organization tips.
Kelly at Speech2U is hosting for us this week. If you need some great new ideas to start your year right, head over to her lively blog and check it out, then be sure to hop through the linky for more awesome ideas.
So here is the reality for me by the end of the day.
Maybe you can relate? There is so little time during our day to put things up and organize.
I consider myself creative and spontaneous. Organized? Well…..
Maybe not so much. Organization kind of takes a back seat. Still, there are some things I have put in place that really work for me.
1. My Articulation Bins.
Each bin is labeled with a phoneme
These have really saved me with my preschool groups. I have a bin for each phoneme. I keep books, manipulatives, games, handouts and craft templates in each one. If the book or game is too large for it, I have a list in there of what to grab off the shelf. It really works for me! Read more about this here: How to Organize for Grab and Go Articulation Therapy.
2. My File Dividers
Organizing files and work due.
Okay, these are not fancy, but it works for me to stage my paperwork! I labeled and laminated construction paper dividers to be a bit taller than my file folders. Then I put the files in each section as needed. I order the files by the date due, so the first file in "to eval" will be the first one due. I can see at a glance what needs to be done, and pull the student's file to get to work on it. Files that don't need anything currently go in the back: "student files".
3. My Storybook Library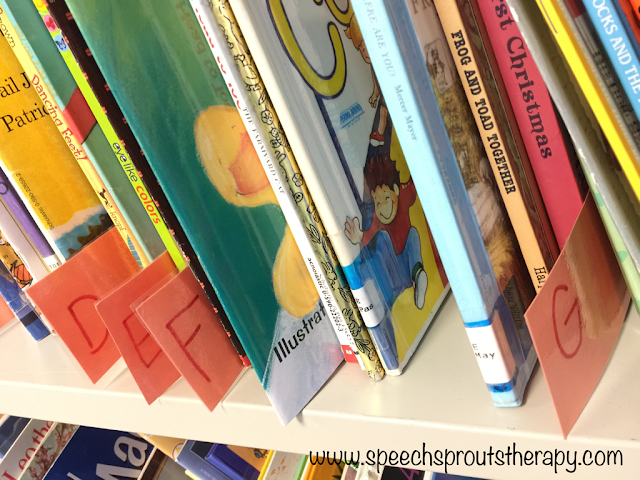 Making your storybooks easy to find
You know I love literature-based speech therapy, and I have collected a lot of books over the years. Alphabetizing them by title works great to help me find them. I have construction paper dividers to help me locate a section, then all the books beginning with that letter go there.
Even nicer would be labeled paint stick dividers- the extra-long ones. I just haven't collected enough of those yet…. may I have 26 paint sticks, please?
I don't worry about alphabetizing the books within each letter section- my collection isn't large enough to make that necessary. Besides, that might be going a bit overboard for me… I have my easy-going vibe to maintain.
~~~~~~~~~~~~~~~~~~~~~~~~~~~~~~~~~~~~~~~~~~~~~~
So there you have it. I can't wait to check out everyone else's tips, Maybe I will get inspired. It could happen. (In a creative/ spontaneous way of course!)
For more great posts and ideas, check out The Frenzied SLPs on Facebook.
Happy organizing!