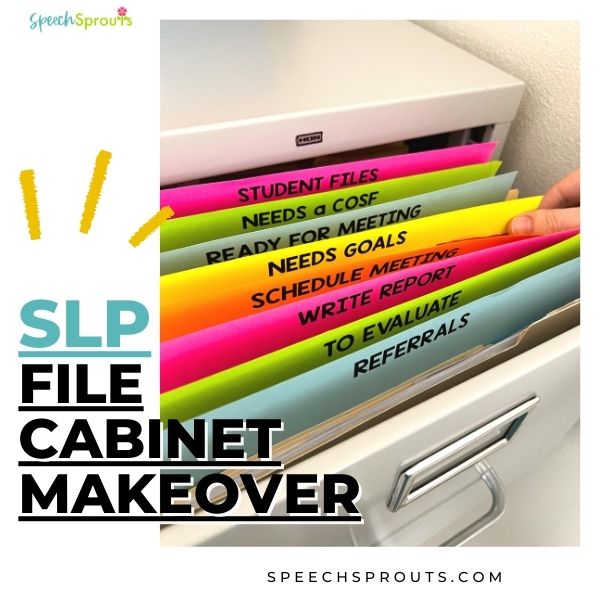 The best speech therapy room ideas save you time and stress by helping you get organized.
You need easy access to the files you need throughout your workflow. Try this pretty organized file cabinet makeover DIY idea and you'll be able to see what you need to do at a glance!
Bonus… it's so bright and cheerful to look at, it'll make you smile when you open your file cabinet. And that's quite a trick, right?
Speech therapy room organization for your files in 30 minutes or less!
The key to doing this quickly is to remember that this is not the time to cull your files and look through each paper to see if you still need it. You're setting up a system to manage your workflow. Resist the urge to go down a rabbit hole and sort papers! (Yep, I'm totally guilty of this, so don't be like me!)
I've made it fast and easy for you with a free editable download that you'll get when you subscribe to my newsletter. My subscribers get exclusive goodies, so I hope you'll join us! Keep reading to the bottom of the post where you'll see the link to the freebie.
Here's what you'll need for your file cabinet makeover.
Hanging or manila file folders. (I prefer hanging ones, so your files don't slump down in your cabinet, but either will work.)
Brightly colored cardstock or paper. (If you use paper, laminate it after printing for sturdiness.)
A stapler
A printer
A ruler and a pencil
A file to print the labels. (I've got you with the free PDF download.)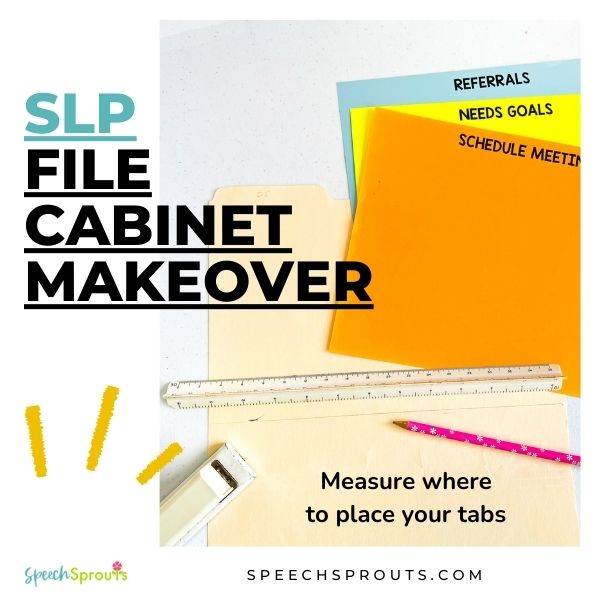 5 easy steps to create this organized file cabinet:
Print your labels on brightly colored cardstock or paper. The free file includes:

ready-made tab labels that are provided in 2 different fonts for you: KG Blank Space Font (shown here, free for personal use) and Arial Font (Which you probably already have on your computer.)
editable pages to create your own custom labels to match your personal workflow

Staple each page to the inside back of a folder. Manila or hanging folders both work.
Be sure to measure and mark how high each page should be stapled, so you don't squish your pretty dividers!
Add student folders and move them through your workflow as you complete each task.
Love the KG Blank Space font, but don't know how to add a custom font to your computer?
No worries, it's easy. To install the KG Blank Space Font:
Download the Kg Blank Space font for free from KG Fonts
Unzip the folder, here's how:

On a PC, right-click and choose extract all
On a Mac, double-click the zipped file

Open the file and choose KG Blank Space solid
To install:

On a PC, right-click the font file and click install
On a Mac, double-click the font file in the finder, then click install font

You may need to close and then re-open this file before the new font appears as a choice.
You can also choose to use the Arial font section, a font that you probably already have on your computer. If you have your own favorite font you'd love to use instead, just re-create the label in the horizontal view of your word processing software.
Now, your new beautiful new folders will act as dividers.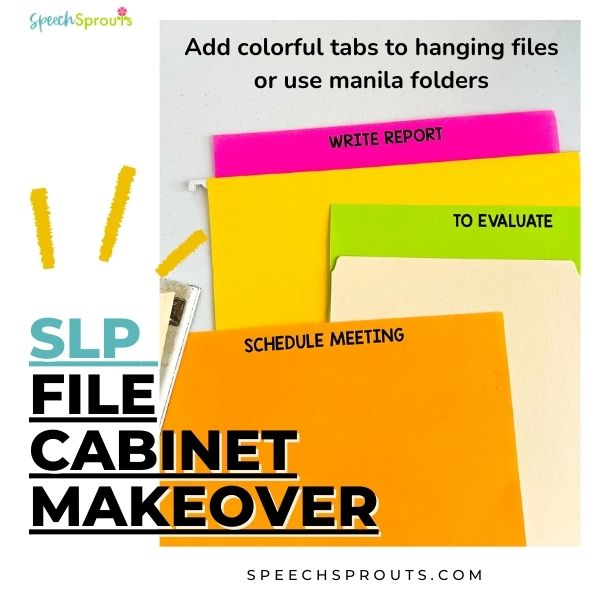 New referrals? Which students need an assessment or goals? Add your student folders behind each appropriate section of your new dividers. Once you complete the task (such as setting up an IEP/ARD meeting) you'll move that student's folder to the next place in your workflow.
You'll be able to see at a glance exactly how many new referrals you have, how many students are ready for a written report, need goals, or are ready for their meeting at any given time.
I like to put files in my workflow at least a month ahead of due dates, to give me plenty of lead time. This system made my SLP life soooo much easier. Much quicker than scanning through a spreadsheet to see what needed to be done next.
The 17 Genius Ideas post shows an even easier, simpler DIY way to create these dividers with hand-written laminated construction paper dividers.
You definitely do NOT need to be Pinterest pretty to be organized, but if you want to step it up a notch, this method really turns out gorgeous. Your speech therapy room file cabinet will now be both organized and pretty too!
Get the free done-for-you download to print this system when you sign up for my newsletter.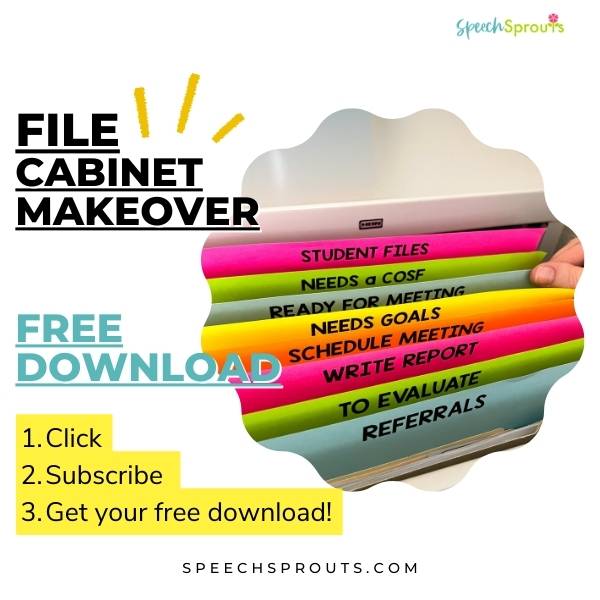 Just click the image above or head here to get your free file cabinet makeover file, fill out your information and subscribe. It's best to sign up with a personal email, because school systems may block outside emails with links, and you may not get it. Once you subscribe, you'll get an email with your file link. (Be sure to check your junk folder if you don't see it).
Remember, you can print the labels shown, or use the editable pages to write your own labels.
No time right now, but love this idea? Pin it!
Pin it for later, and you'll be able to find it when you're ready. I'm also excited to see your amazing organized file cabinet on social media, so post a picture and tag me, please. Happy organizing!