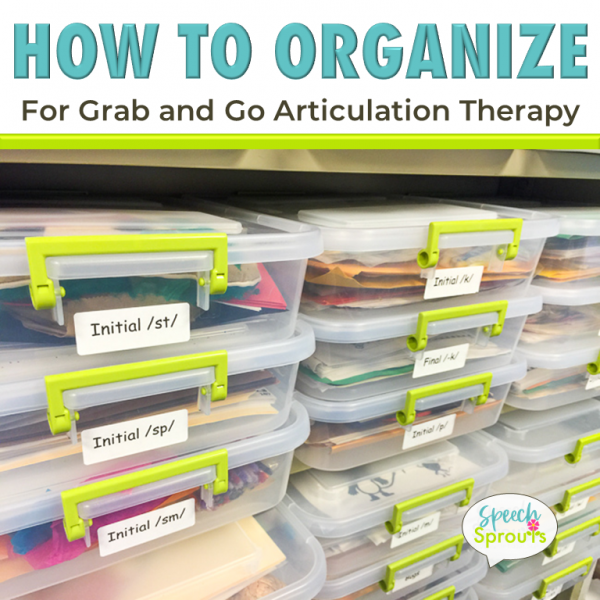 Are you spending too much time searching for the articulation therapy materials you need for each group?
Let's change that.
SLPs have precious little time to pull it together between sessions.
Sorting through multiple files, worksheets, cards and books to find the materials you need for each phoneme  can be frustrating and time-consuming. There's got to be a better way, right?
Here's a peek at how I have my articulation therapy materials organized, with everything you need in one place.
It's an easy system that's made a huge difference for me! I love being able to quickly grab exactly what I need during articulation therapy and being able to put it up in no time when I'm done. No more stacks of materials to put up at the end of the day. Yes!!
I purchased clear 6.2 quart Sterilite Latch Boxes.
I got mine at Walmart, but you can find them online too. Get one for each phoneme and if you have room to store more boxes- get a box for each word postion. Or at least initial and final phonemes.
These boxes measure 15 x 11.5 x 3.25. They're wide enough to store a manila envelope or file folder flat.
I put all my practice sheets and masters in a file. My TpT units go in a laminated manila or poly envelope. Then I pop it all in the box!
Next, I labeled the boxes for each phoneme.
I have a separate box for initial and for final phonemes,  and a box for each cluster we regularly target.
You can pack multiple sessions worth of articulation therapy activities in each box… easy peasy!
Best of all, its super quick and easy to pull a box and go… because everything you need is in the box, all in one place!
Here are a few materials I keep in my /sm/ box.
I love literature-based therapy, so I add a couple of sound-loaded books to each box.
Find more sound-loaded book ideas in this post, then download my free list.
Smelly Socks by Robert Munsch is loads of fun when practicing /sm/ words. The little girl absolutely loves her stinky, smelly socks, but her friends don't.
This book is sure to get plenty of giggles. Try asking your littles if they know anyone who has "smelly feet". They always volunteer to tell on Mom or Dad or Grandpa!
After reading the story, try this "smell bottles" activity for more /sm/ practice.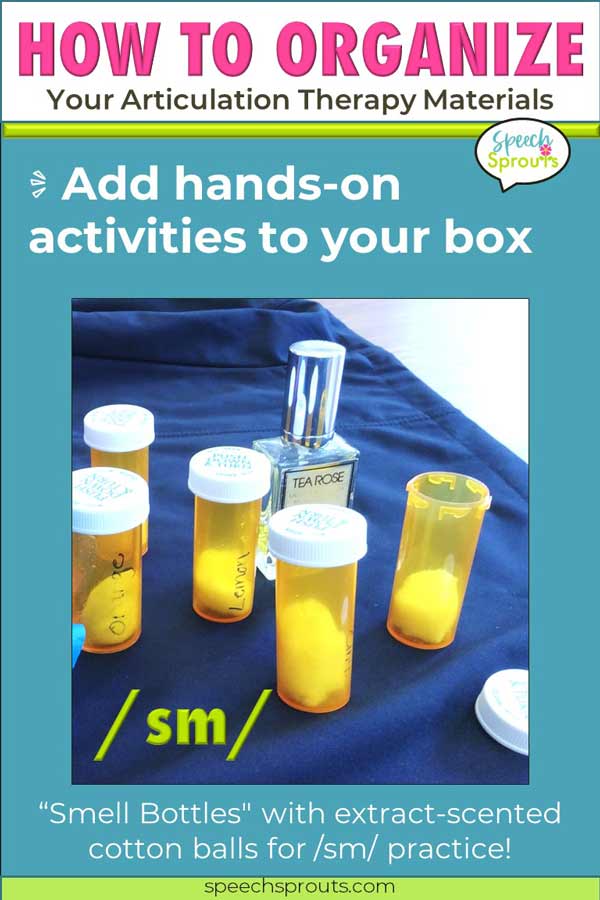 The boxes are deep enough to store craft materials and small manipulatives like these bottles.
I collected pill bottles, put a cotton ball in each, and put a few drops of extract on each one. The last one had rose-scented perfume.
Hands-on activities are a natural in speech therapy.
Kids really remember them, and want to talk about them when they get home. Activities like this are great not only for fun sessions, but awesome carryover opportunities too.
Hands-on activities are also a great opportunity to work in language as well as practicing articulation.
FREEBIE! Here's a practice sheet I use with my "smell bottle" activity.
You'll get plenty of practice opportunities with this fun articulation therapy activity.  Have your children ask for the bottle they want to smell and say,  "I want to smell this one."
Ask them how they think it smells. Good? Bad?  Have them say, "It smells ______."
Ask, "Which one do you think it is?"
"It smells like____."
Finally, have your children set the bottle on the grid, and say the sentence. "I smell lemon. I smell cinnamon."
If you want to give it a try, you can download this s-blend activty: Smell Bottle Practice Sheet.  There's also a low-ink-friendly B&W version and a version without the "smells" listed so you can label it with any scent/extract you want.
For a second session of fun /sm/ practice, try making these flowers to smell.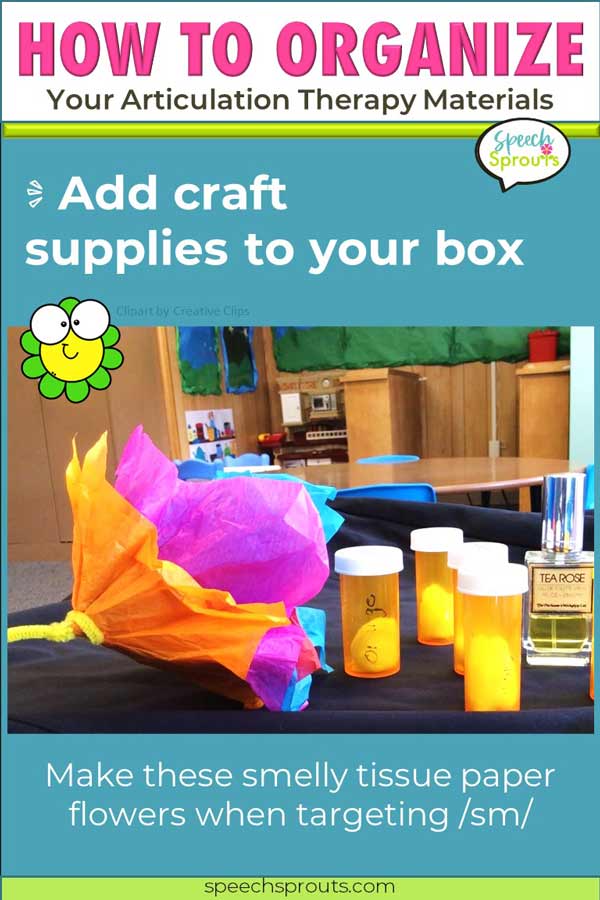 These are fun and my littles love to take home their flowers.
I guarantee you, the kids will be happy to ask everyone… "Do you want to smell my flower?" Awesome for carryover and the smell lasts for days.
To make these smelly flowers:
Cut squares of tissue paper.
Have the child choose 3-4 sheets.
Layer the tissue paper and push a pipe cleaner through the center.
Wrap one end of the pipe cleaner around a cotton ball to secure it.
Push the tissue paper up around the cotton ball "center" and coil the pipe cleaner around the base to secure it. (as shown)
Now have your child choose a "smell". "I want the orange smell"
Drop on extract or spray the perfume on.
Love these ideas? Pin it for later!
For more great ideas, check out these Pinterest boards:
Articulation Activities for Speech Therapy
Speech Room Organization Ideas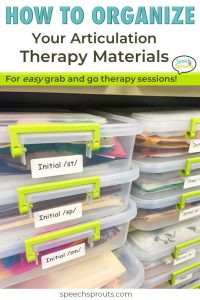 Let me know what you think if you try these ideas
Do you have another awesome system for your articulation therapy materials? Tell me about that too. I'm always ready to find new ideas. Have fun!