Did you know that Pancake Day is celebrated in the United Kingdom? I think we need to bring that to the U.S. too. Yum!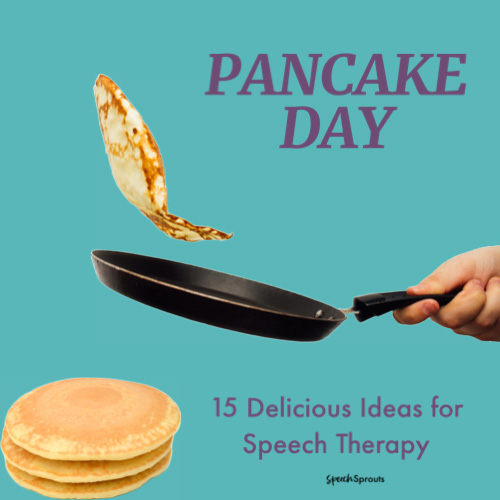 Pancake Day (also known as Shrove Tuesday) is a delicious tradition and a fantastic theme for planning speech therapy activities.
What is Pancake Day all about?
It's said that long ago, around 600 AD, Pope St. Gregory told Christians they weren't allowed to eat rich foods during Lent. People didn't want their food to go to waste, so the day before Lent began, they used up their butter, eggs, and milk by making pancakes. The day became known as Shrove Tuesday.
In France, people made crepes and cakes and called the day Fat Tuesday. (Mardi Gras is french for fat Tuesday.) The rule also spread to England and Ireland. In the United Kingdom, the day was called Pancake Day.
When is Pancake Day?
Shrove Tuesday always falls 47 days before Easter Sunday. So just like Easter, the date varies. In 2023, Pancake Day falls on February 21st. In other years it may fall somewhere between February 3rd and March 9th.
Pancake Day in the UK
In the United Kindom, holding pancake races is a fun tradition that's rumored to have started in Olney, England. Runners each hold a frying pan with a pancake. They flip the pancake and catch it as they run. Sounds tricky to me!
Is Pancake Day celebrated in the US?
As you might imagine, Pancake Day seems like a natural for pancake house restaurants, and IHOP® has a tradition of giving away a free short stack of pancakes on what they call "National Pancake Day."
It doesn't always fall exactly on Shrove Tuesday, but I think those buttermilk pancakes would be just as yummy a few days later. You may want to check it out!
You can find Pancake day celebrations in a few American towns, including Liberal, Kansas.
When I shared pancake ideas for speech therapy in my newsletter, one of my sweet subscribers emailed me to let me know that since 1950, her town in Liberal, KS celebrates Pancake Day every year! They hold a live transatlantic race which is a fun and friendly competition with Olney, England. Elementary students participate in pancake-flipping contests and they even get out of school to celebrate. How fun!
Ideas for pancake-themed speech therapy activities
If you enjoy bringing cooking activities into speech therapy, you'll love this theme. Even if you prefer not to get that messy, there are plenty of ways you can use this engaging topic to plan your sessions.
Everyone loves pancakes, making it a highly relatable theme that your students will love talking about! For articulation… It's chock-full of opportunities to practice final /k/ and syllableness.
Great for your preschool and kindergarten students, I think it would also be fun to expand it with some higher-level activities for your older elementary students too.
Start by reading a fun book about pancakes.
I always prefer to bring the actual book to read, but if you can't find a copy of the title you want, you can often find it read aloud online. Here are a few YouTube® links to some favorite read-alouds:
If You Give a Pig a Pancake by Laura Numeroff
Poppy's Pancake Day by Sue Graves and Jane Eccles
Mr. Wolfe's Pancakes by Jan Fearnley
Pancakes for Breakfast by Tomi De Paola is a favorite wordless book, and great for storytelling and retelling.
Wordless books are fantastic for language development! Check out this post for a list of 19 wordless books great for speech therapy.
Pancake Songs
The Pancake Song by ITS Music Kids Songs
Pancake Party by Pancake Manor-Kids Songs
More ideas for pancake day activities
Let's cook. Bring in a griddle and make mini pancakes with your children. I'm thinking I might skip the sticky syrup though! You'll work on:

Following directions
Labeling verbs: measure, stir, cut, cook, pour, mix, scoop, flip
Adjectives: hot, wet, sticky, sweet, browned, delicious, messy
Sequencing: what you do first, last, next, then
Articulation: making pancakes will give lots of final /k/ practice, and you can work on other sounds too as you go.
"WH" questions: ask what, when, where, and why questions while you're cooking

Create a pancake center for your kindergarten and preschool speech therapy students. This would be a great push-in activity too. You'll need a "stove" of course, so if you don't have a play kitchen handy, check out this DIY tissue box stove by Kids Craft Room. Stock it with a frying pan, bowls, plates, spoons and some play food. Now engage your littles in some fun language-building play therapy!
Have a Pancake Prepositions Hunt. Cut out a few "pancakes" from brown construction paper or a sheet of brown foam and put them around the room. Have your children take turns finding them. Where was the pancake? Under, behind, on, inside, below?
Pancake Flipping- Tape articulation or vocabulary pictures under your paper or foam pancakes and use a spatula to "flip" them as you practice. Make a game out of it by hiding a special picture (maybe syrup?) under one pancake. The person who finds it wins that round.
Rainbow Pancakes: Get out some play dough and use different colors to make rainbow pancakes. Add a spatula and a small frying pan. Compare sizes: big, bigger, biggest. Stack them up: tall taller, tallest. What else can you stack? The play dough cans? Blocks? Which color is on top? The middle? The bottom? Talk about verbs: roll, squash, fry, flip, eat. Who has the most pancakes? The least?
Learn the traditional poem and fingerplay: Mix a Pancake
Yum or Yuck? Practice final /k/ by taking turns dreaming up crazy pancake toppings. Pickle pancakes? Yuck! Spaghetti pancakes? Yuck. Strawberry pancakes? Yum, I like it!
Play Pancake Pile-Up! by Educational Insights if you have the game or can borrow it. Use the included cards to work on following instructions and sequencing or just use it as a motivational activity.
Stack 'em Up Categories Game: Give your older students a category, and let them take a paper pancake for each category member they can name. They can stack their pancakes on a paper plate. Who will get the most pancakes? Spice it up by taping a pat of "butter" under a couple of pancakes that say "take an extra" and a picture of a flame with the words "Burnt pancake! Put one back." This game would also work well for synonyms, antonyms, and describing too.
What are your great ideas for pancake day?
I'd love to hear them. If you post an idea or activity on social media, be sure to tag me, @speechsprouts.
I have plenty more ideas for themes in speech therapy, you may want to check them out.
Here's a tip: Don't forget to pin the posts you like so you can easily find the ideas when you need them later!