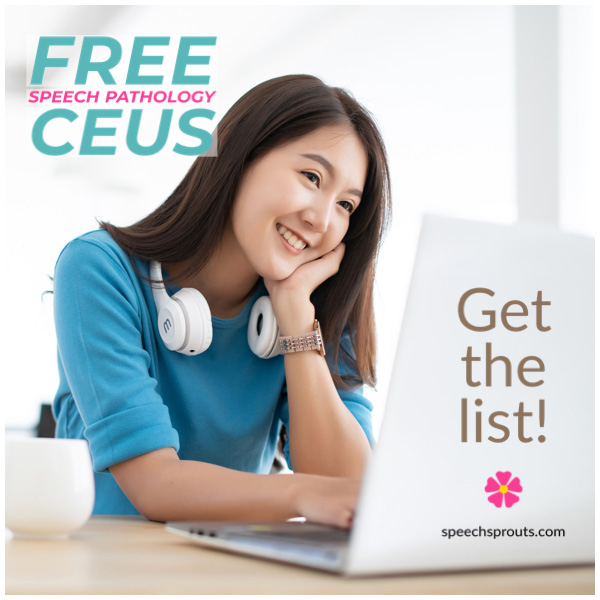 Are you an SLP looking for free speech pathology CEUS online?
Earning continuing education hours (CEUs) is essential to stay up-to-date with the latest research in our field and evidence-based therapy approaches. I especially love courses that also teach practical tips and therapy techniques to help you serve your students and clients.
The best professional development helps you grow your skill set, stay informed and gets you inspired to get back to your therapy room and implement what you've learned!
SLPs know that professional development hours are required to maintain your ASHA Certificate of Clinical Competence (CCCs).
Most states in the United States also mandate continuing education hours in order to practice as a speech-language pathologist. These may match the American Speech and Hearing Association (ASHA) requirements or they may differ, so be sure to check and see what's required in your state. ASHA has a state-by-state list you can check.
As of 2023, here are the requirements for maintaining your ASHA CCC's:
SLPs must earn 30 professional development hours each 3-year renewal period. Of those 30 hours you'll need:
at least 1 hour on the topic of ethics
at least 2 hours about the topics of cultural competency, culturally responsive practice, cultural humility, or diversity, equity, and inclusion (DEI). ASHA provides a detailed list of approved topics to help you be sure you're meeting the requirement.
Did you know that earning ASHA-approved CEUs isn't the only way to meet the professional development hours required to maintain your CCCs?
According to ASHA, the professional development hours you earn must be within the scope of speech-language pathology or audiology, and they can be related to any area of clinical practice.
Eligible hours not only include speech pathology CEU's approved by ASHA or state speech and language associations, but also professional development offered by:
universities
other professional associations
employer in-services
college coursework
independent study and
teacher workshops that help you serve your students/ clients better
Find more information about what ASHA accepts as professional development hours but remember to check if these additional activities will also fulfill your state requirements. You'll want the hours you earn to cover you both with ASHA and your state.
Earning speech therapy CEUs can be expensive
Unless you're lucky enough to have an employer who's paying for your CEU hours, the cost of earning those speech pathology CEUs can add up! Some workshops are as high as several hundred dollars per course.
To meet your required hours without breaking the bank, look for local workshops (so no travel expenses are needed), or conferences which often let you earn many hours for one entry fee. You can also find online courses and webinars (some are recorded so you can view them anytime.)
You can also check with your local universities or educational support centers, and even healthcare organizations in your area. They may sponsor low-cost or free professional development workshops or events that will provide CEU hours.
What's a budget-smart way to start?
Save the paid courses for last, and look for speech pathology CEUs free online. (Bonus… you can even do your hours in your PJs while sipping your favorite beverage!)
To save you some time, I've done a little sleuthing for you and found a few great choices.
Check out this list of free speech pathology CEUs online.
You'll find a variety of free CEUs, including webinars, and both live and self-study online courses.
I hope this list of free speech pathology CEUs helps!
As SLPs, we need to stay up to date with best practices for our constantly evolving profession and the variety of needs of our clients and students.
I hope these professional development opportunities help you stay informed, add to your speech therapy skill set and get you energized to create some fantastic speech therapy sessions!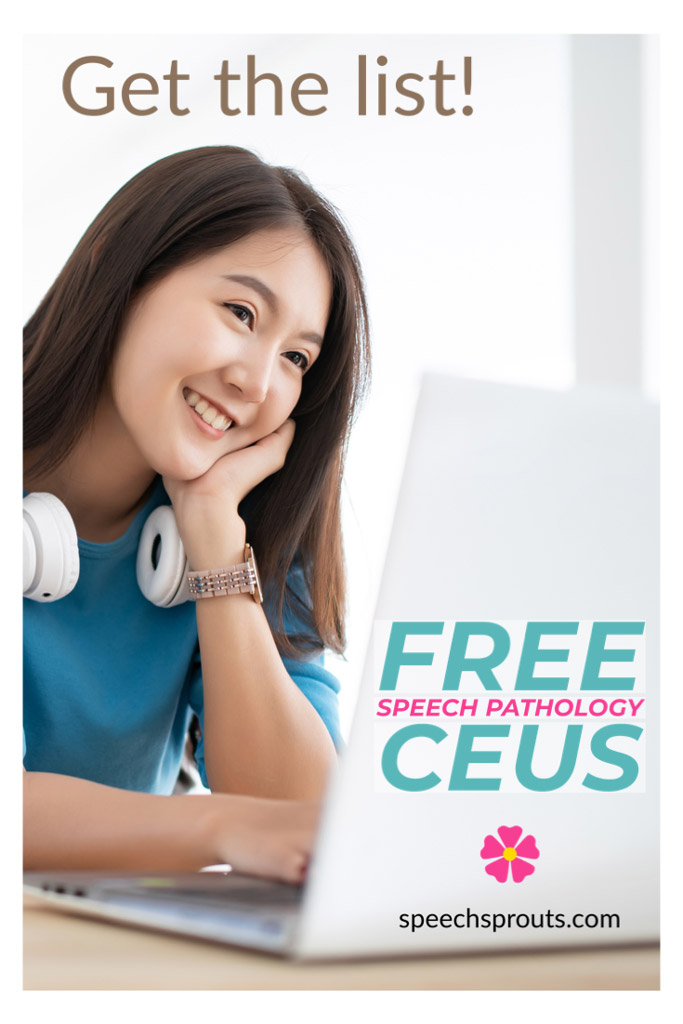 Love learning? A few more posts you may enjoy:
Childhood Apraxia of Speech, What SLPs Need to Know
3 Valuable Insights that Changed the Way I Assess and Treat Stuttering
I Made These 3 Mistakes Teaching The Picture Communication System, Have You?