Hugs! I've rounded up a list of free ideas and activities for you to use in your online speech therapy sessions this month as you get ready to celebrate Valentine's day.
Books for Valentine's Day speech therapy
Be sure to visit your library early, these will be checked out fast! If you can't get your hands on a hard copy, I've linked read-alouds on YouTube. All links are working as of the time of posting, but please let me know if any of these links don't work for you later.
Hug Machine by Scott Campbell If you are working on final /g/, this book has plenty of those! You'll talk about describing words, square, long, and soft. Who do you give hugs to? Great conversation starter.
Click, Clack, Moo I Love You by Doreen Cronin and Betsy Lewin The animals throw a Valentine's Day party in the barn. Will they invite Fox?
Love Monster and the Last Chocolate by Rachel Bright Will Love Monster share the box of chocolates he found? A sweet story about how it's nice to share.
The Day it Rained Hearts by Felicia Bond Raining Hearts? How fun!
The Love Letter by Anika Aldamuy Denise Who wrote the love letter? Was it Hedgehog, Bunny or Squirrel? Great for vocabulary like feeling prickly, cheerful, and tumbling. Fun for prediction too.
Roses are Pink, Your Feet Really Stink! by Diane DeGroat is a fun story about how it's better to be nice than mean! A great conversation starter about social skills and how to be a friend.
Here Comes Valentine Cat by Deborah Underwood Cat is not too sure about his new neighbor, Dog. He's going to make a valentine for Dog, but some of them may not be quite nice… A funny story about not judging others, and being a good friend. This one is fun for elementary, as the cat gets a bit… ornery!
Free Valentine's Day online games for teletherapy
Online games can be fun in speech teletherapy if you can give kids control of the mouse. I like to give a turn at the game after every few trials and I look for games that don't take up too much of your precious speech therapy time to play. Here are some winners for your Valentine's Day speech therapy sessions:
Curious George Hearts and Crafts by PBS Kids is a simple puzzle game that would be fun as a motivational activity for PK and Kinders. Find the shape to complete each of four hearts.
Valentine's Day Puzzle at ABCya The chocolates fell out of the Valentine candy box! Little ones will enjoy matching each chocolate to the right spot in the candy box.
Be My Valentine at Starfall.com is great for PK-2nd. Make a Valentine card, build your sentence with a connecting word (and, because), and send it. Watch as your Valentine gets delivered to the character you chose! Non-readers will need your help choosing sentence parts for the card.
Valentine Parts of Speech Valentine Jeopardy from Jeopardy Labs is fun for upper elementary. Find the verbs, nouns, adverbs, and adjectives in the Valentine-themed sentences! This jeopardy game can be used for understanding grammatical parts of speech, generating new sentences with the focus words, and practicing articulation at the reading or conversational levels.
Game Word Generator from Game Gal is super useful for elementary games. Use this any time of year to generate random words or choose "Holiday" for a list of Valentine's Day words. Use them in:
Guess Me Describing Games Show the word to one student and have them give clues until the other students guess the item…but you can't say the name of the item or you're out!
Story chain You start the story using a word you generated. The next person adds a sentence or two to the story using the next word generated, and so on. Go ahead and jump in when needed to keep the story going! You'll target sentence construction, narratives, and articulation.
Charades would be fun in front of the camera but set a time limit for each turn. Generate a word, then one student acts it out. Fun for conversational articulation or fluency practice.
Traditional in-person games can be fun virtually too
Simon Says: Get kids up and moving in front of the camera in your online groups, working on listening comprehension or articulation (if they are giving the directions). Make up a few Valentine's day directions. Here are some to get you started:
Draw a heart on your arm with your finger.
Pretend to eat three chocolates.
Pretend to put a valentine in an envelope.
Put your hand on your heart.
Hug yourself.
Pretend to open a Valentine's Day card.
Blow a kiss to someone.
Make a surprised face.
20 Questions: Hide an item (or pictured item) in a Valentine bag, box (or green screen pocket!) in front of the camera. Have students ask you questions to try and guess what it is. Great for question goals, sentence construction, describing, categories, and articulation too. A few ideas: teddy bear, cards, lollipop, candy heart, a red crayon, scissors.
Valentines's Day jokes for speech therapy
Drop a few of these in each session this month and you'll tickle their funny bone! Tell a joke, then explore the play on words… why is it funny?
What did the stamp say to the envelope on Valentine's Day? I'm stuck on you! That's just one cute joke you'll find here at the Red Tricycle: 34 Hilariously Sweet Valentines Jokes for Kids.
More free online activities for your Valentine's Day speech therapy sessions
Valentine's Day Word Search by ABCya
Valentine's Day Crossword Puzzle by ABCya
Valentine Painting Pages and Puzzles by ABC Mouse
Paint a simple Valentine's Day picture and then turn it into a 4-piece puzzle! You'll need to create an ABC Mouse account to access this, but accounts are free for educators. Once there, search "Valentine" in the search bar.
Valentine's Day Jigsaw Puzzle– Choose the difficulty level right for your students, from a 4-piece puzzle to a 10-piece puzzle that has no guidelines.
Valentine books online– ABC mouse also has 3 books you can read online, including Mr. Goat's Valentine.
Valentine's Day YouTube videos for teletherapy
Heart Song for Kids by the Kiboomers Practice your /l/, /v/ and sh sounds as the song repeats "I made a Valentine for you, the heart shape says I love you."
Five Little Hearts by The Kiboomers is great for final /ts/ practice. This slow-paced song is perfect for littles.
Valentines, Valentines, What Colors Do You See? by the Kiboomers will be fun for PK groups. You or the kids can make hearts in all the colors, then hold them up as the colors are mentioned in the song. Kids can ask or answer "What color is the heart?"
Skidamarink by Super Simple Songs will give you lots of /v/ practice with "l love you" plus s-blend and /k/ practice.
Boom Chicka Boom by the Learning Station will get your students up and moving.
Valentine's Freeze Dance with Stops is a music video that stops and displays "FREEZE!" Great for a quick movement dance party.
For more YouTube videos for your Valentine's Day sessions, check out this post by the Dabbling Speechie.
Free Valentine's Day Boom Cards for teletherapy
Valentine Opposites Boom Cards by Susan Berkowitz Fun Valentine antonym practice. Drag and drop the hearts to match them to their opposites.
Valentine Open-ended Game Freebie by Mia McDaniel-Putting Words in Your Mouth Use it for any target.
Be Mine Valentine /k/ by The Speech Meadow Drag the pictured words (real photos) to the candy heart box to fill it up!
PDF resources that work great shared online
Valentine's Conversation Exchange: Map, Mash, and Mark by TLC Talk Shop Use the Venn diagram to find common interests with peers. The conversation mats cover each of the actions needed to start and maintain a conversation (ask, respond, comment) as students engage in a conversation.
Is it Kind? A Speech Therapy Social Skills Activity by me-Speech Sprouts Work on verbs and social skills. What's happening in each picture? Is it kind? Why or why not? Use annotation tools to draw lines from the lovebugs to the kind actions. Discuss "What have you done that's kind?
No Print Preschool Language Kit: Valentine's Day Plurals sample by Speech Universe is an interactive pdf (meaning you can click items on the page to advance) for fun pictured Valentine plurals.
Did you know? You can share any pdf file online with annotation tools using TpT's Digital Activities Tool. Click the link to learn more.
Check out these posts to find more Valentine's Day freebies for in-person speech therapy.
30 Valentine's Day Speech Therapy Freebies You'll Love by me-Speech Sprouts!
10 Valentine's Day Freebies for Speech and Language Therapy by TLC Talk Speech and Language
More Valentine's Day Speech Therapy Activities
If you need more Valentine's Day ideas, my top recommendation is my Valentine Bingo Riddles! You'll find it Bingo Riddles games are super engaging, great for multiple goals, ages, and any size group. It's a fabulous way to do in-class sessions or large group make-up sessions too.
For no-prep in-person fun, try my Valentine Mixed Group Magic pack will easily cover your caseload or try my Valentine Language Mandalas color-by-number pack and your students will love the gorgeous Valentine designs.
You can also find all my Valentine's Day Speech therapy activities in my TpT store.
Don't forget to pin this post so you can find it for your Valentine week teletherapy sessions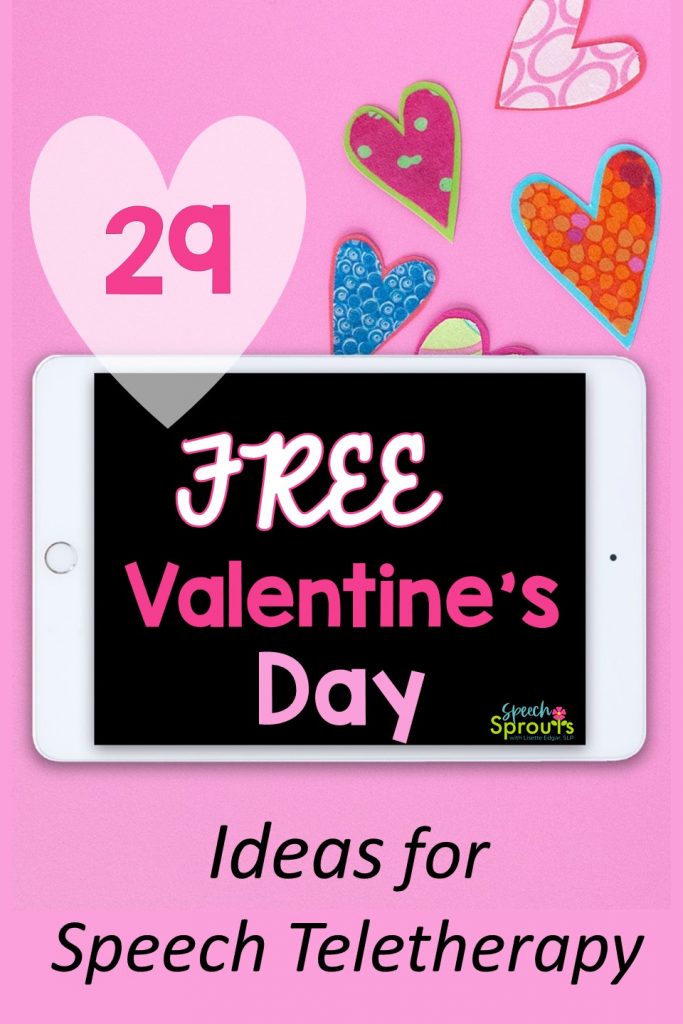 XOXO Lisette