Today I am featuring some of my favorite feedback from some very wonderful buyers at Speech Sprouts. I'm linking up with Allison's Speech Peeps to say thank you for some truly awesome Speachy Feedback!
If your feedback is featured, please contact me because you have won a free product from Speech Sprouts!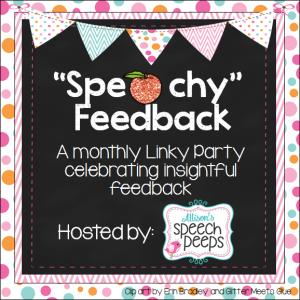 It is just too hard to pick just one comment, because SLPs and teachers are some of the most supportive and wonderful people. That's what the best educators do, isn't it? Encourage each other?
I love feedback that tells me the kids really enjoyed a learning activity I created. It's so exciting to hear, and keeps me so motivated to make more!
I know what works in my therapy room, but I want to be sure it works in yours too! I love hearing what aspects of a product you enjoy. This really helps me as I plan out future resources.
Is is soooo important to me that you feel you got a great value and a quality resource when purchasing a product from Speech Sprouts, so I was doing a happy dance, when I read this!
Itsy Bitsy Spider Unit
If I have featured your feedback, please contact me at
sp******************@gm***.com
, for your pick of a free resource, excluding bundles. Congrats!
Thanks to all for leaving me your kind and encouraging words. It means more than you know.
Don't forget to head over to
Allison's Speech Peep
s and see who else has chosen their speachy feedback favs,
HERE
.. Maybe it's yours!