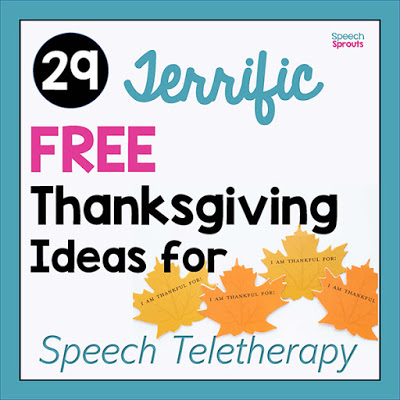 I've rounded up 29 free Thanksgiving activities that are easy for you to share in teletherapy. 
This year the search is on for activities to share online… no-prep or easy peasy low-prep activities to simplify your pre-Thanksgiving sessions.  So I've gathered some fresh ideas for you, with an emphasis on engaging activities that are quick and easy to share online with your preschool and elementary teletherapy students.
If you've been hanging out with me for a while, you know I love literacy-based therapy, so let's…
Start with at least one great Thanksgiving storybook
Here are my favorite picture books for preschool and early grades. I highly recommend you get a copy of the book to share. In teletherapy, you can show it with your document camera (you can use your iPhone for this in Zoom), or an Osmo.
But in case you can't find a hard copy, I'm linking some read-alouds on Youtube for you. Keep in mind, these links are working as I write this, but if you find one that doesn't work later on, please let me know in a comment.
Thanksgiving-Themed Books:
Head over to this post to read more about these books and how to use them in therapy:
Five Best-ever Thanksgiving Books for Preschool Speech Therapy
Food-Themed Books:
Autumn-Themed Books:
Add a couple online games:
Just for Fun, Motivational Games
Let your kids play a round of a fun fall game after they've answered their questions or practiced their words. These are fun if you can give kids control of the mouse on your teletherapy platform.
Mix it with Video Stories, Songs, and Movement Breaks:
The Story of Thanksgiving by Zebtoonz  A cartoon retelling of the first Thanksgiving as told by the main character "Plymouth Rock." There are mentions of God in this video, so check with your school's policies on religious references in your lessons.
Thanksgiving Feast by the Learning Station is a nice slow-paced song to the tune of Frere Jacque that your preschools can sing along with. Lots of food vocabulary.
And add a dash of spice with free Boom Cards!
Open-ended Turkey Race by the Speech Vine is a 2-player game. Use an online spinner or dice to see how many turkeys each player collects.
Create a Scene Thanksgiving Dinner by The Artsy Teacher is great for giving and following directions. Have your kids place the items in the position you name: on, under, next to, between. Work on Where questions too: Where is the ___?
If you're looking to stuff your sessions with more activities, check out these Thanksgiving favorites:
You can find these available to purchase in my Teachers pay teachers store:
Five Little Turkeys pack  includes an interactive story terrific for simple vocabulary practice, rhyme, and articulation of /k/, /f/, /v/ and /l/ with the repetition of "Five Little Turkeys." You'll also get printable activities many of which are easy to share on your teletherapy screen such as the "Where is Mr. Turkey?" pages targeting prepositions and questions, and the dot marker turkey for fun.
Pumpkin Speech Therapy Activities and Digital Stor
y
includes Pumpkin, Pumpkin Where Can You Be?  another interactive digital story that focuses on Where? questions. There are no Halloween references, so you can use it for Thanksgiving too. Target plenty of additional goals with the printable (and many shareable) activities.
Thanksgiving Bingo Riddles
 are fabulously fun for kindergarten and up! Share a bingo board and read the rhyming riddle clues to play, while you target inferencing, vocabulary, and listening skills. Don't forget to have the kids practice articulation along the way.
Bingo Riddles are my most popular resources and best-sellers on TpT because they are totally engaging and so versatile for any setting or group. This is a resource you'll use every year for sure, so be sure to check this one out!
Thanksgiving Mixed Group Magic Activities
includes plenty of BW pages to share. Use the dot to dot pages, color by number, or mystery dots with your annotation tools in teletherapy. I've included Thanksgiving-themed WH questions for you, or use them open-ended.
I hope you found some fun activities for your pre-Thanksgiving speech therapy sessions!
This year, I'm especially thankful for you, and the blessing of you visiting to share my journey, my creations, and the speech therapy treasures I find along the way. Happy Thanksgiving!