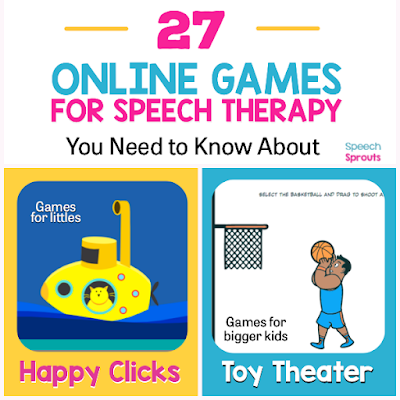 Online games that are quick to play are perfect for speech teletherapy.
Like many SLPs right now, I'm a newly minted teletherapist due to school closures during the COVID 19 pandemic. After three months of diving into speech therapy telepractice this spring, I quickly realized that I need more tricks up my sleeve to keep my students engaged with me online! Thirty minutes of pure drill time wasn't cutting it. It wasn't long before they started looking at me with eyes that said "What else have you got?"
And…like a bunch of you, I'll be headed back to school seeing my students online, at least for now. So it's time to gather up some great resources to keep participation and interest high!
It's important to mix it up with a variety of activities to keep students engaged during online speech therapy sessions.
Especially the youngest ones. Gee- in that respect it's not unlike in-person sessions, is it?
I may have 2-3 different activities during a session. including books, real games (I take their "turn" for them in front of the camera), puppets, toys for the younger crowd, riddles, and worksheets we could draw or write on with annotation tools. I also love Boom Cards and digital resources like interactive pdfs. I like to get my kiddos up and moving sometimes too. We all need that!
Online games are a favorite activity for my speech therapy students.
No prep for you, fun for them. If you are using a platform like Zoom where you can give your students control, any of these games are great. If you can't give students control, look at the online board games that automatically advance. You can click the dice for your students.
I keep a document of links on my desktop so I can head over to a great online game quickly during a session. Ready for a list to make your teletherapy planning easier? Here you go!
Here are some of my favorite sites for engaging, quick-play online games.
I've played a lot of games y'all, and I've listed games from these sites that load easily, are quick to play, motivating, and won't take away too much therapy time! You may want to look through the main sites and see if there are more games you love.
Pink Cat Studio 3 fun games that you can use open-ended or for words, rhyme, and more
Fun Brain Tons of engaging, quick-play games kids will love
Toy Theatre  Fun games, and lots of extras like dice and spinners
For little ones, you'll also want to check out:
ABCya  Lots of "Make-a" games and holiday games for little ones…Some games require Flash Player.

PBS Kids  Simple games with characters kids like such as Clifford, Sesame Street, or Arthur.
Happy Clicks  I love this site of super-easy activities for very young learners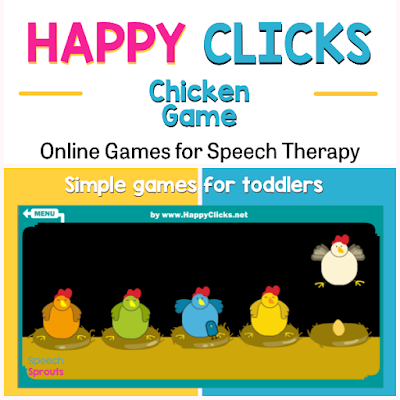 Happy Clicks has simple games for your youngest children just touch or tap to see things happen!
Easiest online games for early learners:
Chicken Game
Click your mouse and the colorful chickens squawk, lay eggs, and hatch chicks
Fruit Fall Help the farmer catch the fruit in his basket.
Simon Sees:
Match the monster's reflection in the mirror by changing the pattern of his three eyes.
Helipopper The monster is flying with a helicopter hat. Pop the balloons that match the color of his hat. Requires paying attention to changing hat color.
Pink Cat Studio
 has three free games that can be played open-ended (you just click the answer quickly) or for a variety of skills including Wh Questions, CVC words, antonyms, articulation of digraphs, l-blends
Play Build a Monster, Smarty Pants Animal Race, or Quiz Wheel Game for free.
Open-ended online games for all grades
Frost Bite
 Stick out your tongue and eat snowflakes
Desert Dive: Big Blue and his friend are on a see-saw, drag Big Blue up, and drop him to make his friend splash into the pool.
Spaceship Maze Guide your spaceship through the maze. Starts easy and each maze becomes a bit more challenging.
Turtle Wax Raise and lower the slide, then let the turtle slide down. Can you make him hit the target?
Connect4
Play the computer or another player
Online board games:
Familiar and fun games for anyone.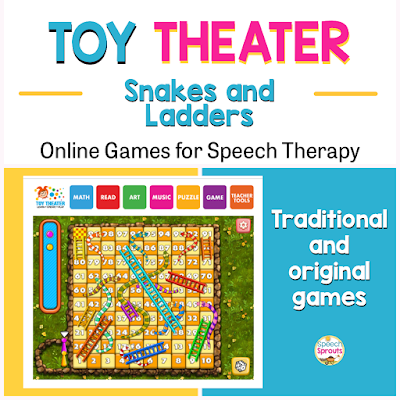 Find games, hidden pictures, puzzles and more at Toy Theater
These games automatically play when you click the dice. Fast and easy!
Snakes and Ladders  Roll the Dice and your game piece automatically moves. Play with 1-2 players, or establish teams in a group.
The Goose Game: Roll the dice to advance. Some spaces are luck, some are not! Up to 6 players
These games require you to move the pieces. Some are strategy games best for older kids.
Checkers for 1-2 players or teams
BackGammon strategy game for older kids
Reversi Another strategy game for older kids. 1-2 players.
Games that are a bit more challenging:
Treasure Dive: The diver must avoid the sea creatures as he collects the gold from the treasure chest.
Word Turtle Create your own word search. Two levels of difficulty. Greate for articulation generating synonyms, antonyms, or category members

Visual Memory Puzzle Study the colored circles on the grid before they disappear. Can you re-create the pattern? Becomes progressively harder.
Poki Cut the Rope Feed the monster strategy game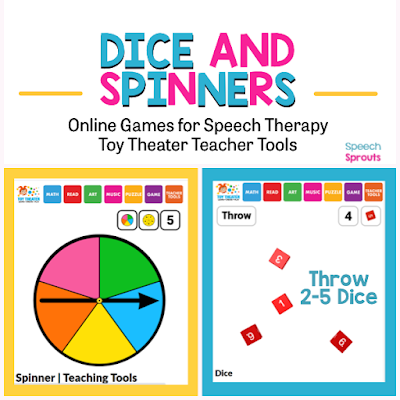 Toy Theater also has great teacher tools you can adapt for speech therapy
Online dice and spinners for any game
Toy theater is great for these. These can be a game in themselves. Who will rack up the most points? Throw the dice or spin a spinner.
Dice: Colorful online dice in many shapes and sizes
Spinners; Choose spinners for either colors or numbers. You can choose how many spaces on the spinner too!
Online games are great to use in in-person therapy too.
Play them on a  tablet, computer or project them on a whiteboard for instant engagement. Huge bonus- you don't have to lug these around as you travel from school to school or setting!
Don't forget to pin this post to save it for later when you need a fresh, motivating activity for your kiddos.
Are you still needing to provide send-home materials, either printed or virtually?
I hope you've found some games you and your students love. Please leave a comment if you've found any more terrific open-ended games we should know about!
Stay well, my friends,