If you have any experience with the use of AAC for communication, you are probably aware of The Picture Exchange Communication System or PECS.
The PECS System is considered low-tech and does not require an electronic device. PECS was developed in 1985 by Andrew Bondy, Ph.D. and Lori Frost, SLP. It was a unique augmentative/alternative communication system developed to meet the needs of learners on the autism spectrum or those with developmental learning disabilities with significant communication challenges or who were non-verbal.
PECS is a well-known, widely used system of AAC. You have probably seen those communication notebooks, with Velcro and a sentence strip on the top cover, filled with more Velcro strips and laminated picture symbols inside. In classrooms for children with disabilities, you'll see children pull a picture off their book or a choice board and hand it to an adult to request a snack item or toy.
The PECS system was based on behavioral teaching techniques. In the beginning level in the system, a learner exchanges a picture with a communication partner to request something… which is then quickly honored.
Pretty simple, certainly low-cost, and easy enough for anyone to implement, right?
Actually no. Not if you want your learner to become a fluent, successful communicator that acquires a robust set of communicative functions and an ever-growing vocabulary. Not if you want to be as effective as you can be. You need training for that. Why? Because the research-based system will help your learners reach their highest potential using the system if you know what you are doing. I thought I did. But I had forgotten about many details that can make a big difference.
~~~~~~~~~~~~~~~~~~~~~~~~~~~~~~~~~~~~~~~~
I just completed PECS LEVEL 2 training and I have a lot to think about going forward.
I took the Level 1 training a few years ago. Alright, maybe it was a lot of years ago… probably 15 years give or take. Since then I have used it to teach picture exchange for requesting, but not recently. Now I'm getting ready to start it with learners of mine, so I jumped on the chance to take the Level 2 training at our Educational Service Center and I'm glad I did.
In case you are wondering, I am using the term "learners" because I have heard that this week and I really like it. It works for a variety of terms and settings: including student, client or patient.
I realized that there are a few things I was doing while implementing PECS that I need to change.
I was definitely due a refresher and I learned a lot of additional tips and tricks. I think I have a deeper understanding of the process of the Picture Exchange Communication System. I also realized where I have messed up and was missing implementing parts of the protocol that can make a difference. Have you made any of these mistakes? Confession time- I have. Here are three, but there are certainly many more!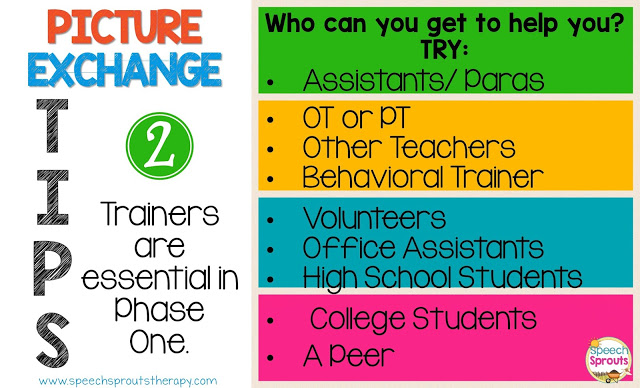 1. I attempted to teach phase one, the basic exchange to request, with only one trainer- me. I remembered that two trainers were recommended, but finding another adult to work with you can be hard to do in a school setting. Teachers and assistants are super busy and engaged with the rest of the children in the class. I figured I was pretty good at multitasking and could just work harder without the extra help to keep the student engaged and learning. So I went it alone.
There are several reasons this is not a good idea. A huge one is that we don't want our learners to become prompt dependent. A second trainer reaches from behind the learner to provide gentle physical prompts without talking to or engaging the learner. This method of prompting is much more natural, less intrusive, and is less likely to build an expectation and pattern of waiting for a prompt to begin a communication exchange. It's really not possible to subtly prompt while facing the student as the communication partner.
The job of the communication partner is simply to entice, then deliver the reinforcer with lightning speed as soon as the child hands over the picture. That works so much more smoothly when we use two trainers. I really think that using two trainers will improve my learner's rate of skill acquisition and become ready for phase 2 more quickly- which doesn't need a second trainer! So get creative, and find some help. The need for two trainers should be short-term.
Our presenter, Anne, offered several suggestions on how to find a second person to work with you.
The good news is, you do not need to use the same second trainer to be available every session. In fact, it's preferable to rotate communication partners because you will get better generalization. No-else is formally trained in PECS? That's okay because YOU are. ( I hope! If not, I strongly recommend attending training if possible). So where can you find someone to help you?
See if a teacher or an assistant can spare 15 minutes a couple times a week, Consider co-treating with your occupational therapist. If you have a behavioral trainer, ask them. That could be a great partnership. Or perhaps you can use a volunteer if confidentiality concerns are taken care of. High school and university students are often looking to volunteer or to observe in schools. Even a peer or older student may be able to pitch in.
Keep in mind, when trained correctly, the phase one skill of grabbing a picture and releasing it into the communication partner's hand will be learned quickly. Then you won't need any help- because you are ready for phase 2!
How do you work with an untrained helper? Have your helper do the enticing, and you do the physical prompting. If they are untrained, just tell them to hold the item up and show it without saying anything. Have them put out their hand when the learner reaches toward them, and as soon as the picture is in their hand, they will quickly give the item to the learner and name it out loud.
2. I wasn't keeping the communication book, my hand and the desired item all in line.
In the beginning phase, you are teaching the learner to reach for the picture and exchange it. I have placed the communication book off to the student's side and sat next to him. Now I know that you do not want the learner to have to shift eye gaze too far from the motivational object to find the picture and drop it in your hand. You don't want them distracted and losing interest.
So the best way to arrange the materials and yourself is to line it all up with the reach. Sit across from the student if you are the "enticer". Be sure you position your open hand in front of the desired object. Now you are ready to deliver that reinforcer in a split second!
3. Sometimes training stalled at requesting and commenting.
The PECS system provides wonderful visual support for expanding sentences and teaching all kinds of vocabulary. Anne brought along so many great activities that can be used with our PECs learners. I am showing you a few here. You can teach colors as adjectives with a fun selection of items in multiple colors. You can teach size, number, and shape.
How great is the little dog activity for teaching positions?
Do you have students that are more interested in flicking the paper of the pictures than exchanging them? The "flicking" can become the motivator and some students tend to stim with them. Solution? Mount your pictures inside baby food jar lids for "flick-free" pictures to exchange! Genius.
Would you like Free Templates to create your picture cards?
Read these posts and download them!
Autism Supports: Free Templates To Easily Create Picture Exchange Cards in PowerPoint
Autism Supports: How to Make Photos With No Background Using Your Smartphone
I hope you got some great ideas, I know I did.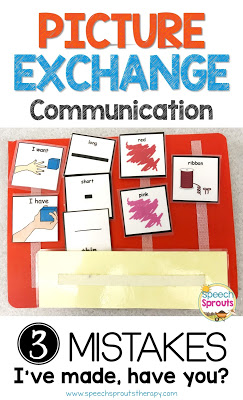 Until next time my friends,