Get your back to school speech therapy plan done with these ideas and activities for The Kissing Hand!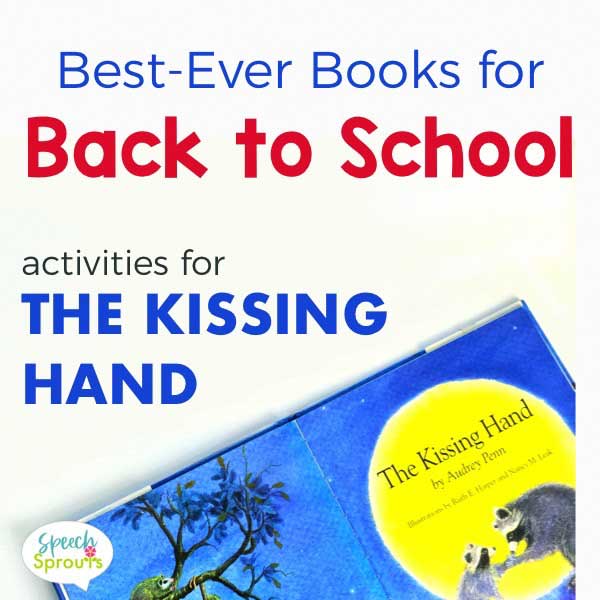 Many children feel anxious about the newness of heading back to school.
The Kissing Hand by Audrey Penn is a sweet book that assures them that they are loved and will have a wonderful time. It's great for preschool to second grade, you can find plenty of ways to share and target goals too.
Just so you don't miss it, I have a freebie for you too, so be sure you read all the way through!
The story begins with a little raccoon named Chester.
Chester cries because he is a bit scared to start school. He begs his mama to stay home with everything that is familiar to him, so he can play with his friends, his toys and read his books.
Mother gives Chester a family secret: the kissing hand. She places a kiss right in the center of his palm.
Now, when Chester places it on his cheek, he can feel the warmth of Mommy's kiss, and he thinks "Mommy loves you."
Chester loves his kissing hand, and he knows his mother's love will go with him… even to school.
He loves it so much, that he gives mother her own kissing hand at the end of the story. She presses it to her cheek and she knows: "Chester loves me."
The Kissing Hand is the perfect storybook for back to school.
Here's my plan for week ONE! We'll read the Kissing Hand with my students and talk about about feelings vocabulary.
So many children with language goals have limited descriptions for their emotions: happy, sad, and mad. Sometimes scared. Let's expand that to talking about words like worried, anxious, excited and fearful.
Reading the Kissing Hand is a wonderful way to kick off your year! After reading the story, we start by drawing our worries, and talk about what makes us feel better when we feel worried.
I needed ready to go activities for The Kissing Hand
The beginning of the year is all about multitasking and making things versatile. Starting with week one!
I like to pull one main theme or activity that I can use throught my week for multiple sessions and learners. That's why I love book companions- it's easy to cover your first week plus!
I created plenty of activities for the
Kissing Hand Speech Therapy Book Companion
to cover nearly everyone on your Pk-to 2nd grade caseload. Trying to plan different activities for each session is just too crazy. No-one's got time for that!
Here's a peek at some of the activities:
Check out this cute, simple writing craftivity:
Who would you give your Kissing Hand to? Color, cut and glue Chester to the page.
Children name the person they would give their Kissing Hand to, and more advanced writers can tell why.  This cute activity would make a terrific bulletin board display too
Articulation puzzles for minimal pairs.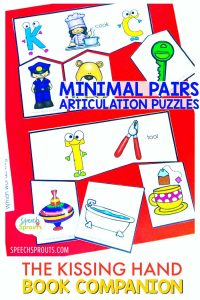 These minimal pairs puzzles are great for your pre-k and kinders.
I glued them onto file folders to make it easier for little hands. You can add hook and loop tape or use poster mounting putty so they stick.
The file folder makes it pretty convenient to hold the pieces. just pop them in a baggie, and into the inside pocket.
Language activities for The Kissing Hand
You can easily target a variety of language goals with The Kissing Hand.
For younger children I packed in activities for basic concepts, object function (I use those cards a ton), same/different,  yes/no and wh questions, following directions, and story sequencing.
Most of us have a variety of ages and learners on our caseload. I needed higher-level activities as well, so I added vocabulary task cards, more advanced category cards, story map, and vocabulary activities for older children.
This book companion is topped off with a fun open-ended board game you can use for any skill: Scamper.
Here's a peek at some of the activities: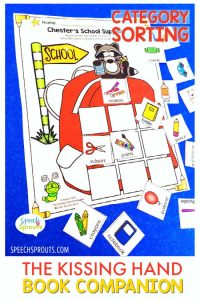 Learn categories and the negation concept of "Not"
Which pictures show school supplies? Sort school supplies  and paste them into the backpack  Talk about which pictures are not school supplies.
For young preschoolers, you may want to introduce these concepts by sorting real objects into a real backpack. Then send home this printable activity or use it to reinforce learning in your next session.
Kids need multiple ways to practice and repetion of concepts to learn skills!
Mini-book readers to create and send home
Children enjoy having their own little books and they are proud to share them at home. It's great way to get additional practice. So I created Chester, Chester, I Need a Kiss Quick!
Cut out the included heart shapes, or better yet, use stickers or die-cut hearts if you have them.
Stick the heart on the child on each page… on a hand, a head, a knee, and on the heart! Your students will practice basic body parts and answering where? questions with this cute little rhyming reader.
If you'd like to have your first two weeks back to school all planned out with these fun activities,  head over to grab The Kissing Hand Speech Therapy Book Companion.
More back to school speech therapy ideas and activities for The Kissing Hand
Send home the activities you've made together with the YouTube link to this wonderful reading of The Kissing Hand By Storyline Online.
 Follow up in your next session by exploring all about raccoons. Target inferencing and ask: Why are the animals going to school at night? How would school be different if kids were at school at night?
Do some categorization for bigger kids. List nocturnal animals who are active at night and diurnal animals who are active during the day. What activities do you do during the day? What do you do at night?
Get crafty with this paper plate raccoon mask from DTLK.
Do this raccoon fingerplay with your littles to work on listening and imitiation skills. The YouTube video is a bit fuzzy, so learn the fingerplay yourself then teach it!
Have some articulation fun with a carrier phrase and your articulation cards. "Chester has a ___. or Chester took a ____ to school.
Talk about social skills and kindness. If you see another student who looks lonely or worried at school, how could you help? If you want to make a new friend, what can you do?
Let's wrap up our first day with this cute little treat.
I created these treat toppers for a sweet little welcome to go along with the story. You can print them double-sided to include a parent note, encouraging story re-tell when the children get home.
Tell the children they'll get a kiss for themselves and need to share a kiss at home with someone they love.
You can download this FREEBIE in my store here: The Kissing Hand Treat Toppers
Prepping these is easy! Pop a few candy kisses in a baggie, Staple the labels on top, and you're ready to go!
Love literacy-based speech therapy? Check out these posts:
You Get What you Get by Julie Gassman is a great book to teach children that you don't always get  exactly what you want… and that's okay.
Peck, Peck, Peck by Lucy Cousins is an adorable book about a little woodpecker that's sound-loaded for final /k/ practice (He pecks holes eveywhere!)
I hope you have a fantastic back to school speech therapy week!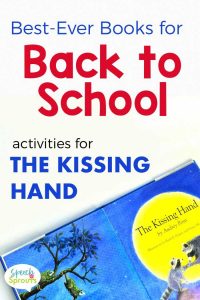 Enjoy this wonderful book, my friends.