I need some fresh speech therapy activities to capture my student's excitement!
So I've been looking to find the best back to school speech therapy activities for the job!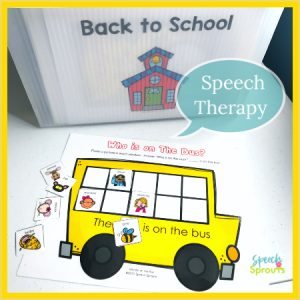 Who doesn't love something shiny and new for back to school? In addition to that cute new outfit, I want to knock my student's socks off with speech therapy activities that are super fun and engaging. So, I have been busy creating a few and shopping for more of the best activities to add to my wishlist.
The first place I head (okay, after the Target bargain aisle) is to TPT. The problem is, there are tons of great activities and stores, and it can be time-consuming to sift through it all. No worries! I'm going to save you some time and show you what I've found. But this will make it even sweeter:
Back to school Teachers pay Teachers sale in August
Want the lowdown on when the Back to school sale will be happening in August? Join my email insiders, and I'll be sure to let you know. How? You can subscribe at the top of this page where it says "Get the Freebies!"
A speech and language favorite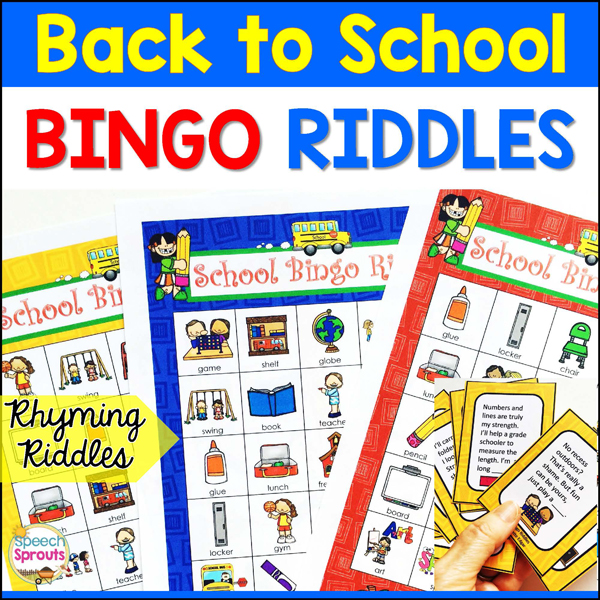 I have had requests for more Bingo Riddles games, so I created this one with a fun school theme.
My best-selling Bingo Riddles packs combine fun rhyming riddles with a favorite game. (You should hear me walk around the house talking to myself, as I make up new riddles. Hubby thinks I'm a bit crazy anyway!) You'll target vocabulary, inference, listening comprehension, and rhyme.
I love using it for push-in activities or large groups (plenty for everybody with 30 boards) as well as my small groups.
A sweet comment on one of my Bingo Riddles games:
"This is the 2nd year that I have used these, and I had to write a review…because I love it so much. I have used it with preschoolers, 6th graders, and all of the grades in between. All of the clues are clever and witty and fun and appropriate. I just can't rate this high enough."
Literacy-based back to school speech therapy activities
Check out this book companion for one of my all-time favorite back-to-school books: The Kissing Hand. Head over to take a peek at cards, puzzles, printables and a mini-book reader too! Find it HERE.
Another terrific choice for preschoolers through first grade is The Wheels on the Bus song and story.
Sing the song and pair it with this busload of great activities to get you planned out for multiple sessions! IT includes an adapted book, digital story, articulation smash mats and a bus full of language activities!
Find this Wheels on the Bus Super Bundle in my TpT Store.
Now for a peek at some more back to school speech therapy activities from some fantastic SLPs.
I'll be popping these in my cart for the sale. I'll have planning wrapped up for a least a month. Sweet!!
First up is a pack from Mandi of Panda Speech. Some days we just need to print and go. This school-themed pack will have you covered.
Check out this resource from SLPTalk with Desiree, using paint sticks. What a fun twist on articulation therapy! My kids really enjoy manipulative activities.
Next up is this cool activity from Creative Speech Lab.  My kids will love these little pop-up style stories as they practice sentence and conversational level articulation. I love that it will work for my language kids too.
Get the conversation going with these icebreaker activities from
The SLT Scrapbook. 
All about me, conversation starters, and partner-up activities. Perfect fit for back-to-school and social groups too.
Happy back to school!
I hope this helps you get those first sessions all planned out for a no-stress first month of therapy.