Story props make a great story come to life.
Young children love hands-on story activities. Even my most reluctant communicators engage with me when I bring out a few fun props in speech therapy. Story props are wonderful for increasing story comprehension, spontaneous language, and story re-telling. They draw in my concrete thinkers and inspire my creative ones.
You can use story props with any simple children's story.
I suggest you limit the number of props to five or less. The props should enhance the story (rather than distract from it) and allow children to act out portions of the story. For instance, when reading Goldilocks, you might bring a teddy bear (for baby bear) a bowl, and a spoon for the porridge. Your students can be Goldilocks. They can eat their porridge, sit on a chair, then curl up on the floor (the bed).
The Matt and Molly series is perfect for combining with story props.
One of my favorite activities to do with my preschool and kindergarten speech therapy students is sharing a story from the Matt and Molly series by Linguisystems/ Pro-Ed.
The Picture Stories and Language Activities Set is perfect combining with story props. It's a collection of 40 simple four-part stories.
Update 2020: The photos shown here display the interactive software that was formerly available from Linguisystems. I'm no longer finding the interactive software on the Linguisystems or the Pro-ed website. So sorry! I hope they develop an app for these awesome stories soon.
The link above is for the books, but they are rather pricey. One suggestion if you buy the books: project the cards for a story using a document camera.
(Disclaimer: I am not affiliated with Linguisystems or Pro-Ed. I receive no compensation or consideration for this post. All opinions are my own. I am simply sharing what works for me in my speech therapy room. The links are only provided for your convenience in case you want to see more about it.)
I've collected props for each story. It doesn't have to be expensive at all. Garage sales are a great source for toys to use. Other items you may have at home or at school already.
Prop suggestions are included with the card set version of the stories. Here is a shot of the fall story Raking Leaves shown on the smartboard. I go into our integrated Pre-K room to do Matt and Molly lessons.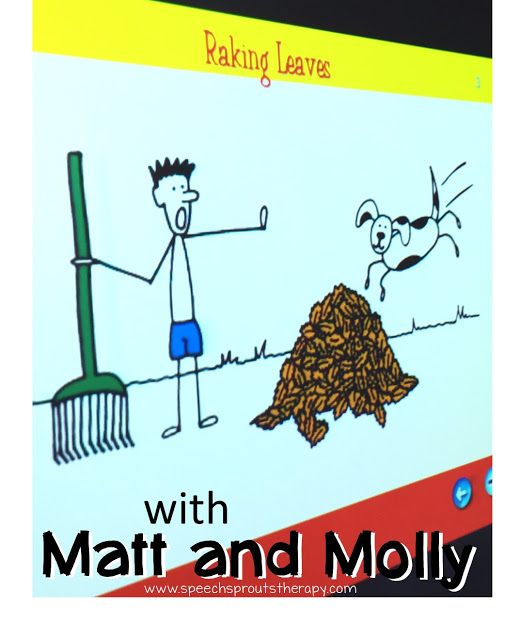 In Raking Leaves, Matt is outside raking up a big pile of leaves. His dog is watching.
I bring in three props: paper leaves, a rake, and a stuffed animal dog. I cut these leaves with our die-cut machine at school. I actually did this about 8 years ago, and use the same bagful every year. If you don't have access to a die-cut machine, you can draw a simple leaf as a pattern to cut out your leaves from construction paper. If you are hand-cutting, I recommend you layer a few sheets and cut them all at once to save time.

I have the children rake the leaves into a pile.
They love this! What are you doing? "Raking!" A big pile or a little pile? Who's raking? I don't have a child-sized rake, but I think that would be even better.
Finally, Matt finishes the job, and he is looking pretty proud of all of his hard work. Look at all those leaves!
But what is the dog doing? Uh-oh. I think he is jumping!
At this point in the story, I have a student come up and take the dog.They make him jump high into the air… and land in the pile of leaves! We scatter the leaves with the dog.
Oh NO! Matt has to rake the leaves all over again.
Poor Matt. I wonder how he feels? This is a great conversation starter about what makes us mad.
There are so many goals that can be addressed in a simple story like this. We talked about the autumn season, raking, jumping, leaves, a rake, a pile, landing. We ask wh questions, yes/no questions. We act out the story and then retell the story.
What are your favorite ways to use props with children's stories?
I would love to hear them, I am always looking for fun new ideas to use with stories in speech therapy. So glad you stopped by!
Until next time,