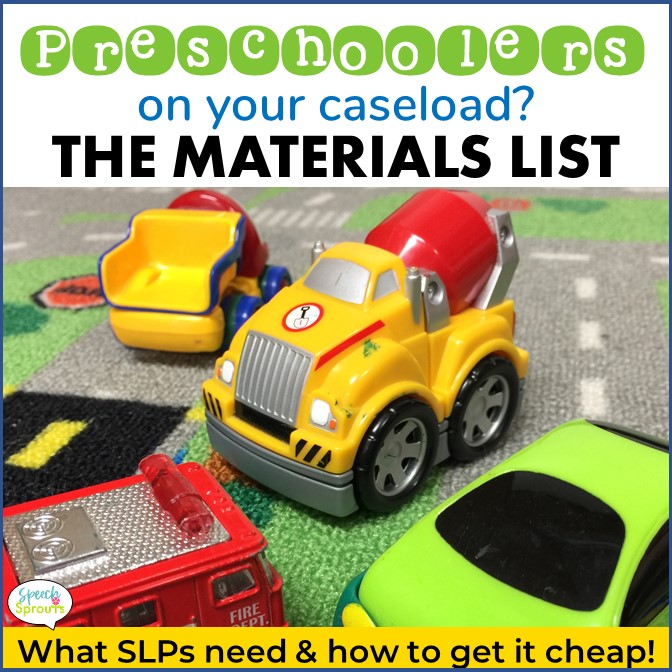 Are you a new preschool SLP setting up your speech therapy room?
If you're just getting started setting up for preschool-aged children, you'll need age-appropriate SLP materials to engage your littles.  Maybe you've served older children before, or maybe you're a new CFY and are starting out fresh. (By the way, preschool speech therapy is awesome, you'll have so much fun. I promise. Pinky swear.)
You have a limited budget, right? 
Let's face it, setting up a preschool speech therapy room from scratch can be expensive. If you're a CFY, haven't been practicing long, or have changed settings, you need to gather some essentials.
Unfortunately, many school-based SLPs are on their own reaching deep into their pocket for supplies and materials. If you're lucky, you may get a small allowance for supplies.
You need the most bang for your buck and you're wondering what are the most recommended, just "can't live without it" basics you will need? You might have some ideas for your older students, but what about preschoolers?
So what materials does a preschool SLP really need?
You'd be surprised what you can do with just a few items, some imagination, and a willingness to sing, act crazy, be silly, goofy, and get down and play! Still, it's really helpful to have a supply of age-appropriate toys, games, and craft materials.  Here are my recommendations, along with how to get supplied without breaking the bank, if your district does not give you a generous budget. Or no budget (sad face).
1. Basic supplies for the preschool SLP
In addition to basic office supplies, you will need tissues, antibacterial wipes and hand sanitizer, and lots of it! Pre K means plenty of runny noses. It's a fact.
SLPs are always creating activities to meet their student's goals, and need some basic supplies. Here's what I keep in my speech therapy room.
My preschool SLP must-haves:
Cardstock
Baggies- several sizes. I love the ones that zip.
Hook and loop tape or dots. Or both!
Plastic shoeboxes or tubs for water and sensory play-  fill with water, rice, beans, packing noodles, etc.
A cookie sheet to contain messes and provide a backdrop for activities
Hot glue gun
Page protectors
Permanent markers

My wishlist:
Large magnetic whiteboard. (Alternately, the side of a file cabinet works great!)
Magnetic tape or dots
Package tape
Lamination pouches if you do not have access to a school laminator.
Thrifty TIP 1: Check and see exactly what supplies are already available to you before making any purchases
. In my school, I am welcome to use the supply of construction paper, tempera paint, the laminator and a few other items.
Thrifty TIP 2: Ask your district for hook and loop tape or dots.
You may need it for making visual schedules and not just games and activities. I like the dots, but you can buy a roll a bit cheaper, and cut it. Use pieces large enough to get the job done, but be conservative, and it will last longer.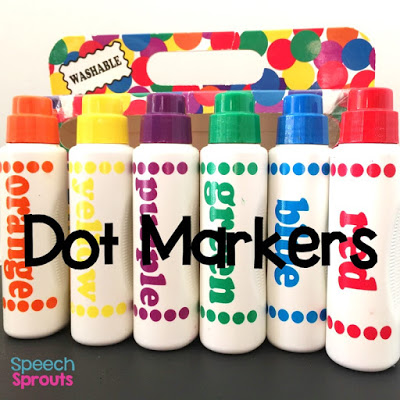 These last a long time, my kids get to do one dot for each response.
2.  Arts and Crafts supplies
Even if you are not artsy-craftsy, I encourage you to do hands-on activities with your littles. They offer so many language opportunities and keeps little hands busy too. Resist diving in and doing too much of the project to "help."  Give your preschoolers the opportunity to do the work themselves and let them really create and explore.
Need arts and crafts ideas? Pinterest is chock full of them. Head over and check out Speech Sprouts on Pinterest.
My preschool SLP must-haves:
Construction paper
Scissors
Crayons
Washable markers
Gluesticks and white glue
Dot markers
Paint- tempera and or watercolors
Brushes
Play dough
Paper plates
Paper bags
A hole punch
Craft sticks
A large adult-sized button-down shirt, for a painting smock.
My wishlist:
Glitter
Cotton balls
Colored tissue paper
Wiggle eyes
Ink pads and stamps
Shaving cream (Great for sensory play!)
Clothespins
Sponges
Yarn
Toothbrushes (for painting, sanitized old ones work fine)
Pipe cleaners
Pom poms
Cookie cutters

Thrifty TIP 3: See if your Pre-K and Kinder teachers are willing to share.
 Classrooms are usually stocked with supplies like paintbrushes and scissors, and teachers may not mind you borrowing. This usually works especially well if you do in-class therapy.
Thrifty TIP 4: Send your parents a "wishlist."
If you are in a school where parents can afford to send supplies, send home a "wishlist" at the beginning of the year asking for consumables. Send one home before the holidays too. Or post it on your school web page. I ask parents to send one or two items if they can.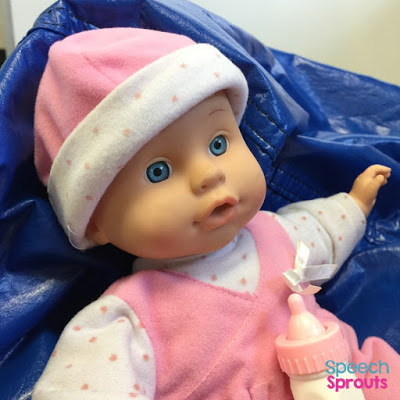 Be sure the doll can survive a bath!
3. Toys
My preschool SLP must-haves:
A doll, preferably one that can stand a bath!
Plastic animals- pets, zoo animals, dinosaurs, ocean animals, farm animals
Toy food
Toy pots, pans, cups, and dishes
Cars and trucks
Blocks
A ball (Yay for eliciting verbs! "Throw it, roll it, catch it")
Magnetic bingo chips and a magnetic wand. (A million and one uses)
Foam dice
Bubbles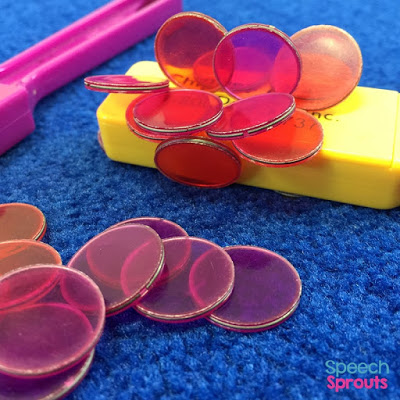 A have a million ways to use bingo chips. 
My wishlist:
Miniature toys for a "feely bag" or to bury in a sensory bin. (Little ones get so excited 'finding" surprises. Just be careful your students are old enough/ mature enough so they are not mouthing these, they can be a choking hazard.)
Themed playsets: a farm or a playhouse are my favorites.
Puppets for storytelling and imaginative play. 
Puzzles- I like to give a piece at a time as a reinforcer during drills.
Bean bags
Mr. Potato Head
A doctor kit
Ball popper toys- you squeeze them to "shoot" a ball. Fun!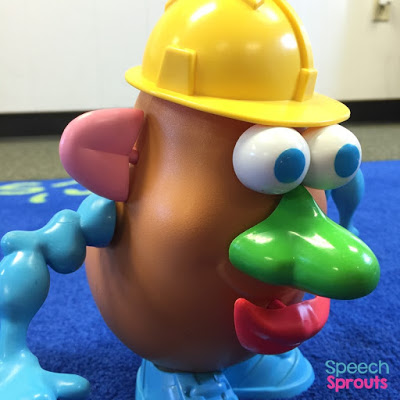 Use Mr. Potato Head to target body parts and pronouns.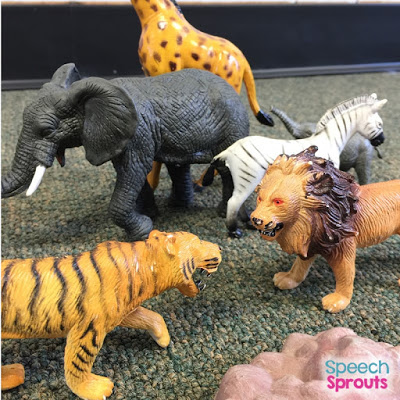 Use toy animals for position concepts, verbs and more!
Thrifty TIP 5: Ask for donations of used items.
Put some of these toys on your wishlist, and share it with your staff and parent organization too. If you are a member of a church, let them know you are accepting donations of preschool books, toys, and games. Parents with older children are often glad to donate used toys when they clean out their children's toy boxes.  If you receive something you can't use, just donate to a classroom or charity.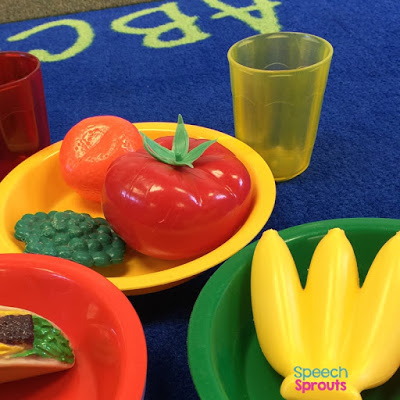 Collect toys for imaginative play.
Thrifty TIP 6: Shop yard sales and garage sales. 
You will be amazed at what you can find on the cheap. Dolls, miniatures, buckets, and bins are usually easy to find. I only pick up games when they are simple, quick play and do not require batteries!  Enlist your bargain-hunting friends and family to keep their eye out for your wishlist items when they shop yard sales too.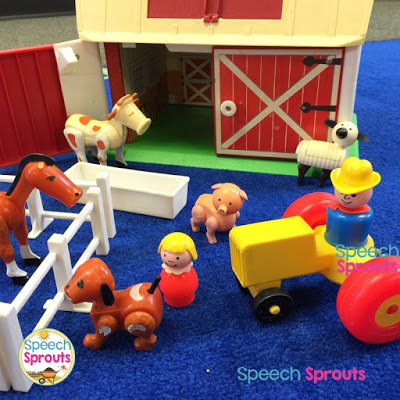 Saved this from when my boys were little! 
Thrifty TIP 7: Buy consumables with your school budget.
Do you have a budget from your school to spend, but plan to spend some of your own money too? Use your school budget first for consumable supplies (like paper, paint, baggies, and cotton balls) and buy therapy materials with your money. That way, your materials are yours to keep and take with you if you change settings or schools.
Thrifty TIP 8: Shop thrift stores for games, puzzles, books, and toys.
I stop by our local thrift store often, as the merchandise changes all the time.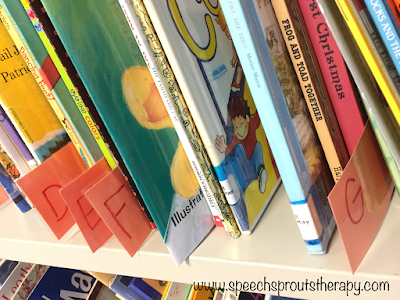 4. Storybooks
Engaging storybooks that help you target specific goals are definitely a must-have item and fortunately, most schools and communities will have a selection in the library you can borrow. Free is good! Just be sure to check out the books you need well in advance, so they're not out when you need them. But how do you find the right ones?
My favorite books for preschool language are those that have a simple storyline, repetitive text, and wonderful pictures. 
You can spend a ton of time sorting through them in the library, or let me introduce you to my favorites!
Check out this list of   Speech Sprouts posts that review my very favorite storybooks.
Follow me on Pinterest. I have boards dedicated to repetitive storybooks, storybooks read online and I am always pinning more storybooks and storybook activities.
Books for articulation:
Be sure to head over and read my post on Sound-Loaded Books for Articulation. Next, grab the FREE list in my store. I would love it if you'd leave a sweet comment in feedback when you do. I truly appreciate it and it helps get the word out to more SLPs.
Thrifty TIP 9: Check with your school librarian to see if books are sorted for discards, and when. 
See if some of the less circulated or worn books may be given away at some point. My school does this a couple of times a year. Let them know you need specific books. See if you can make your selections as soon as this happens (before the books are too picked over), to build your therapy library. I call dibs!
5. Articulation Materials
My preschool SLP must-haves:
A good comprehensive collection of words and pictures for early developing phonemes and phonological processes. There are many books available commercially, such as the Webber Jumbo Articulation Drill Book. (I receive no compensation for this recommendation, I've just personally used this one.)
My wishlist: 
Articulation cards and activities- there are plenty available commercially. Buy cards ready-made, or purchase from SLPs on Teachers pay Teachers and print them out yourself. 
Remember those miniatures? I have baggies of them sorted by phoneme. For instance, a star, a stamp, a stick, a stop sign, "storybook", a stocking, and a guy I named Steve for initial /st/. I pop these in a Christmas stocking in December, and we practice as we pull each item out of the stocking. Works great for sentence-level articulation too "I found a stop sign in my stocking." 
Thrifty TIP 10: Spend a little time printing and laminating, you'll save money with a variety of resources by SLP authors on Teachers pay Teachers. You'll find cards for all kinds of goals, often packaged with fun printable activities for additional practice that keep preschoolers engaged and busy. There are also many resources for free.
Having versatile therapy materials that are ready to go makes planning your sessions easy.
I love materials that I can use with a variety of children and goals, such as this build a scarecrow game /SK/ articulation fun) from my Articulation and Language Activities for SK.
You can also find this pack available in my S-Blend Speech and Language Articulation Bundle: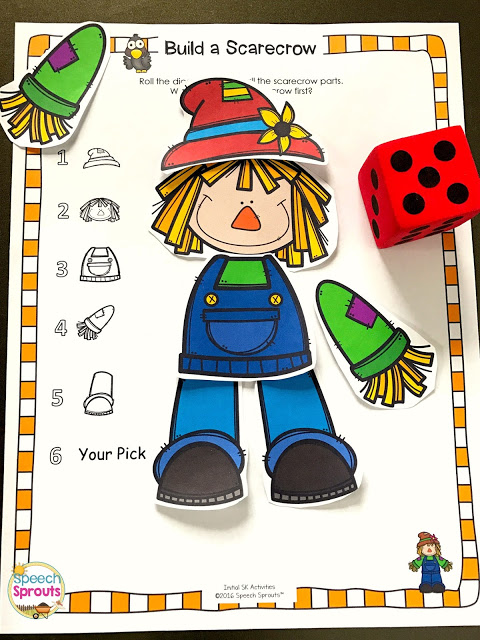 I'm all set, now what?
Read about my favorite service delivery model for preschool speech therapy
There are many service delivery models that work well for our littles, depending on their needs. The traditional pull-out, in-class services, and co-teaching can all be appropriate for particular students. I've dabbled in all of these, and my true love for preschool speech therapy with articulation and language is my literacy-based group model.
Read more about it here:  An Intensive Service Delivery For Preschool Speech Therapy.  Ask me anything about it, I really love sharing why this model works so well!
Preschool SLPs, what are your best tips and materials for speech therapy?
Calling all experienced SLPs to share your must-haves and know-how with those just getting started. Leave me a comment, I'd love to hear from you.
Oh, and before I go, if you haven't gotten your free download of "Where's Froggy", you really need to grab this great preschool prepositions activity now.  It is only available to my newsletter subscribers, so sign up today to join my newsletter in the sidebar and I'll send you the link pronto!
Until next time my friends,