Back to school art activities are great tools for teaching language skills.
Think about it, children learn best when actively participating in hands-on activities. Here's a perfect speech and language opportunity for fall.
But how do you elicit language with art?
Start by laying the materials. You can get them out one by one to help keep the kid's attention. You will discuss the supplies, and what you can do with them.(Oh, this is a good time to put a smock on the little guys. I use my husband's old shirts.)
For this project, they discussion looks like this:
I have an apple. It's a fruit. (category). What do you do with an apple?(object function) I wonder how they taste? (sweet, crunchy, juicy) Let the children try a piece.
I like red apples, do you? What other colors can they be? (describing). Can you think of other things that are red? (category) Hmmm, where do you think apples come from? Do they grow on the ground? (in/ on-prepositions)
I have some paint too. What else do I need to go with paint? A brush? Why do I need a brush? (Wh? question, object function). Continue discussing the glue. scissors, paper. Vocabulary may include sticky, wet, sharp, cut… you'll think of these as you go.
Cut an apple in half. Ask, "What do you think we are going to do with the apples?" (prediction).
Bring out a sample, and show the kids how to do the project.
Include words like first, next, last. (sequence) Use verbs like dip, push, stamp. Quantity words could be few, many. Then ask, "Okay, what do you need first?"
You keep all the supplies under your control, out of the kid's reach if possible. Have the children ask for the supplies, and tell you what they are going to do with them. (requesting, re-telling, function). If they ask for an apple, give them just the apple, not the paint to go with it. Say, "ok,, go ahead and stamp your apple." If they don't initiate a request, prompt with, "do you need something else? Ask me for it.
~~~~~~~~~~~~~~~~~~~~~~~~~~~~~~~~~~~~~~~~~~~~~~~~~~
Want to give it a try? Here's what you need.
Apples and a knife to cut them in half
Large paper
Red and brown tempera paint
A smock!
Paintbrush to paint branches
Scissors and green construction paper to cut out leaves and caterpillars
Black marker to make a caterpillar face.
Glue
For this project, I painted the branches ahead of time for my littles. I also pre-cut some leaves and caterpillars, but older children can do that themselves.
After the apples are stamped, add the leaves and caterpillars. Are the catepillars eating the apples? Oh no!
Art isn't just for fun- it's seriously awesome for providing language expression and vocabulary learning opportunities
More Apple Activities and a Freebie.
Stop by my store to grab this Freebie. It comes in 10 and 20 apples so you can use it for data-taking as well as a motivational activity. Just give one color marker when the answer is correct, a second color when it needs fixing.
Want even More Apples?
You can also read more about it
HERE.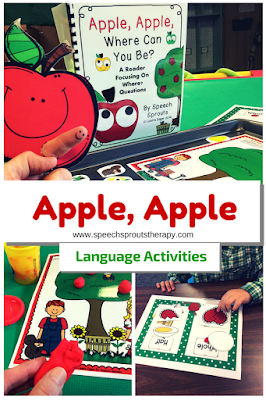 I would love to hear about your favorite fall language activities, just leave a comment. Have fun!