Many children with autism need photos for visual support.
I am a speech-language pathologist who has young children with autism on my caseload. I am also a friend and family member of people with autism. I have seen how using visual supports for children with autism can make a huge difference.
Years ago, there was one sweet little boy with autism I knew well. He would get very upset and have huge meltdowns when his mother ran too many errands with him in the car. He could tolerate one or two stops, but no more than that. I helped mom make a visual schedule by taking photographs of the storefronts of her usual stops, and making a visual schedule with the photos for running car errands. It helped tremendously. Photos work!
In the beginning- working on communication skills with young friends who have autism and are not yet verbal.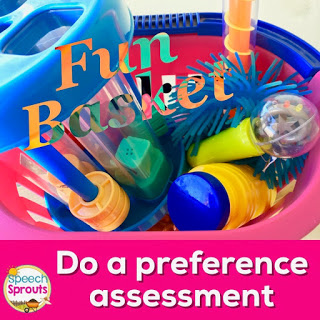 What will your student want to request?
I have a basketful of nifty toys. I begin by allowing my little friend to explore the toys. I want to see what he will enjoy and find motivating. We then use the preferred toys in therapy. I want my visits to be fun and establish rapport before moving on to more challenging activities.
I can target many goals with my basket of bubbles, vibrating ball, rainstick, a noisy shape shorter, a light stick, wind-up toy and more goodies. For students who are non-verbal, I begin by encouraging them to engage more in interchanges with another person, take turns, increase shared attention and move toward requesting. When it goes well, we are soon
calmly waiting our turn instead of crying.
We establish a little play routine. I use lots of pauses while playing and watch to see if my little friend is anticipating what comes next. My friend looks at the toy, then at me, then back at the toy. I love when he shifts his gaze to look me and see if I am about to deliver the goods! Great stuff, we are laying the foundation in becoming a communicator.
Time to work on requesting with a picture exchange. But we need photographs!
I will be introducing my friend to requesting using a picture exchange. He is not yet ready for understanding symbolic pictures, so I need photographs of his favorite items. This is where I love having learned a few things about photography using my iPhone! So… I took these photos to make a communication board. We are all set.
You may be wondering how I got that great white background and eye-catching contrast?
Plain backgrounds help children focus on the subject.
I am going to show you how to take great object photos with just your smartphone to use with your students.
I own the iPhone 7, but you can get a great shot with a good android phone too. I wanted a well-lit shot with no distracting background. Much easier to understand.
Here's how you can do it:
Take the Photograph.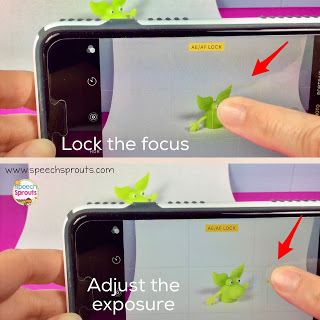 How to get a great photo using your iPhone
Use a white backdrop. You can place your table against a white wall or better yet, use white poster board or a sheet of white paper taped to a vertical surface and curved like this photo of the little alien.

Try to use bright natural light, but not direct sun. Near a large window is great. If you don't have natural light, try two lamps pointing at the object from opposite directions to help eliminate shadows. Forget the flash, it will make harsh shadows

Get close to your subject. Using the zoom on many cell phone cameras will make your picture grainy. Get closer instead.

Be sure your camera lens is clean- wipe with a soft cloth.

Try lowering your phone/camera to the level of the table instead of an overhead view. Figure out the best angle for your subject.

If you own an iPhone, lock in

the focus on your subject by holding your finger down. You will see a yellow box and it will say AE/AF lock in yellow on your screen.

Adjust the exposure by sliding the little yellow sun up or down…

Be careful not to over-expose.

Now hold still (I hold my breath) and shoot!


You may have a terrific shot you are happy with now.
If not, you can edit it a bit. This might seem a little daunting at first, but once you do it a couple times, you will get the hang of it!
You can use the built-in editing features in the iPhone (which aren't bad) or an editing app. Snapseed is a free app that's awesome for editing, and not too hard to learn.


Editing on the Iphone:
Edit your photo to make it "pop"
Open your picture in the camera roll, then touch the icon on the bottom that has three lines with circles or "sliders" on them.

Touch the icon on the bottom that looks like a little clock. You will now see three options: light, color and B&W. Touch the arrow for the "light" icon. From there you may want to adjust a few things to whiten the background a bit, try making small adjustments to the brilliance, highlights

and contrast. You can also up the exposure if the shot is altogether too dark. Just don't over-expose.
Editing with Snapseed
If you want to learn to edit with Snapseed, this tutorial on the iPhone Photography School log can get you started. Learning it is more than I plan to cover today, but definitely worth it if you love taking pictures with your camera phone! Another good tutorial is by Pink Pot.

In Snapseed, you can adjust your white balance if your shot is too yellow. Here's my super secret for getting a bright white background with little to no shadows: use the brush tool, and overexpose just the white background to make it brilliantly white and eliminate shadows. You do this with your finger!
Setting up and editing your photos may take a bit of time to learn at first, but is terrific for creating those "no background" photos for your choice boards or AAC devices that really help your student focus on what the image represents. As an added bonus, you will learn some great tricks to making your other smartphone photos extra beautiful!
Create your choice board:
1.

Send your photos to your computer. Email yourself your photos, or upload them to a service like Dropbox, and save to your computer.
I made my board in PowerPoint. Give it a try if you do not have Boardmaker. Do NOT use Microsoft Word, trust me on this, you will get frustrated!
Don't worry, if you are unfamiliar with PowerPoint, I will have a free template download for you HERE. Just open it in powerpoint, and save to your computer.
If you want to do it yourself, here's how:
2.

Email yourself your photos, or upload them to a service like Dropbox, and save to your computer.
3.

Open a new file and draw a table with the number of cells you need. Format it to have no fill and all borders showing. Change the dimensions of the cells to be the size you need. I made mine 2.5 inch squares. Center your table on the page.
4.

Now click insert picture and insert one of your photos. You can re-size, crop, and move your photo into one of the squares. You can add text by clicking on a cell and typing. When finished, print! (if you have any trouble printing in Powerpoint, click Save As and save as a pdf file before printing.)
This noisy shape sorter is a favorite!
By the way, this shape-sorter is awesome. The shapes make noise going down the tubes, and my kids love the silly noises. If you want one, you can find several vendors by searching "noisy shape sorter".
Here's how my choice board turned out.
This board encourages matching. I also made a mat without pictures – so I can change and move around the photo choices.
I can't wait to try it out with my young friend. Let me know if you give it a try.
Read my Next post for more templates and Ideas:
Autism Supports: Free Templates to Easily Create Picture Exchange Cards in Powerpoint


Have a lovely week, my friends!