This week's themes are Thanksgiving and Turkeys of course!
Gobble, Gobble! I have are some fun Thanksgiving activities for your therapy room this week at Speech Sprouts.
1. Five Little Turkeys
This resource has lots of hands-on activities for language and an interactive no-print story too, great to share in teletherapy or with a tablet.
We read the flipbook, and the turkeys disappear one by one… there is something very satisfying about pulling off velcroed pieces. I haven't met a kid who doesn't love it.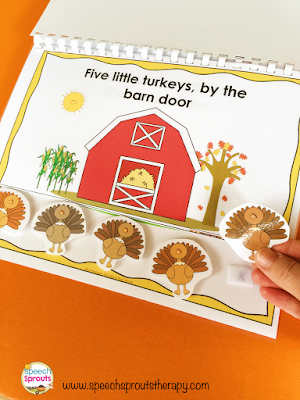 One flew away, then there were four!
Preposition Practice
My kids loved finding the 10 turkeys on the page. You can use bingo chips (or dot markers for the BW version) but we had fun with these glass "stones." I really liked how the kids could see the turkeys through them, and it magnified them a bit. My little guys were impressed that the turkeys "grew" when they put a stone on them.
Bet you can grab some from the dollar store. These are about 1″. The smaller ones are terrific for Bingo games too. (Kim from Activity Tailor gave me that inspired idea!) Three different pages target behind/in front, in/out and between/beside.
Where is Mr Turkey?
Interactive Worksheets
Cut and paste the pictures for learning syntax, vocabulary and matching. There are articulation cards, a mini-book, dough mats and dot marker pages too.
My kids like using the dot pages as a "smash mat". 
Give them a small ball of playdough for each correct answer. They love to "smash" them on each circle!
2. Thanksgiving Pronouns, Plurals, and Verbs
Use these activities as a craftivity or game.  Here's how I use the game with PK-first grade: I tape Mr. Turkey to a cup, and the kids take turns picking a feather.
There are feathers for irregular plurals, irregular verbs, and pronouns too. See who can collect the most feathers by the end of the game!
Click here to see more of Thanksgiving Pronouns Plurals and Verbs.
I like to make this as a craftivity with first and second graders. It's great for a sequencing and following directions activity as well…ind the wattle, color it red. find the beak, color it orange.
Mr. Turkey craftivity is great for your older elementary kids.
3. Winner, Winner Turkey Dinner
Need something fun and effective for your older students? Try Winner, Winner Turkey Dinner. Collect all the dinner food on your dinner table card to win. You'll target antonyms, synonyms, analogies, and categories with this dinner-themed game.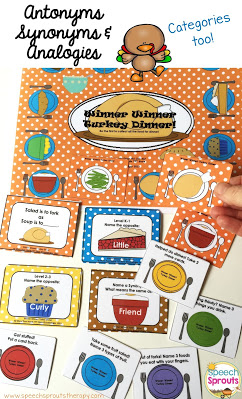 4. Thanksgiving Bingo Riddles for the win!
Need something for a large group (or a small one)? Thanksgiving Bingo Riddles has a super fun twist and it's fantastic for in-class therapy and getting make-up therapy done. Kids really love solving the rhyming riddles to play, I get tons of comments on what a hit this game was for multiple ages and grades. You'll target vocabulary, listening, naming to a description and inference as well as rhyme with this fun holiday-themed game.
My Pre-K kids love Bingo Riddles just as much as my fourth graders, making it great in mixed groups. With little ones, I pre-teach the vocabulary or I use the pictures on the cue cards to show and help the little ones find the picture on their board. Have your older kiddos identify the rhyming words and then try their hand at creating their own riddles after the game.
Hope you have a terrific turkey week!
For more Thanksgiving ideas, stop by my Thanksgiving Pinterest board.  If you use any of these activities in your therapy room or classroom, I would love to hear about it.
I will be hosting Thanksgiving Dinner for my family next week. How about you? Throwing the party is a great incentive to get my house in order, Got to say… that's kinda been on the back burner lately if you know what I mean!  So time to get busy. Hubby does the turkey every year, that helps.
Have a fantastic holiday with your loved ones. Happy Thanksgiving!