What are your favorite story books for speech therapy?
That's what I asked nine talented SLP blogger friends and I'm excited to share their favorites with you and check them out for myself!
If you've stopped by Speech Sprouts before, you know I think literature-based therapy is terrific. The cat's meow. Awesome. Outstanding. The bee's knees. Fabulous. (Maybe I like synonyms and idioms a little bit too?)
Find some new favorite story books for speech therapy in this list
There are a few books here that are new to me too. I can't wait to head to the library to check out these adorable children's books.
Of course I'll share one of my favorites too. I hope you find several perfect for your own speech therapy literacy-based sessions. So here goes:
1. The Pout-Pout Fish Goes To School by Deborah Diesen
Ashley from Sweet Southern Speech shares how she uses the Pout Pout Fish in speech therapy. She writes, "The Pout-Pout Fish series of books offer an excellent opportunity to use imagery for vocabulary building. Just look at his face on the cover!" 


2. Aunt Isabel Tells a Good One by Kate Duke
Susan from Kids Learn Language said, "One of my favorite books for therapy (only one???) is Aunt Isabel Tells a Good One, by Kate Duke." It's an engaging story that walks kids through how a story is written – what elements you need to have. 

Aunt Isabel tells her nice and nephew about stories, as she makes up a story from elements they all suggest – and the heroine saves everyone. Her kids have always loved it! Susan has a companion resource for this book in her store. https://www.teacherspayteachers.com/…/Story-Elements…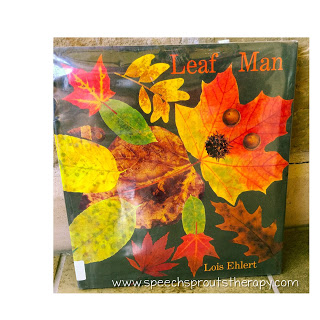 3. Leaf Man by Lois Ehlert
Ashley also shared this lovely book in her blog post Fall Books and How I Use Them in Speech Therapy. She targets compare and contrast, sequencing, vocabulary and superlatives. It's also a terrific book for incorporating fall art in speech therapy. 
4. A Bad Case of Stripes by David Shannon
Linda from Looks Like Language  loves using A Bad Case of Stripes to help students make inferences and work on social skills. It helps students understand that other people have different perspectives. Linda reads it with her students to work on interpreting facial expressions and talk about how people feel about each other.  
5. Dear Mrs. LaRue: Letters from Obedience School by Mark Teague
Linda also really likes this book for teaching students to look for pictured clues to make inferences, compare and contrast, and for talking about how different people can have different viewpoints in the same situation. 
6. Dear Zoo by Rod Campbell
Teach Describing words with Dear Zoo.

Colette from The Speech Meadow shares this favorite in her blog post on Bringing Children's Lit Into Speech. She says Dear Zoo is not only great for teaching the names of different zoo animals, but it also uses describing words such as jumpy, fierce, grumpy and naughty which might be new to the children. Children love to act out the different descriptions!
7. The Apple Pie Tree by Zoee Hall
This favorite is from Ashley at  
AGB Speech Therapy
. She loves to use this book for teaching seasons and sequencing. The book is colorful and engaging, and has a delicious apple pie ending! I can see myself making some mini-pies with my students after reading this one.
8. Press Here by Herve' Tullet
Jennifer from
Speech Therapy Fun
 says she loves
Press Here
because it's so different from the average book. I definitely agree, Jennifer!
It's great for one-step directions and the students love seeing what happens when they follow directions. to touch, shake or blow on the page.  It's one of my favorites too, read more about Press Here in my review. Kids go bonkers for this fun, interactive book!
9. The Little Pea by Amy Krouse Rosenthal
Sarah of 
Speech is Beautiful
picked this adorable book as a favorite of hers. The main character is a little green pea who does not want to eat his candy. (What a fun turnaround to read with any veggie-hating child.) This simple story is perfect for initial /p/ and story retell.
10. Peck, Peck Peck by Lucy Cousins
This story about a young woodpecker and his daddy is one of my newest favorites at Speech Sprouts. Read my full
Review of

Peck , Peck, Peck
to see how you can use it in your therapy room!
Peck Peck, Peck
is super sound-loaded and repeats the word "peck" over and over as the little woodpecker learns how to peck, then flies off to try out his new skills. Everywhere. On everything.
Peck, Peck, Peck
is perfect for teaching final /k/. It's also great for where questions, categories and rhyme too.
There you have it!
I hope you've discovered a couple new story book titles for your speech therapy room.
I know I can't wait to try out some new books with my students. Want to explore more great storybooks for speech therapy? Head over to my
Storybook category.
You'll find many fun books already reviewed with tips and how to use them. I'll be adding new ones to my Best-ever Storybooks series, so check back often, and let me know if you have a favorite you think I would like.
Now, where's my library card?  I'm going to need it!
Until next time my friends.