I linked up with Jenna Rayburn of Speech Room News for her What's in Your Cart? Linky Party
Wow, I am so excited,  Teachers Pay Teachers Back to School Sale is coming up soon! Time to stock up, I have so many items on my wishlist! With sooooo many great products to buy, where to start?
I'm needing fresh ideas for articulation practice.
So many of my students have both articulation and language goals, and we need a fast and fun way to hit the artic as well as dive into the language lesson. I need artic resources that are simple and ready to print and go for home practice too.
I'll be grabbing this resource during the sale, it's perfect for that extra practice for 8 different phonemes, easy to print, parent-friendly, and will save me a ton of time! (And we all know that SLP's are ALWAYS short of extra time!!)
Articulation Placemats: Homework Sheets and Drill Activities  By Figuratively Speeching SLP
I' m also adding this gem: Auditory Farm by Speech Universe
I can't resist this one from School House Talk! Itty Bitty Books for Articulation Practice BUNDLE
Finally, I am always needed products for my littles with Apraxia, so I'm tossing in this one too!
From Expressly Speaking! Early Grammar Markers for Children with Apraxia or Speech Sound Disorders
 What will you be adding to your cart? At 25% off I will be stocking up.
One of my favorite products in my store at Speech Sprouts is my:
My kiddos absolutely love the monster theme, all year long! You get a sound-loaded interactive story and tons of activities for artic and language. You will seriously not have to plan anything else for the pre-K-2nd grade crowd for several sessions!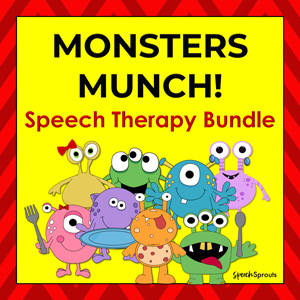 This fun Bundle of activities includes:
an interactive sound-loaded story for /m/ and "ch", size concepts
prepositions
articulation
categories
pronouns
plurals
wh questions
following directions and much more!
What are your favorite speechie finds? Leave a comment and Happy Shopping!