SLPS rocked Vegas this week at the Teachers Pay Teachers Conference. So of course we are hosting a linky party so you can join in the fun.
Ever want to meet your favorite SLP and Teacher Authors in person?
Or maybe you want to get a selfie with some of the movers and shakers you admire? I got that chance this week in Las Vegas at the TPT conference and was absolutely thrilled!
Here I am at the Venetian Hotel
If you have never been to Las Vegas, just let me say its… well, eye-opening in many ways! First of all, the Venetian Hotel is amazing. Here are a couple shots of it.
You feel like Michelangelo must have spent a LOT of time hanging upside down creating the frescos on the ceiling.
There are gondolas and canals
We decided that SLPs should show the conference who we are, so we wore these shirts designed by Mia McDaniel. Yup, making a mess on the counter getting ready.
Ever have those pre-conference jitters? I did. Until I met up with our group of awesome slps. These women create the most amazing resources for our therapy. Here are some of them with Amy Borell Berner.
SLP authors with Amy!
Having fun with my SLPeeps
including Tracey of Gold Country SLP, Kelly of Speech2U, Amy of TpT, Lynda of LyndaSLP123, Tammy of TLC Talk Shop, Jennifer of Speech Therapy Fun, Mia McDaniel, Lisette of Speech Sprouts, Ashley Rossi, Pam Dahm, Beth of Firefly Speech.
I even got to meet Deanna Jump! Ever heard of her? Krista Wallden of Creative Clips was there too. If you have seen my resources, you have seen her clips.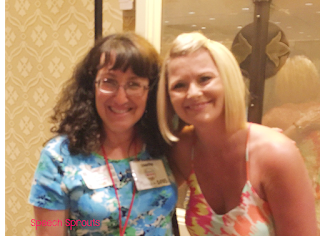 Deanna Jump- I was starstruck!
Krista Wallden is one of my favorite clip artists and a sweetheart!
We learned, we laughed and of course we ended up talking about therapy too! It was awesome to meet everyone.
SLPs and Teachers are some of the warmest people on earth.
I believe that we are in our professions because we care. And it shows. We were approached by one of the servers at the closing session, who told us that behind the scenes, the staff had been talking. She said this was the most wonderful, friendly and polite group, unlike any other group event. They loved having us. That was so wonderful to hear, and speaks to how we look out for and reach out to others. If you are reading this, I bet you are the same. Group hug!
Love to hear from more of your favorite SLP authors? Check out this linky!