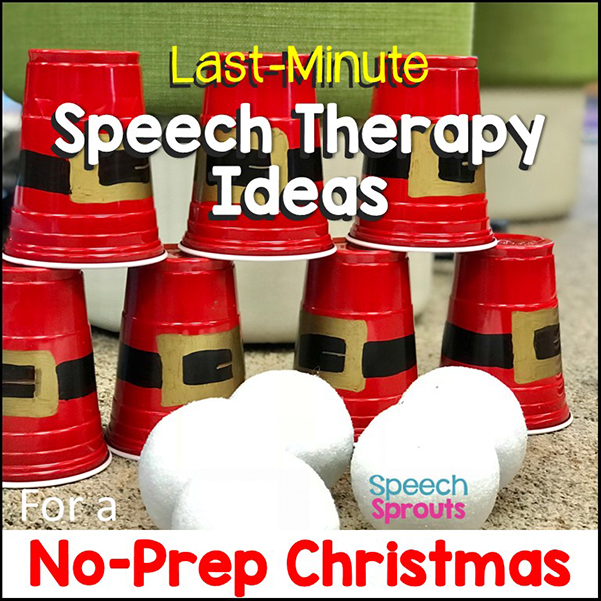 No-prep speech therapy Christmas games and ideas that will put a twinkle in your eye!
Christmas is jolly. It's also hectic and exhausting. There are schedule changes, special holiday programs, progress reports, and evaluations to wrap up… you get the picture. So how to stay merry? I say keep it simple and go no-prep. (Or at least low-prep!)
No-prep activities can include printables, but also books, games, simple crafts, digital activities, you-tube videos, and more.
Leave me a comment if you try some of these ideas, and tell me your favorite activities too!
Christmas Books for Speech Therapy
Head to the library or your bookshelf for your favorite Christmas stories. If you can't find a copy, search to see if there is a good read-aloud on YouTube. You'll want to preview the YouTube videos because some are great, and well..others are pretty bad!
Find a video where you can see the book. One without camera shake and one where the narrator reads well, but not too fast. Tip: Sometimes I turn off the volume and read them myself.
Here are a few books that are fun for your PK through elementary students. Read the book, practice articulation words as you find them, talk about the story and characters, answer wh question… you know what to do! Books are a goldmine of opportunities for speech and language practice.
These YouTube links are good as of Christmas 2021. If you find one is not working in the future, do your own search, you're sure to find more.
Bear Stays Up For Christmas by Karma Wilson
Mooseltoe by Margie Palatinini
Snowmen at Christmas by Carolyn Buehner
Speech Therapy Games for Christmas
Stack-em and knock-em down Santa cups.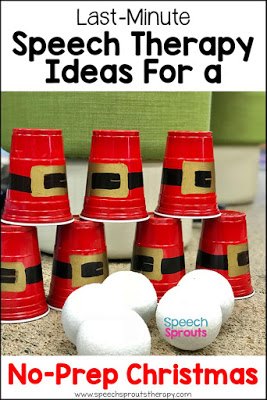 Santa Cup Knockdown Game
Okay, I realize that adding the belt and buckle to the cups (The red ones above were painted) is a bit of prep, but it's not required. Your kids will have just as much fun stacking red and green cups in a pattern. Use styrofoam balls to toss or bowl, or even wadded up paper will work. Answer a question, get a cup, when they're all stacked you knock 'em down.
Snowball Toss. Turn the cups open-side up, get out some cotton balls and toss. For more fun, mark the cups with point values. Students earn cotton balls for answers. Or… if you don't mind a bit of noise, use jingle bells to toss instead!
Jingle Bell or (Pom-pom) Tic-Tac-Toe Grab two colors of jingle bells, draw a quick tic tac toe grid and you are set.
Play Bingo Riddles
Christmas Bingo Riddles: This is my holiday must-have! Always a hit, children love it because this bingo game comes with a fun twist: rhyming riddles to solve. We target vocabulary, listening, inference and rhyme, plus we practice articulation as the words come up. You can print out and laminate (prep) or simply print the BW version for no-prep play.
I love that I can gather up large groups to do make-up therapy with Bingo Riddles or do I can do in-class therapy too. (There are 30 boards) And it's just plain fun!
If you love Bingo Riddles and want to check out my other games, you can find all my Bingo Riddles HERE
Speech Therapy Christmas Crafts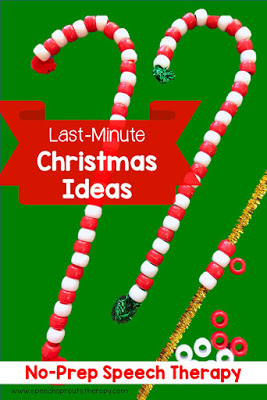 If you want to send home a tree ornament, try this Pony Bead Candy Cane. You'll need a pipe cleaner and red and white beads. Each response gets a bead or two to add to their pipe cleaner. You can also work on requesting: "I need a red bead, please."
Now that you have the pony beads out, grab a can of green play dough and a Christmas tree cookie cutter. You're ready to make Pony Bead Christmas Trees. Cut out a tree and give your students beads to decorate with after each response… it's just that quick and easy!
How about a two-item craft? Try this Ripped Paper Christmas Tree Craft from Totsfamily.com You just need construction paper and glue. Label each strip with a prompt if you like, or just practice, then add a strip.
Try Paper Strip Christmas Ornaments for your older students. Paper, scissors, a ruler, binder clip, and a stapler and you're ready to go. They are so pretty and you can have your students write artic words, irregular verbs, or antonyms/synonyms on the paper strips.
Make an Articulation Word Candy Cane with red and white paper. So cute and fun. You could pre-make the word strips to go on the canes, but I say no-prep, please! Just write the word as the student says it, then give the paper strip to the student to glue.
Speech Therapy Christmas Activities for No-prep Sessions
I have lots of resources in my store that are ready to make planning your speech therapy Christmas-themed session a breeze because they are no-prep for you! Watch the video above for a quick peek.
Christmas Following Directions  This is a great interactive activity for your tablet, computer, or interactive whiteboard. You can also print it as cards. Follow directions with color, size, and object to find the Christmas item named. Choose 1, 2, or 3 elements to modify the difficulty as children advance. It also includes a fun motivational trim the tree activity every few slides to keep your students engaged.
Mixed Group Magic: No-Prep Christmas Speech Therapy Activities  Use any activity (and there are 58 different activities in this pack, for a range of ages!) with any goal, making it perfect for managing your mixed groups. These can be open-ended activities or customize for each student by adding a short list of prompts to the page. No more shuffling cards and pages.
Activities include puzzles, color by number, dot marker,  mystery squares, and more plus Christmas-themed WH and Yes/No question Quick Lists are included. (additional Quick Lists are also available) Or… just write in your own prompts.
Same and Different: Reindeer Shapes
Teach the concepts of same and different. It's print and go with the BW version when you make the mini-book, or print in color and laminate to make cards. There are 3 ways use to use this resource: A clothespin task card, dot markers or use a hole punch for some fun fine fine-motor practice.
Size Concepts: Santa Shapes Clip, dot or punch while learning size concepts of small, medium, and large. Like Reindeer shapes, it comes with color cards, a BW mini-book with a parent letter, and printables too.
Need more ideas? Find all my Christmas activities and freebies available in my store HERE
I hope you have a very merry, no-stress December and Christmas!
If you try any of these activities, please tag me on social media, I would love to see!
Cheers,